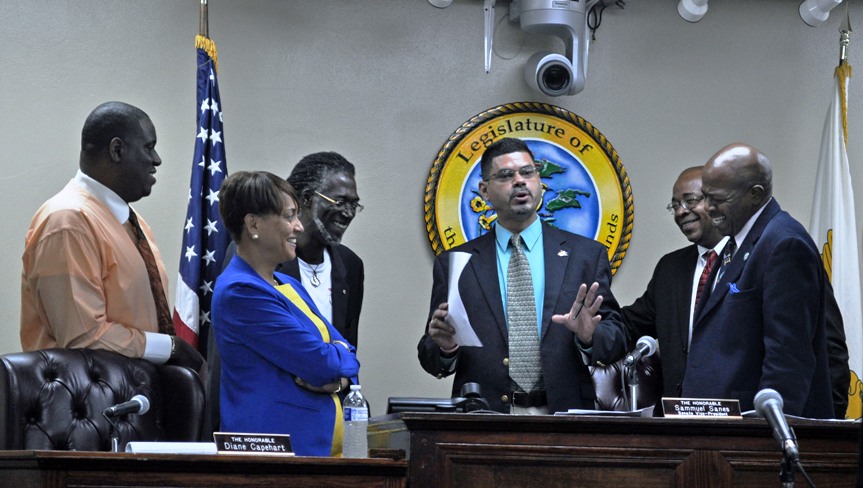 Senators were in a jovial mood Thursday, the day prior to the territory's Bull and Bread Day celebration and holiday, which honors the life of labor leader, journalist and newspaper owner David Hamilton Jackson.
Standard protocol with very little disagreement could best be described as to how the 30th Legislature's Rules and Judiciary Committee hearing went, taking place hours before St. Croix's Halloween festivities kicked into full gear.
Perhaps the most excitement and enlightenment of the more than three-hour session came from the day's only testifier, Norbert Rosado, who's been nominated to the territory's board of director's for the V.I. Waste Management Authority in the district of St. Croix.
Rosado received the committee's unanimous approval and will now see his nomination go before the entire Senate, but what made his testimony and question and answer session interesting was the subject matter discussed with which he'll deal with if appointed.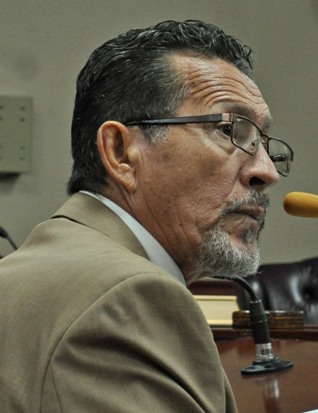 As was demonstrated by each senator who chimed in on the matter, waste and how to handle it is a big problem in the territory, and part of Rosado's challenge will be to help bring local waste management practices into the current century – in addition to getting people to change habits when it comes to trash disposal.
That means public education starting young to get people to avoid littering, in addition to more recycling programs aimed at reducing waste, conserving resources and helping the VIWMA become more self-sufficient.
Rosado's comments demonstrated some of the current dilemmas.
"We don't have the tonnage right now to make recycling viable," Rosado said at one point. "But we're probably two decades behind in terms of our recycling program. I go to the States and my 4- and 5-year-old grandchildren see me put a plastic bottle in the wrong place and they go 'Grandpa, Grandpa, that doesn't go there.' So you see that it's beginning, and if we can foster education where the behavior is innate or automatic, I think that could be one of the beginnings."
Sen. Diane Capeheart at one point said in reference to more territorywide recycling, "Education is so important. We need to be changing the mindset of Virgin Islanders."
Sen. Donald Cole said in reference to the roadside litter problem, "Pride in the community starts with us."
In other business, senators took action on a number of legislative items, which in passing the committee means they'll now move on to the entire legislative body for discussion and potentially a vote.
Passing unanimously was Bill 30-0206, which would honor and commend via resolution retired Judge Julio Anthony Brady for his years of service to the territory; Bill 30-0193, which will increase the homestead exemption amount subject to judgment from $30,000 to $300,000; and Bill 30-0096, which involves Frederiksted Healthcare and the St. Thomas East End Medical Clinic being included as those which will also have the ability to provide emergency surgery, dentistry, family planning and behavioral services to minors.
Sen. Sammuel Sanes, the last bill's sponsor, said it clarifies that those clinics, which did not exist at the time the original law was enacted, will help make them eligible for federal grant funding for care to minors. Under the current "antiquated" law, the clinics' eligibility is unclear, he said.
At one point during the hearing, in reference to old laws on the books that need updating, Cole said, "Lots of laws need to be brought into this century."
The only measure that also passed out of the Rules and Judiciary Committee, but not unanimously, was Bill 30-0049, which will amend code to create the Virgin Islands International Insurer's Act and create the Division of Alternative Markets and Reinsurance within the Lieutenant Governor's Office.
In supporting the measure, Cole said it was vetted in the Finance Committee and was a potential "revenue generator."
Sanes said similar legislation in the British Virgin Islands was "opening doors."
Also in support were Capeheart and Sen. Myron Jackson. Sen. Kenneth Gittens voted against the measure. Committee members absent from the day's proceedings were Sens. Shawn-Michael Malone and Janette Millin Young.