People with disabilities had the opportunity to voice their concerns and find out where to go for assistance at the 10th annual Voices That Count conference at the St. Croix campus of the University of the Virgin Islands.
About 75 people attended Thursday's conference sponsored by the V.I. University Center for Excellence in Developmental Disabilities.
Representatives from five government agencies answered questions and explained services offered to those with disabilities.
Human Services Commissioner Chris Finch said his agency does health screenings and helps identify children with disabilities. He specified that the goal is to get childhood intervention as early as possible. He also touched on Human Services relative to residential care, financial aid, vocational rehab and energy assistance for the disabled and elderly. He said eligibility for the programs depend on income.
Heather Proctor, ADA coordinator for VITRAN in the Department of Public Works and a person with disabilities, said that in her department they make sure all of the rules and regulations of the ADA are followed. She added the department is getting three new handicapped accessible buses.
One gentleman voiced a concern about treatment he received on a bus. Proctor sat with him following the conference to discuss the situation he brought up.
Darin Richardson, chief operating officer of the V.I. Housing Finance Authority, said the goal of the authority is to provide safe, sanitary and affordable housing for everyone, including the disabled. He mentioned that planned accessible units have lower stoves, wider doors and rolling shower stalls.
"We want to provide for every sector of our community," Richardson said.
In the question and answer segment, a woman brought up the windows and how difficult it would be to escape in the event of a fire. Richardson said he is aware that many units have louvered windows and he would look into other types of windows.
Elton Lewis, director of V.I. Territorial Emergency Management Agency, explained VITEMA isn't a responding agency; it is an agency that coordinates emergency management working with all agencies. He admitted that VITEMA needs to do a better job for the population of the disabled.
Lewis added that the agency needs numbers and data to be able to plan for this population. He asked for leaders to assist in the Emergency Preparedness Council to plan properly. And he suggested people sign up for V.I. Alert that lets people know via email about emergencies.
One woman in the audience voiced her concern that a lot of people don't have access to a computer and the agency needs to find another way to alert people with disabilities.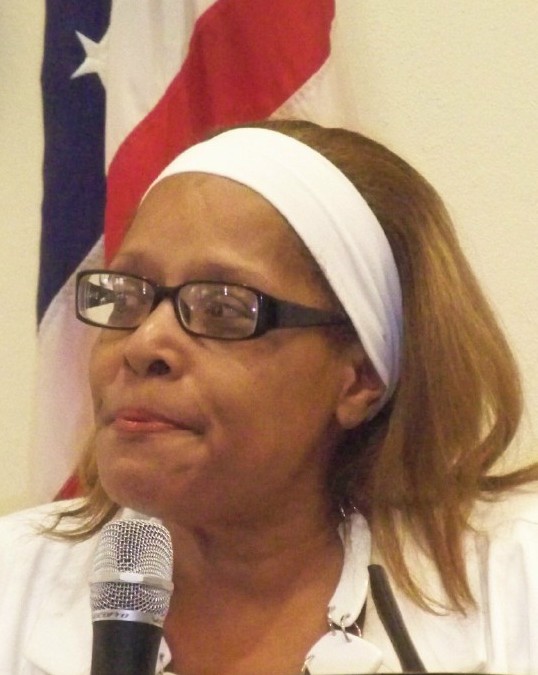 Gail Harris Perez, director of Special Education for the Department of Education, said her department works with students with disabilities ages 3 to 21 years old. She said the division of Special Services does free testing to evaluate children. She spoke about co-teaching inclusion, where children with disabilities are in class with typically developed students and they have both a special education and regular teacher.
In the morning session attorney Haben Girma, the first deaf and blind student at Harvard Law School, talked about her experiences in her keynote address.
Business Insider magazine called Girma among the "21 Most Impressive Students at Harvard Law School" and the White House also recognized her as a Champion of Change. Girma graduated from law school this year and is currently employed as a Skadden Fellowship Attorney at Disability Rights Advocates in Berkeley, Calif.
Stephanie Barnes, V.I. Territorial ADA coordinator in the Office of the Governor, spoke about the road to inclusion promoting a diverse community.
Barnes said Gov. John deJongh Jr. has made a commitment to diversify the community with inclusion of individuals with disabilities into every aspect of community life. Barnes added the government has 107 departmental ADA coordinators trained in administrative requirements of Title II of the ADA including sensitivity training.
"The quality of life for our citizens with disabilities continues to be a high priority to the governor," Barnes said. "Inclusion affords equal participation and the governor is fully aware that it's with systemic change that we'll achieve this goal."
Barnes said promoting inclusion, dignity and equality requires us all to conduct evaluations of our own attitudes and barriers that prevent us from being active participants in making personal changes in the way we communicate, live with and treat individuals with disabilities.
Aesha Duval, legislative assistant to Delegate to Congress Donna M. Christensen, spoke on behalf of the delegate. Sen. Shawn-Michael Malone also spoke to the group of advocates, caregivers, service providers and people with disabilities.
Eric Antonio Francis, who has Parkinson's disease, said he was very pleased with the conference and the information he received.
"I learned where to go for help and now I know who to talk to," Francis said. Francis voiced his concern about the decrease in his Supplemental Nutrition Assistance Program funds.
James Maynard, a client in the V.I. Association for Independent Living, said the conference was informative and he now knows where to go if he needs assistance. He said it was the first year he attended and he was glad he did.
A similar conference was held on St. Thomas at UVI on Tuesday.