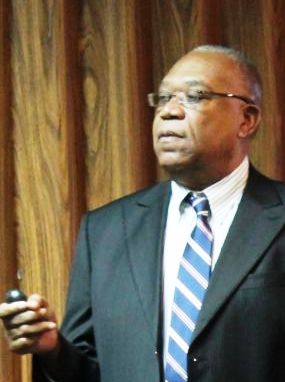 Bernard Wheatley, chief executive officer of Schneider Regional Medical Center on St. Thomas, quantified the cost of crime and how it affects the hospital at a Rotary Club of St. Thomas Sunrise meeting Tuesday.
Some 20 Rotarians gathered at Windward Passage Hotel to learn firsthand just how many violence-related injuries were brought to Schneider Hospital within a three-year period.
"Obviously the violence in the territory was very pervasive," Wheatley began. "These threaten not only our safety but also have significant financial impact on our hospital."
Schneider Hospital is the only hospital servicing the St. Thomas and St. John districts. Wheatley added that staff also considers it the "hospital of destination," not only in St. Thomas, but in the Eastern Caribbean. With the rise in injuries resulting from crime, Wheatley said, the medical center finds itself in "a tough situation for a small place."
"Staff have witnessed the elevation of clinical and psychological effects caused by violent crimes," he said. "Most of the time, they are basically what we call 'lifestyle injuries,' the way people just conduct themselves."
Gunshot wounds, while not the most prevalent, top Schneider's list of crime-related injuries requiring high-cost treatment. From 2010 to 2012, Schneider's emergency room received 149 cases of gunshot injuries, an average of 50 a year. The combined gunshot cases within the three-year timeframe incurred about $2.5 million dollars in treatment costs.
"They require major surgery, CAT scans, MRIs, blood tests, all kinds of tests which you have to conduct," Wheatley enumerated, citing clinical guidelines from the Centers for Medicare and Medicaid Services and Empower. "When they come to the ER, you must treat them. Otherwise you'll have serious issues."
The rise in uninsured, self-pay patients and no-pay patients also expands the financial burden for Schneider Hospital, he said, which has already suffered a $6 million decrease in appropriations from the central government in the last four years. Of the 149 gunshot victims, as much as 72 percent were self-pay.
"In most cases, patients seen in the hospital resulting from violent crimes increase uncompensated care and bad debt," said Wheatley. "That's a sizeable chunk to have to be absorbed or written off by the system."
Whenever patients fail to pay, according to Wheatley, the cost of uncompensated care is either absorbed by the hospital or absorbed by the government.
Gunshot wound cases also tend to be the most fatal, Wheatley said, adding that those who survive are "very fortunate."
"Some of these cases come in dead on arrival. It's like a cowboy western show sometimes. But it does impact the organization."
Rape cases come in second in number and in cost.
From 2010 to 2012, 385 rape cases were seen at Schneider Hospital, averaging 128 a year and incurring a total of $1.2 million in treatment costs. About 62 percent of the cases involve self-pay patients.
Blunt force trauma injuries, while trailing behind in cost, topped Schneider's list in reported number. A total of 458 cases were registered in the Emergency Room between 2010 and 2012, about 152 per year. While all the blunt force cases combined incurred lower cost compared with gunshot wounds and rape – around $687,488.87 in treatment charges – 66 percent of patients were self-pay, still a high number, according to Wheatley.
Stab wounds also comprise a large portion of violence-related injuries, with some 145 cases reported between 2010 and 2012. Treatment costs amounted to about $600,000, with about 57 percent self-pay patients.
Between gunshot wounds, rape, blunt force trauma and stab wound cases, Schneider Hospital racked up about $5 million in treatment costs, according to Wheatley.
"Some of these funds could be used to upgrade our equipment, technology, repairs, other maintenance to the organization, infrastructure and recruiting new talent," he explained.
Wheatley admitted that they cannot prevent violent crimes, but they can provide treatment to patients. In addition to medical treatment, Schneider also has violence-related procedures, including a lockdown protocol.
"This is very effective when we have a gunshot victim and the perpetrator is trying to get into the hospital to kill the victim," he explained.
Responding to shocked responses from the audience, Wheatley explained how the hospital is seeing "more and more guns" being carried by individuals, and the hospital's decision to implement a no-weapon policy.
"They come into the hospital with guns hidden everywhere and they have to be removed before they can be treated," he said. "If you don't remove the weapon, we can't treat you."
Wheatley added that many of these violence-related cases are what they call "lifestyle injuries."
"It's just how people conduct themselves," he explained. "And they threaten the life, the health, the well-being of our community at large."
Wheatley is the latest speaker invited by Rotary Sunrise as part of its Peace Initiative, the local Rotary Club's response to the rising tide of violence in the community. For more information about the Peace Initiative, contact Rotary Sunrise President Shaun A. Pennington at 340-777-8144.