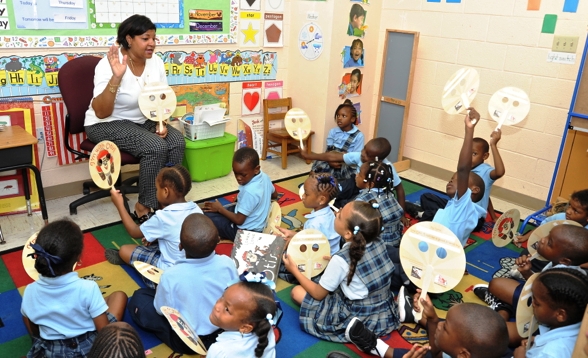 Virgin Islands first lady Cecile deJongh participated Thursday in Jumpstart's Read for the Record initiative, joining children and adults across the country to set a new world record for the largest shared reading experience, according to a news release from Government House.
Jumpstart's Read for the Record is an international campaign to bring children together with grownups to read the same book, on the same day, in communities all over the world.
DeJongh read to a 21-student kindergarten class at Yvonne E. Milliner-Bowsky Elementary School that is combined with regular and therapeutic students. In addition to interacting with the first lady, each student received a bag, their own copy of the book read in the class, "Otis," a hand fan with the main character and a bookmark.
Read for the Record is presented in partnership with the Pearson Foundation. On Thursday adults and children across the United States read the book, "Otis," by New York Times bestselling author Loren Long. Many read the free digital version available at We Give Books.
Millions of people were expected to read the children's story of friendship and loyalty in classrooms, libraries, community centers, homes and more.
According to the organization's website, Jumpstart has trained 28,000 college students and community volunteers. These members help children cultivate a lifelong love for language and learning and ultimately provide a foundation for future success.