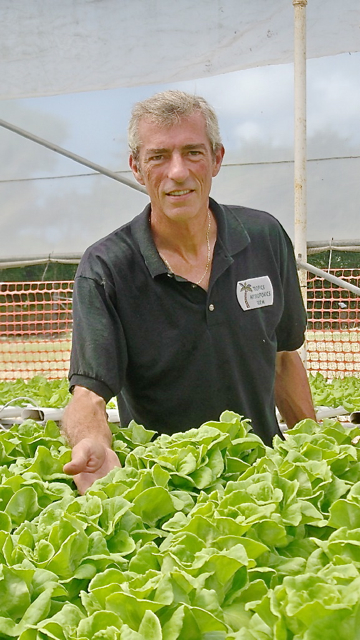 Local farmer Brian McCullough spends less time digging and tilling the dirt than traditional farmers. At his Tropics Hydroponics Farm in Estate Glynn, he uses a process that grows plants in nutrient rich solutions or moist material instead of soil.
For starters he did a two-day, hands-on seminar, then a lot of trial and error, and hired a consultant. He said it's good to have a lot of consultants you can call on for answers.
All his supplies and materials were purchased at Home Depot. McCullough uses well water on his property that is purified using reverse osmosis.
The tomatoes that McCullough starts from seed are grown in perlite, a tiny bead-like pellet, in plastic pots in areas shaded with mesh screens. The plants get all their nutrients in the water that goes into the roots through small tubing. The water that flows out is recycled and used on the crops in the fields.
He has blemish-free chartreuse Bibb lettuce in different growing stages in rain gutters with holes filled with plugs of lettuce. The healthy looking white roots hang down into a trickle of flowing water.
He sells tomatoes, cucumbers and Bibb lettuce for wholesale and retail at Quality Market, located off the Hess Road, and at the La Reine Market. He ships some produce to St. Thomas for restaurants. He is going to expand field operations and plant peppers, pumpkins, and melons.
"I'm taking the farm to new levels," he said. He wants to put in a proper office and store and a 40-foot container shed. His expansion will begin in about a month.
It was a round-about route from Wisconsin, where he grew up, to St. Croix, and he dabbled in several fields before turning his attention to farming. He gave Nashville a try, even cutting some records, but didn't make any money.
"It was a nice journey though," McCullough said.
He also worked as a national accounts salesman for DHL, but found, "I didn't like the corporate world."
McCullough literally cashed in everything and to buy his farm. That was almost six years ago. Now to meet the demand for his produce he is expanding production and buildings on the nearly six-acre farm. But it hasn't been easy.
"It hasn't been all sunshine and roses here on the farm," McCullough said. "The last year has really paid off. The first year was perfect. Then the second year bugs found us and wiped us out,"
He lost crops to tomato yellow curl virus spread by the white fly. He said he spent more than four years trying to control the fly and find tomatoes resistant to the virus. A year and a half ago he found the perfect bush tomatoes.
McCullough had never done any farming, other than help his dad in a small garden. He chose St. Croix because he fell in love with the island. His brother and sister-in-law, Craig and Dianne McCullough , live on St. Croix and own Off the Wall restaurant.
He said the best part about farming is seeing how people in the community appreciate having good, local fresh food available.
McCullough said in more ways than one music keeps him going. His guitar playing and singing have paid the bills in the past. He writes and plays all sorts of music on electric guitar, solo and with the Kings of Croix. He says people can hear him at the Palms, Coconuts and Off the Wall. He gave his age as 49 and holding.
McCullough said the farm is on what locals call Windsor or Frangipani Road. People can call him at 1-340-227-5546 for directions and for produce availability.