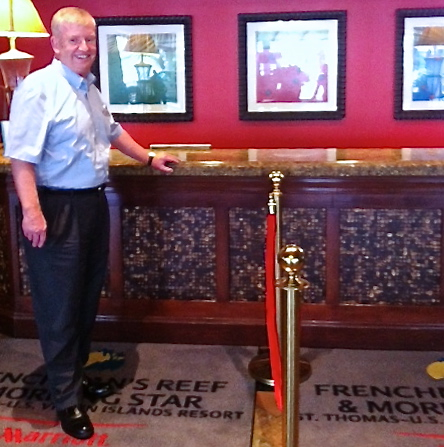 Jean-Paul Nel has spent his life moving from country to country, but for more than 30 years he's found a home with the Marriott hotel chain. This summer he moved to St. Thomas to take over as general manager of Marriott's Frenchman's Reef and Morningstar Beach Resort Hotel.
With more than 500 guest rooms, the property is the largest and one of the most well-established hotels on the island.
He does not manage Marriott's Frenchman's Cove, the member of Marriott's Vacation Club of timeshare units which was built next door to the hotel a few years ago.
"There's a lot of synergy between the two properties," Nel explained, but they are separate entities.
Nel said he and his wife of 30 years are both from the Boston area. But he was actually born in Spain and, he said, "I grew up all over the world … My dad was in the diplomatic service."
Besides Spain, his youthful globe-trotting included Chile, Uruguay and Egypt as well as various parts of the U.S. Along the way he learned several languages. Besides his native English, he speaks Spanish, Dutch and Portuguese.
"I did love the cultural differences that you find traveling," he said. So the hospitality industry was a natural for him. He said he decided early on hotel management as a career and never swayed.
With his background, he took easily to postings with Marriott's international properties. He's worked in England, Holland and Greece as well as California and the Washington D. C. area. The closest he'd been to the Virgin Islands was a stint in Puerto Rico.
While he had not visited Frenchman's Reef before his transfer there, he said he did know a lot of Marriott general managers who have worked at the hotel, so he had a bit of a feel for it.
He's working hard on getting to know it well. He said he walks the property every morning and every evening, checking out the physical plant and, more importantly, getting to know the staff on day and night shifts.
He said he's impressed by "the genuine warmth and hospitality of the employees of the hotel."
You can teach someone how to serve a drink, he added, but you can't train them to have that innate, natural sense of welcome.
Originally opened in the 1970s, Frenchman's Reef has changed hands more than once, been heavily damaged in three different hurricanes and virtually rebuilt after the worst of them. It's been completely renovated several times and updated and refurbished pretty much continually.
Current work includes restoring and upgrading the hotel's energy plant, giving it the ability once again to to be self-sufficient as it was in the 1990s. When the work is completed, the hotel will be able to continue to hook into the V.I. Water and Power Authority for electricity and for water supplies, or it can produce those on site. Target date for completion is the end of November.
The plant is under the parking area adjacent to the front entrance, and that area is also in for a facelift. Nel said there will be new and expanded plantings as well as new signage.
"We want it to look better for arriving visitors," he said.
The beautification may cost some of the already precious little parking available, but Nel said he is looking into ways to increase parking both for guests who rent vehicles and for island residents who visit the hotel for meetings, services and social functions.
"We know that it's an area of concern."
Thanks to what he called "a strategy for luring people from the northeast," Nel reported sales were very healthy through the off-season this summer.
"We had a good July and a really, really strong August," he said. "It surprised us." Occupancy reached 80 percent. It dropped to 60 percent in September, but that's in line with past numbers for what is generally the slowest tourism month of the year throughout the Caribbean.
Nel has been both living and working in the hotel since his arrival about three months ago, but he has found a home and will move off-property in October.
He said his appointment as GM in open-ended and he's looking forward to years on the Rock, where he plans to become active in professional and community groups.
"Job One is the community involvement," he said. "I'm in it for the long term."