Youngsters in a first-grade class at Jane E. Tuitt Elementary School spontaneously responded to a talk by Diana Parker of Rotary Club of St. Thomas Sunrise by waving their arms in overhead circles forming the sun.
Parker, a former teacher, school administrator and longtime Rotarian, joined forces with Rotarians Patricia and Nigel Bailey to give a pencil case to each first-grader. Parker patiently explained the mission of the club in helping the first-graders. They got the sunrise part and eagerly took possession of their individual cases and notebooks.
The Rotarians visited the three first-grade classrooms on Tuesday morning, handing out the pencil cases to more than 50 youngsters.
Parker, ever the teacher, instructed the youngsters in just how to accept the gifts. "Good morning, boys and girls," she would begin. After awaiting an answering "good morning," she told the kids the pencil cases contained erasers, crayons, glue sticks, crayons (a full set), scissors and, oh yes, pencils.
"And that's not all," Parker said. "You each get your own notebook. When you go back to your seats, write your name on the case on the notebook."
"So nobody will steal it?" someone asked.
"No, in case you lose it," Parker said.
The youngsters obediently marched up one by one to receive their largess, retreating with big smiles.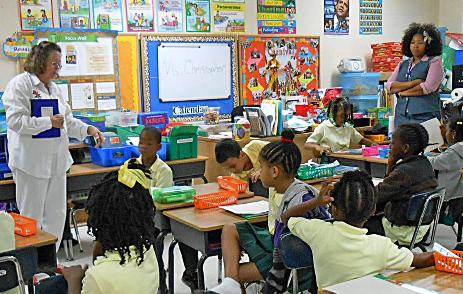 Rotary Sunrise adopted the elementary school several years ago, where the club helps with everything from school repairs to reading to the students. The school has suffered with a lack of funding over the years, a gap that the club helps to fill.
Since 2005, Rotary Sunrise has organized cleanups, holiday festivities, dictionary and book distributions and reading to the kids on a regular basis.
Rotarian Thomas Boatwright has called Tuitt "a small school that needs a lot of attention, not only in the physical aspects of the grounds and maintenance, but also in the education of the students."
In the third classroom Tuesday, after the presentation, one youngster had a question.
"Where do you work," asked Jaymaly Sosa Allen.
"We're retired," explained Parker. "We've all had different jobs. I used to be a teacher, Nigel Bailey worked in insurance and Patricia Bailey was a travel agent, but what we do now is volunteer our time."
Gazing at the upturned faces, Parker asked, "Now, what is a volunteer?" Getting no takers, she explained Rotary's ideal of service: "We work for no money to serve people in the community, people like you."
She explained the Rotary Four-Way Test, having the youngsters repeat after her:
– 1. Is it the TRUTH?
– 2. Is it FAIR to all concerned?
– 3. Will it build GOODWILL and BETTER FRIENDSHIPS?
– 4. Will it be BENEFICIAL to all concerned?"
As icing on the cake, the youngsters left class armed with a fancy, new word – beneficial.