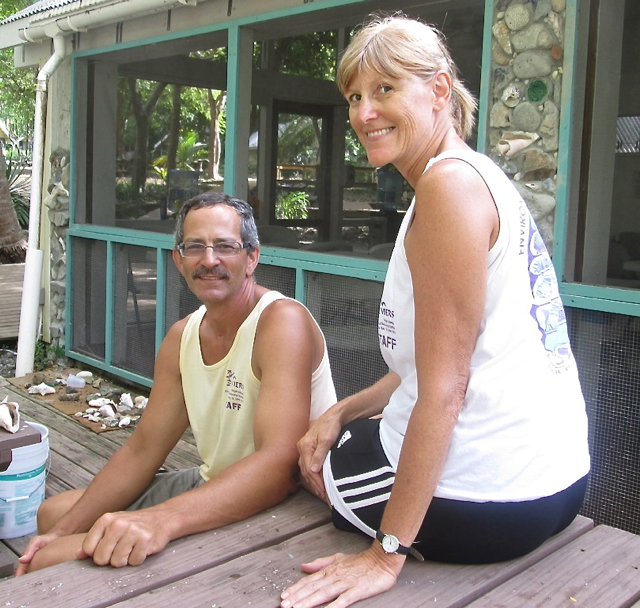 Tony and Carla Blackwell bring many decades of experience in the educational arena to their new posts at the V.I. Environmental Resource Station.
Tony Blackwell is the new manager, and his wife Carla serves as support staff.
"They're well seasoned," VIERS Administrator Randy Brown said.
Tony Blackwell, 52, was an elementary school principal with 18 years in the classroom behind him when he and his wife decided to trade in their marking pens for life in the tropics. She was a middle school teacher who was able to retire.
"After 32 years, maybe it was time for a change," Carla Blackwell, 54, said.
They sold their house in Fedonia, Kan., put their furniture in storage and got on a plane, arriving at VIERS on June 26 to replace outgoing manager Randy Fish.
The two were no strangers to VIERS. They got their first taste of the place on a 25th wedding anniversary trip to St. John. While visiting nearby Little Lameshur Bay, they met some college students who told them about VIERS.
Back at home, Tony Blackwell turned up information on the Internet about VIERS volunteer program. They signed on in 2009, spending time helping out with myriad VIERS chores.
They came again in 2011, bringing their entire family for a VIERS vacation. At that time, Tony Blackwell got involved with the hunt for a new manager, but wasn't quite ready to sign up for the job himself.
Fast forward to 2013, and Tony Blackwell was ready to give up the workaday world of education and his wife to retire.
Carla Blackwell has bachelor's and master's degrees in education from Emporia State University in Emporia, Kan. Her husband holds a bachelor's degree in physical education and master's degree in education administration, both from Pittsburgh State University in Pennsylvania.
Tony Blackwell said he brings his people skills and the ability to work with a wide variety of personalities to the job.
Carla Blackwell said her years in the classroom taught her lots of things about maintaining discipline.
Although both had time on St. John before, they are still learning about the culture.
"I'm having trouble picking up the accents," he said.
Since they are a couple, they will have each other to provide entertainment at this remote facility located on the island's southeast shore, and technology will help them to keep in touch with their family.
Son Nathan is a U.S. Marine Corps lieutenant who lives in San Clemente with his wife, Kara. He has a six-year-old son, Harlee, who lives in Kansas. Daughter Allison, 24 is aiming for a teaching job in Tuscon, Ariz., and their other daughter, Hannah, 20, will head to Fort Lewis College in Durango, Col.' when summer ends.
For now, the Blackwells are settling in to their jobs and enjoying the beach at nearby Lameshur. Tony Blackwell expects to join St. John Rescue.
The two volunteered at the Kids Carnival at the recent St. John Festival. While Carla Blackwell said it was fun, she said it was also important to get the word about VIERS to people who don't know about the facility.
"A lot of people don't know where it is," she said.
They expect to stay at least four years at VIERS. When they're ready to move on, Carla Blackwell said they'd like to try different locations.
"But we like to stay long enough to know people," he said.