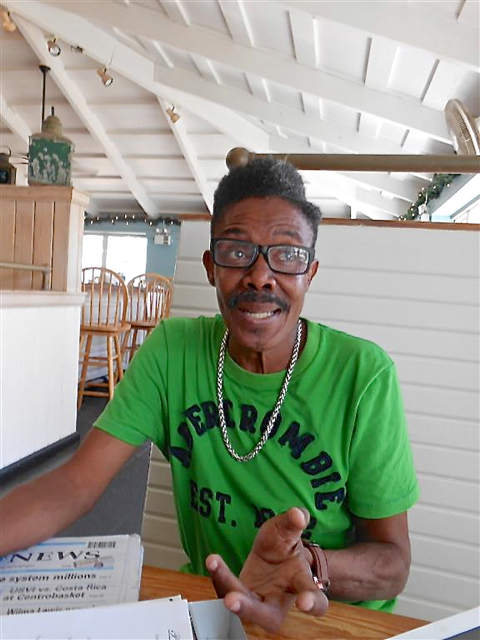 Ever since he marched off to elementary school dressed in a suit and tie, appearances have always loomed large in Alfred Haynes life. He has, in fact, made a career of it.
Not just any appearances – great and grand looks, historically influenced, feathers, a fantastic show. This has been his life work, a far cry from his austere suit and tie of school days.
"I do love glitz," said the St. Thomas native.
He credits his mother for his taste and discipline.
"Growing up I wasn't allowed to wear jeans or short pants, suit and tie to school and to church on Sunday. I was always well-groomed, a haircut every Saturday."
He said the other students didn't really give him a hard time. Or, if they did, he obviously capitalized on the attention.
Haynes has made the most of that desire to decorate, to adorn, cutting a broad swath from Universal Studios in Hollywood to the Smithsonian Institute, where he was invited to represent the Virgin Islands this summer in "The Will to Adorn: African American Diversity, Style, and Identity at the 47th annual Smithsonian Folklife Festival in Washington, D.C.
Yemaya Jones, a St. Croix textile designer, was the other V.I. representative.
"The Will to Adorn" is a multi-year, collaborative folk cultural research and public presentation project initiated by the Smithsonian Center for Folklife and Cultural Heritage. Through the work and perspectives of museum, academic, and community scholars, as well as community-based cultural practitioners, including artisans and designers from across the nation, this project explores the diversity of African American identities as expressed through the cultural aesthetics and traditional arts of the body, dress, and adornment.
"We were the only ones with predominantly African American dress," Haynes said. "We shared a stage with Hungary, our host country. Between interviews, we compared our different ways of dress. Red is the big color in Hungary, so they loved our Carnival costumes. From about 11 to 5 each day we hung out together, learning about each other."
And the Festival goers learned a lot about the Virgin Islands. Haynes spectacular costume was called "A Veil for My Mother."
"It's an homage to her," Haynes said. "I've been lots of places and done lots of things, but this is my biggest highlight, just to be able to say thank you.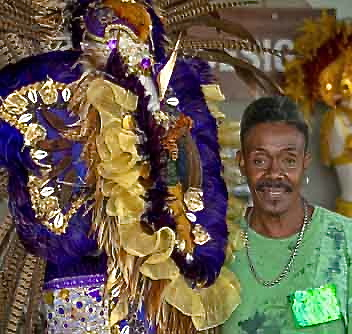 "I used all local natural resources," Haynes said. "I used milk weed pods, magnolia tree pods and coconut husks married into a cowry shell, which was used for money in the African slave trade."
Arrayed in a green Abercrombie T-shirt and jeans, the usually spiffily attired designer was having a casual Saturday. And he appeared to be enjoying every minute off-stage.
"I've always been an artist, never a math person," he said. Illustrating the point, Haynes said after moving to New York with his family early on, he returned to St. Thomas to graduate from Charlotte Amalie High School in 1978.
"I had almost all art classes, mostly with Edith Woods," he said, "but when it came time to graduate, I was failing in math, so I had to take summer school first." Laughing at the memory, he said, "And I had even written the class song."
After CAHS, Haynes earned an associate degree from the Fashion Institute of Technology in Visual Merchandising, Fashion and Exhibit design, followed by a bachelor's degree from the Parson School of Design in New York.
"My first gig," he said with pleasure, "was a summer job dressing the windows at Bonwit Teller."
Then, in somewhat radical change of pace, Haynes joined the U.S. Navy where, as advertised, he traveled the world, observing European design and picking up the art of wire bending from artisans in Trinidad. He's applied this skill to the creation of festival, cultural, and historical costumes as well as to exquisite gowns for beauty pageants such as Miss Virgin Islands, Ms. Universe, and festival queen contestants. "I cannot remember how many queens I have decorated," he said.
Likely more than he can shake a scepter at.
After his travels, Haynes headed to Hollywood, where he worked at Universal Studios as a set decorator for about three years until they split up the art department, and he went to Universal Studios in Orlando, Fla., where he did everything, including re-assembling Frankenstein.
"We had unfinished projects in California," he said."For instance, the original Boris Karloff wax figure got crumbled en route to Florida, so I had to put it back together."
Speaking of his career, with a bit of a flourish Haynes opens his portfolio contained in a shiny metal case. And, indeed, there's an 8-by-10 photo of Karloff's likeness as the monster. The portfolio runs through his Universal stints right through his ongoing career – Haynes Designs, Designer to the Queens.
In 2000, when his mother fell ill, Haynes came home, putting his and diverse bounty of experience to work.
"I was always applying for grants at the V. I. Council on the Arts," Haynes said. "Until finally Betty Mahoney, the director, said 'Let's just hire him,' so now I'm on the on the VICA staff."
Haynes comes upon his rendering for Queen Charlotte Amalie, aka Anna Heegaard, consort of Danish colonial Gov. Peter Von Scholten. It's a lovely sketch, but a costume that got him in hot water in some circles. A Miss V.I. Universe entry, he designed the period costume showing her pantalettes and garter belt.
Haynes, who has a healthy respect for his own work and for historical accuracy was not daunted.
"If I do a historical costume," Haynes said. "I keep it true. It was common knowledge that she was his mistress, his consort. It expressed who she was."
Right now he is busy trying to find a natural locale to take a photo of "A Veil for my Mother."
"I'd like to do it on Hassel Island," he said. "The costume is now the property of the Smithsonian and I have to return it by the end of September."
Haynes mother died three years ago, but he said she is present in his life.
"In my heart, I know she had a lot to do with the Smithsonian. She is looking out for me."