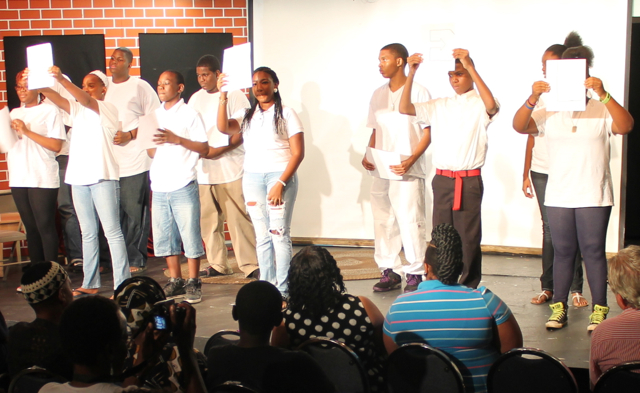 Sixteen young people took the stage Friday at Pistarckle Theater, presenting their film and stage pieces as they graduated from the theater's intensive four-week Leadership Camp, an initiative to help address crime and violence in the territory.
The program's theme was "Stopping Crime Starts at The Roots."
The audience of about 70 who watched the four short films and three live stage performances were struck by the topics, which included child abuse, self-mutilation, drug use, even murder – subjects selected by the participants themselves.
"My most memorable moment was when I played a child-molesting and abusive father," shared camp graduate Irvin Mason, Jr. "I realized I would never be an abusive parent because I would hate it if my parents abused me."
At the helm of the anti-crime program was England-born Empress PJ Crosby, a poet and educator who at the age of 15 started working with children. She first came to St. Thomas in 2008, launching Poetic Beginnings, an intensive eight-week speech and writing program. That program, with support from Pistarckle Theater and Kidscope Inc., helped some 400 young people speak their minds.
"It's all about giving the children a voice," said Crosby, relating how her students would ask her questions that they were uncomfortable asking their parents or teachers for fear of getting in trouble.
"I already knew that, but it was more here," she said, pointing to her head, "than here," pointing to her heart.
Crosby officially moved to St. Thomas in 2012, armed with educational background in early childhood education, political science and psychology, and strong ideas about societal problems, and their causes. When Pistarckle Theater producer Nikki Emerich approached her to design a leadership program for the youth that would address violence in the community, Crosby was ready with a plan.
"Stopping crime starts at the roots," she said. "I started with the fact that anything you need to know, you have to start at the roots to find out how it ended up this way."
With help from her husband, George Carty, who taught video production at the Royal Theatre in Florida, Crosby came up with a four-week film-and-live-stage program in which students age 11 to 17 learned about writing, filmmaking, scripting, and live stage performance.
The program hit its first obstacle during its first week, when Crosby realized that some of her students did not have a working grasp of basic writing.
"Most of them don't know how to write, just write a paragraph," she said. "I don't understand how they get to tenth grade and they can't write. That just blows me away. That's the first thing we do: we work on writing."
The second week focused on filmmaking. Students created short films and PSAs on issues that concern them. By the third week, they were immersed in live stage, learning the basics of writing and performing for theater, and lighting and stage design.
When asked how film and theater tied into leadership, she said, "Rather than just being a stage or movie thing, it's deeper than that: it's a direction. The choice that they make is whether they become a leader or not, but you can only make sound choices if you know how to judge what you are given to make choices of."
Learning about the elements of filming and live stage helped the students exercise making good choices toward a final product, Crosby said. Mason agreed, sharing his own experience directing a PSA.
"A leader commands or leads a person or a group," he said. "As a director, you have to make sure you remember and deal with everything that needs to be done, such as lighting, costume changes, sounds and stage direction for actors."
Crosby expressed her satisfaction during the Friday program, which ended with a Leadership Pledge from the camp graduates.
"They learned that to stop the crimes committed today, you have to go back to the beginning," she said about her students, "and also letting people know that it's okay to get involved. Their involvement is the only way crime is going to stop."