To celebrate Founder's Day, the National Park Service's 97th birthday, all park facilities across the country will waive admission fees Sunday. In the Virgin Islands, only Trunk Bay Beach on St. John and Fort Christiansvaern and the Steeple Building at Christiansted National Historic Site on St. Croix charge admission fees.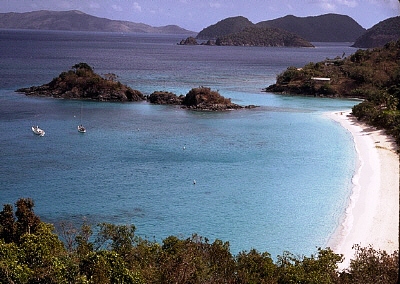 "National parks belong to all Americans, and we invite everyone to join us and celebrate this special day," National Park Service Director Jonathan B. Jarvis said in a press release.
The intent of the fee free declaration is to encourage people to enjoy and learn more about the stewardship of national parks.
The Park Service was founded by the U.S. Congress in 1916 to conserve and protect parks, but also to leave them "unimpaired for the enjoyment of future generations," the Park Service website indicates.
Stephen Mather, whose name graces numerous facilities through the Park Service system, was the Park Service's first director. Robert Stanton, who served as Park Service director from 1997 to 2001, was the superintendent at the St. John park from 1971 to 1974.
V.I. National Park was added to the list of Park Service facilities in 1956, with St. John's other park, V. I. Coral Reef National Monument designated a park in 2001.
On St. Croix, Christiansted National Historic Site was included in 1952 as V.I. National Historic Site. It was renamed in 1961. Buck Island Reef National Monument was added in 1961, and Salt River National Historical Park and Ecological Preserve joined the ranks in 1992.
St. John's Trunk Bay Beach, where the admission normally runs $4 for adults, is mainly popular with tourists, the park's chief of interpretation, Paul Thomas, said. He said locals have their favorite beaches and tend to stay away from Trunk because it's busy with cruise ship passengers and they have to pay a fee. Children age 16 and under are always free. An individual annual pass runs $10 with families paying $15 for the pass.
"This is your opportunity," he said.
While Trunk Bay is free this Sunday, the rest of the park is always free, and Thomas urged people to enjoy its beaches, snorkeling and hiking trails.
"They're the perfect place to get away and reflect on life," he said.
Admission to Fort Christiansvaern, as well as the Steeple Building, runs $3 for adults over age 16. Youth admission is free.
District ranger Islander Rodriquez said Christiansted National Historic Site is a unique park that showcases its Danish roots that date back to the 1700s. In addition to Fort Christiansvaern and the Steeple Building, it has two other buildings. The Customs House is currently closed but Rodriquez said all imports and exports went through the Scale House.
"Sugarcane to slaves," he said.
To learn more about national parks across the country, visit www.nps.gov.