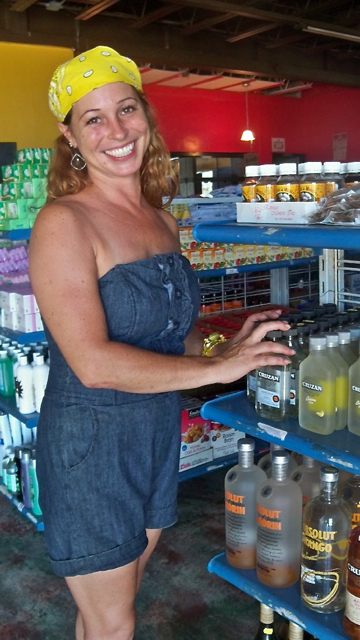 A convenience store has opened on the South Shore in Estate Sally's Fancy on Great Pond Bay, great news for people living in or traveling through the area because there aren't any other shops around for miles.
On Aug. 7 Tirek Allah opened the doors of the Sally's Fancy One Stop Shop, selling a bit of everything.
"We have it all for customers in one-stop shopping," Allah said. Manager Marianne Minot said their best seller is cold beer. They said they promote good pricing on everything from cereal to cleaning products. Minot said they will stock fresh eggs and locally made hot sauce soon.
For 10 years Allah operated a convenient store in Estate Carlton until it burned down about 10 months ago. He wanted to find another location and new patrons. He felt the location of the store in Sally's Fancy was a good spot for all he has planned for his business.
He said he also plans to open a gaming room in the same building with pool and domino tables where locals can hang out. He has plans to open a car wash, and there is a small turn-key restaurant in the building that he hopes to rent out. Presently he is serving from a limited hot lunch menu.
Minot, who is involved in animal rescue at the St. Croix Animal Welfare Center, said she is in talks with the folks at AWC about hosting a spay and neuter clinic or adoption events on the property. And she would like to get the Juan F. Luis Mobile Blood Unit on the grounds to do a blood drive.
They will sell lottery tickets, and a credit card and debit machine is being installed this week. Minot has spoken with Divi Carina Bay Resort concierge about the store and its convenience for guests.
Allah, 35, grew up in the business, working for his parents, David and Rayya Dowod, at Everybody's gas station when he was 14 -years-old. The business is in his blood, he said. He is a 1995 graduate of St. Joseph's High School.
Three previous stores have opened and later closed in the location over the years. It was originally Aponte's, then Jenny's and the last was Milgie's, which closed last fall.
Allah said the WAPA bill is what he is concerned about. He conserves energy by leaving the store's door propped open to catch the Caribbean breeze.
He said he likes the flexibility of being being his own boss and treating customers the way he wants to be treated. Minot said they both have a positive attitude and are hoping for the best.
Minot said the store will have a grand opening celebration soon. The store is open from 6 a.m. to 7 p.m. daily.