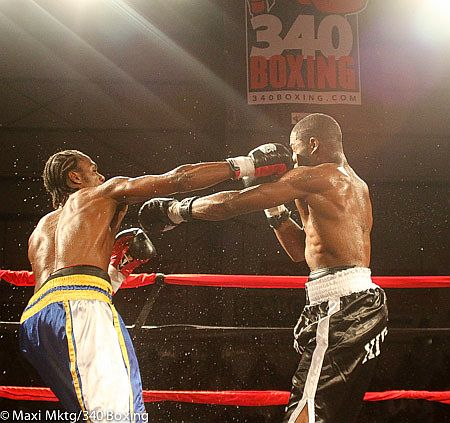 By the time the doors opened at 6 p.m., parking at the Mark C. Marin Center at Antilles School was almost non-existent and the line of people waiting to get in for Saturday's "Boxing in Paradise VI" fights wound around the building.
The buildup for Saturday's event revolved around the theme that this might be the last time the territory's 340 boxers – John Jackson, Julius Jackson and Samuel Rogers – would fight together on a local card. With rumors of Showtime and HBO waiting in the wings, it's up in the air where the three could end up, but 340 Boxing managers have said that V.I. fans should expect even bigger and better things in the year or two ahead.
While the fighters were the main draw, the night was also dedicated to the memory of boxing legend Emile Griffith and filled with special presentations, tributes and other moments – including a minute in the center ring with USVI Boxing Federation referee Julian Jackson Jr., who singlehandedly pulled everyone out of their seats with a surprise marriage proposal for his girlfriend of two years, Aquila Dorsey.
Make Way for the Amateurs
Seven amateur bouts opened the card, showcasing the talent of the USVI Amateur Boxing Federation's newest crop of recruits — along with the heavyweight punching power of Clayton Laurent (39-9-0,) who 340 Boxing managers have been grooming for the 2016 Olympics and a professional career of his own.
Laurent and USVI Boxing Federation's Jose Peguero (11-7) have already made waves in the national amateur boxing scene – picking up everything from accolades to medals in competitions all over the world, followed by awards and championship belts at the Paul Murphy National Classic Tournament in Atlanta in 2011 and 2012.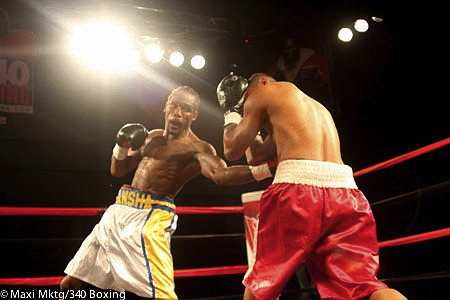 Both won their bouts Saturday, with Peguero dominating Puerto Rico's Luis Jose Rodriguez and Laurent more than proving his mettle in the ring with opponent Frank Tate.
"I feel good," Laurent said after the bout. "I expected a tough fight, but in the end I think I had more stamina and heart than he did."
Laurent said his next step is preparing to defend his Classic title.
"I'm a two time champ – it's time for me to get ready, get back up there and show them what I'm made of," he said. The Classic is scheduled for Aug. 30 – Sept. 1, and both Peguero and Laurent will go, USVI Amateur Boxing Federation officials said.
Two Knockouts Later
On the professional side, the night ended with two knockouts and a harrowing eight-round fight to the finish for John Jackson, with the fighters pushing through everything from injuries to last minute opponent changes.
When the fight was first announced in June, Rogers (14-0 with 8 KOs) was set to take on Missouri's Bryan Baue, but a switch in the card had him facing off Saturday against Puerto Rico's Eduardo Adorno with little to no time left to learn more about his opponent's fighting style.
But that appeared to make no difference in the ring Saturday. The first round began around 10:19 p.m. Rogers was clearly the aggressor, landing several blows that knocked his opponent down four times in two rounds, with the final blow landing flush to the face. By 10:36 p.m., Rogers had already been declared the winner by knock out 1:26 into the second round, given a speech and completed his media interviews.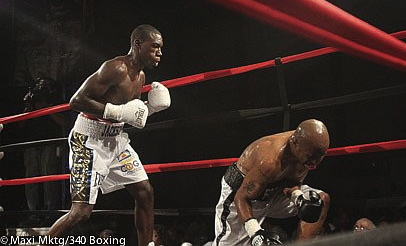 "I didn't know who I would be fighting until the very last minute," Rogers said after the fight. "He even told me in the locker room tonight that he was going to knock me out – but that didn't matter. I came out mentally prepared for anything – this is what I've been training for and there wasn't anyone in the world that could have beaten me tonight."
For Julius "The Chef" Jackson (16-0 with 12 KOs,) Saturday's fight was more about showing his home crowd how much he has grown as a fighter over the past few months. Jackson's opponent also changed recently, switching from Trinidad & Tobago's Joel McRae (9-3-1 with 4 KOs) to North Carolina's Julius Fogle (17-8 with 11 KOs).
Jackson landed some early shots during the bout, and late in the first round, Jackson's head accidentally connected with his opponent's mouth, leaving Fogle bloodied. Fogle continued, but Jackson knocked his opponent to the knees right before the end of the first round.
Working the ring, renowned American boxing referee Steve Smoger – who made the trip to the territory to call and judge the professional fights – called the bout shortly after Fogle said he couldn't push through, leaving Jackson the winner by way of knockout.
"I felt good, strong and fast, and I wanted to show all of our fans out there that I've taken it to the next level," Jackson said after the fight. "I didn't go wild – I stayed calm and kept my composure. We knocked heads for a minute, and usually after someone gets hurt, I go after them hard, but tonight, I waited until the time was right."
The tussle with Jackson forced Fogle to get three stitches to his upper lip after the fight.
When the event was announced months ago, John Jackson (17-1 with 14 KOs) was the only 340 boxer without an opponent, but he appeared as the main event Saturday against journeyman Tony Hirsch – sparring partner for WBC boxing champion Andre Ward. Jackson had a medical issue that couldn't be taken care of before the fight, but his coaches said afterward that he was able to push through successfully.
"He wasn't firing on all cylinders," 340 Boxing trainer David Rogers said after the fight. Rogers explained that for the past two weeks, Jackson had an issue with one of his back teeth, which could not be removed so close to fight time.
"Even so, I think John had it from the first round," Rogers added. "He went hard with his jab, and because he knew he wasn't going full force, he didn't look for the knockout. He stuck with it and relied on his training to get him through.
The bout went the full eight rounds, and when the dust cleared, Jackson was declared the winner by unanimous decision: 79-73, 77-75, 78-74.
"He was a good fighter, but I was able to use my jab, and after I got him good a couple of times, I started to gain power," Jackson said after the fight. "I feel good that we pulled through and I thank God for the win."
340 Boxing Manager Jose Rosario said later that Saturday's fight spoke volumes about how each boxer has continued to develop and grow, both physically and mentally.
"I'm very proud of how all three of them performed," Rosario said. "Our boxers continue to move up the ladder, showing the world what they are made of and exactly what kind of talent we have here in the Virgin Islands."
Saturday's fight also paid tribute to boxing legend Emile Griffith, who passed away late last month. 340 Boxing was presented with Griffith's fighting robe and gloves by son Luis R. Griffith, who said he hoped the gift would help inspire local boxers to reach for their hopes and dreams and "find achievement in boxing."