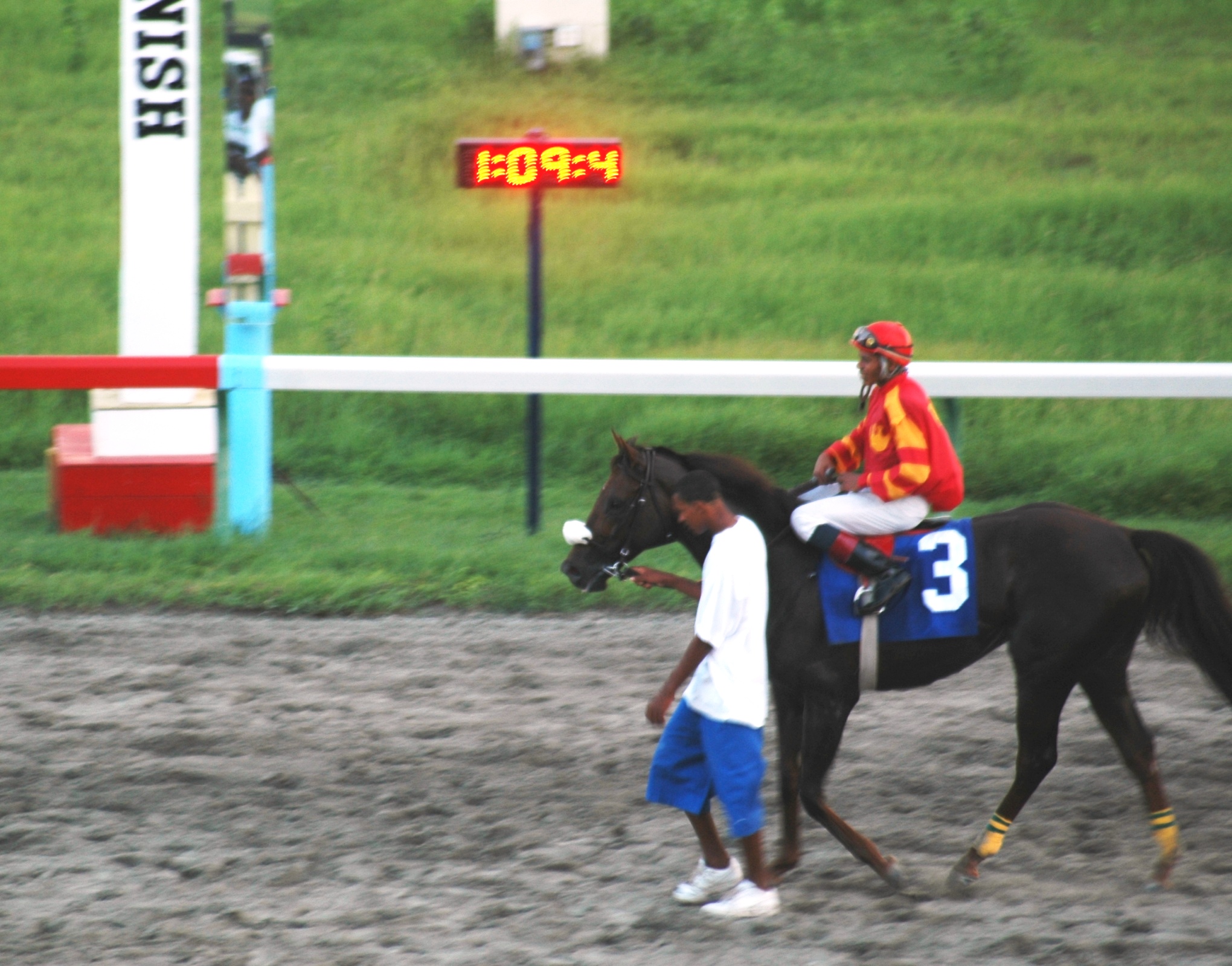 The horses will be off and running at the Randall "Doc" James racetrack on Sunday with eight big races scheduled and post time for the first race set at 1:30 p.m. Sunday's featured race is the seventh on the card and it will be a seven furlongs encounter in which local racing fans will see the return of former champ El Real Madrid go up against four rivals in Simon Sez Run, Bid D, Remarkable Storm and newcomer Shackles 'n Chains out of St. Thomas.
El Real Madrid came to the Virgin Islands with high expectation back in September of 2010 and on the 27 of that month he did not disappoint as he won by an impressive 10 ½ lengths of three overmatched rivals. In his very next race El Real Madrid stamped his name in the St. Croix horseracing record books when he shattered six furlongs mark in a still standing time of 1:09.4.
However, El Real Madrid has been away from the track for more than a year and will face a field of some of the quicker horses in the territory.
Simon Sez Run (118) is tough and fast and it would not be too much of a surprise if he wires this field.
Big D (118) did most of his racing in the tri-state area before coming to the territory but has yet to show the effort warranted for an I-1 thoroughbred.
Remarkable (114) got left in the gates last race day but went well once he got going. He is stepping up in class here and could be reaching a bit, but this could be a big race for Remarkable.
The unknown in this race is the newcomer, Shackles 'n Chains (118) out of St. Thomas. Shackles 'n Chains won his last race at Tampa Bay Downs in March.
Many local fans will be on hand Sunday to see if Shackles 'n Chains will be the next big thing in the territory; however, if the El Real Madrid of old shows up, he and the others will be vying for second.
The rest of the day's card:
Race 1 Class N-4-M/F-C/G, 7F $4,100.00
1. JPD YUNG 116
2. Running Pryor 118
3. Victoria Secret 117
4. Gaza 116
5. Small Man 118
6. Ideal Masterpiece(Debut) 116
7. Colombiana (Debut) 114
Race 2 Class I-5-M/F & I-6-C/G 7F, $4,200.00
1. Baby Bopp 118
1A. Estrella Del Dia 118
2. Seduce Cat 114
3. Tiz Trouble (Debut) 116
4. Clutch 116
5. He's Prapa 116
6. Karma Cat 114
Race 3 Class I-5 C/G 7F, $4,600.00
1. Musicinthenight 118
2. Burn the Harp 118
3. El Hombre Grande 114
4. Game Winner 116
5. Kid Comerio 116
6. Mechanical Force 116
7. Victorotti 118
Race 4 Class I-1-2-3-4(M/F) 7-1/2 F, $5,600.00
1. The Andreas Spirit (Debut) 115
2. Holy Barbara 118
3. One Eye Cap (Debut)(STT) 118
4. My Ocean Beauty 114
5. Catty Patty 114
6. Angel's Concerto (Debut) 118
7. Leggy Blonde 118
8. Apron Dance 114
Race 5 Class I-3-4 (C/G) 6F, $5,000.00
1. Winning Actor 114
2. Blast of Macho 117
3. Alley Cat Gang (Debut) 118
4. Sir Gusta (Debut) 118
5. Super Bently (Debut) 114
6. Bob Can't Jump 117
Race 6 Class I-3-4(C/G) 7 ½ F, $5,600.00
1. Burning Star 117
2. Fly in the Soup 114
3. Extra Brew (Debut)(STT) 117
4. Drink at last Call 117
5. According to Jesus 117
6. Going Blue 114
7. Costly Approval 114
8. Mister Unitas 117
Race 8 Class N-1-2-M/F-C/G, 7F $5,500.00,
1. Mama Linda 116
2. Cruzan Emerald 114
3. Creation Rebel 120
4. Fast Return 119