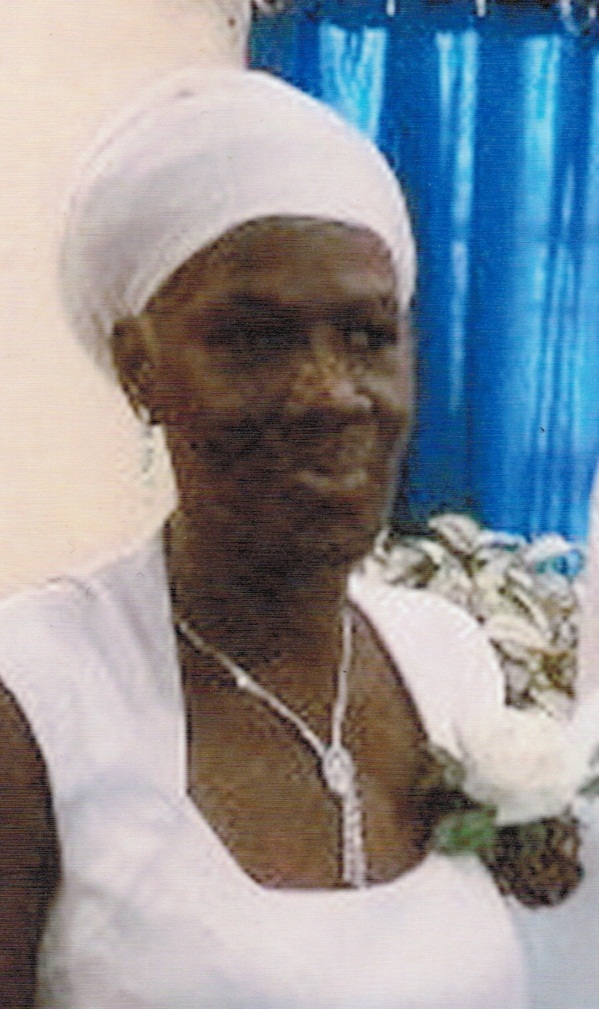 Pauline Veronica Stevens of Mutual Homes died at her residence. She was 55 years old.
She was predeceased by her mother, Louisa Josiah and her father, Reginald Stevens. She is survived by her children: Michelle Stevens, Sonia Stevens Sackey, Kim Stevens, David Stevens, Jahmarley Stevens and Stedroy Stevens; grandchildren: Jahkeele Stevens, Shakeem Sackey, Jahkeem Sackey, Somaya Sackey, Sonaya Sackey, Mahalia Joseph, Makalia Joseph, Mahlion Joseph, Mahzion Joseph, Mahsiyah Joseph, Mahsanie Joseph, Mahjahnie Joseph, Kineil Stevens, Eliza Stevens and Dazion Stevens; sisters: Sarah Samuel, Venetta Walcott and Beverly Claxton; brothers: Lariston Mandy Stevens and Valmon Black Stevens; aunts: Princess Dickenson, Catherine Samuel and Jestina Dindie Stevens; and nieces: Judith Stevens, Cynthia Ephraim, Yolanda Stevens, Sandy Samuel, Sasha Stevens, Michelle Stevens, Marcia Walcott, Tena Samuel, Onika Stevens, Lasunda Stevens, Lanihya Roebuck, Zy' nihya Johnson, Chaseeza Stevens, Denelle Stevens, Denisha Stevens, Chardinal Stevens and Channelli Stevens.
She is also survived by nephews: Patrick Stevens, Casper Samuel, Onelli Stevens, Dion Samuel, Ludalwa John, Allington Stevens Sr., Basil Stevens Jr., Imande Stevens, Eton Samuel Jr., Lion Roebuck, Laquan Roebuck, Deval Roebuck, Deval Stevens and Devonte Stevens; great nieces: Khadejah, Chadia, Dariah, Indika, Mahlejah, Tyanna, Z' Leyah, Adrianna and Lelani; great nephews: Chadeem, Jahkim, Hugo Jr., Allington Jr., Jahmal, Damien, Alexander and Ikeybo; sisters-in-law: Ame Stevens, Sabina Stevens, Valarie Stevens and Clair Stevens; brother-in-law: Eton Samuel Sr.; sons-in-law: Hakim Sackey, Maha Joseph and Clarence Dunawa; and daughters-in-law: Yvonne Abel, Kendra Pierce and Shanda Bailey.
Other survivors include special cousins and other relatives: Medine Nanton, Philmore Isaac, Michelle, Mikey Othello, Myrna Anthony, Laukland, Sylvan, Alexander, Joseph Nicholas, Garfield, Headley Stevens, Carr Family, Josiah family and Karen Claxton; special friends: Bain Charles, Marleen, Naimah, Corrine Jackson, Stephanie Adams, Enid Robinson Rivera, Yaritza Coopwood, Diane Robles, Candace Richmond, Allison Romain, Stephanie Abel, Shauna, Sherina, Chauncey, Geisha, Alicea and Margaret; as well as other relatives and friends too numerous to mention.
There will be a viewing held at 11 a.m. and a funeral service at noon on Wednesday, Feb. 22, at St. Paul's Episcopal Church. Interment will follow at Kingshill Cemetery.
All arrangements are by James Memorial Funeral Home Inc.