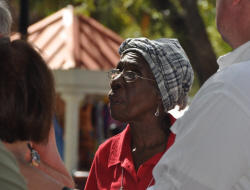 Ever since she was a little girl and learned how to read, St. Croix native Asta Williams has been telling stories. Now in her 70s, Williams belongs to an endangered breed of Crucian storytellers – icons who use oral folklore as a means for teaching children important moral lessons.
From her checkered madras to her vivid way with a tale, Williams exudes Crucian culture. Wearing a traditional black and white checkered skirt with a matching headwrap and a bright red shirt, Williams talked with a Source reporter in Frederiksted's Buddhoe Park Thursday.
"I love my Anansi stories, and my African stories," Williams said, with a wistful smile. "I like them because they have teachings about different morals and such."
Although she wouldn't give her exact age, Williams doesn't act a day over 30. Her tiny athletic frame fits her cheerful personality, and from the time she wakes up at 6 a.m. every morning, Williams is on the move until bedtime around 10 p.m.
"I don't like to stop, you know? Some people can't do anything or their body shuts down and I always say 'If you have a squeaky door and don't oil it – it gets rusty.' I'm just so glad I have things to do," Williams said.
In addition to telling stories once or twice a week at public schools around the island, Williams also does two hour walking tours in Frederiksted for Crucian Heritage and Nature Tourism, Inc. (CHANT) – even then, she's telling stories.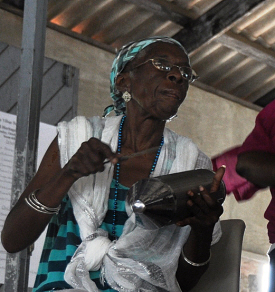 "I go to Fort Frederik and take them in all the rooms,– and along the way I tell them stories about myself, growing up on the island – you have to add a little spice, you know?" Williams said. "If you're making pancakes, you have to add your own spice to make it taste better."
But that's not all. Williams also takes care of her disabled brother, plays the squash – scratching percussion similar to the guiro of salsa and cumbia – for the quelbe band Bully and the Musical Kafooners, and teaches masquerading to local schools. She herself is a West End Masquerader for CHANT, and walks and dances every year in the Crucian Christmas Festival Adult Parade.
"I love the music and dancin' and I even love to cook, oh I cook every day – I guess I pretty much love anything to do with art," Williams said, laughing.
Her very first influence with storytelling came from her parents, Roselyn James and Daniel Hanley.
"My mother used to tell me lots of stories, many of them would just be proverbs and things, but I learned many lessons from both of them," Williams said. "They been gone many, many years though."
Born and raised in Frederiksted, Williams attended the Old Danish School (as did her mother) for elementary and junior high school and Christiansted High School for her later years.
"When I take people on the walking tour, I show them the school I used to go to and show them this magazine of the Old Danish School, getting renovated," she said, pulling out a tattered magazine full of old photographs. "This is what it looked like when I went there," Williams said shaking her head in memory.
Williams feels that it's important to teach storytelling to the younger generation because it's a way to preserve a rich culture, dating back years and years.
"The youth are forgetting the culture and their heritage, we're losing it and it's not just us alone but other Caribbean islands too," Williams said. "We need to keep passing it on."
Williams has been self-employed for years, supporting herself by teaching arts and crafts, masquerading, and of course, storytelling.
"I worked at Claude O. Markoe school for years, but even then in the back of my mind stories had become a way to sustain myself," Williams said. "Then when I became self-employed I added storytelling to my list of things I could do – you've gotta create yourself."
Although she considers herself something of a local historian, Williams has never written her own personal stories down; she said she doesn't have time to sit down and do that. Instead, she prefers to buy Anansi books and relay their stories to children. If the story is good enough, she'll remember the entire thing after one reading.
"I don't know how many I have memorized, probably not yet 100, but many, many stories," she said.
Williams said she loves it the most when a child is listening intently and seems to understand the meaning behind the story.
"I try to put life into the story – you don't just stand up their like you're dead –you gotta see if the children are listening and understanding – and hopefully they'll take the story farther and remember it and then tell it again," she said.
Although she doesn't know who is going to follow in her footsteps, Williams is hopeful that her granddaughter or another young person that she has told stories to, might take an interest and take those lessons to heart.
"I really do encourage the children to learn what I am teaching, so that when I get too old to do this, they could step into my shoes and go right along and carry it on."