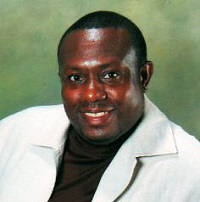 Becoming a social worker may not be at the top of every kid's career list, but 20 years ago, Vaughn A. Walwyn thought of it as his opportunity to make a difference in the lives of V.I. children.
Walwyn, a social worker in the juvenile justice division at the Department of Human Services, said, "If we are ever going to create a better society, we have to help the students work out some of their problems when they are young instead of just concentrating on juvenile delinquents when they get to high school in the ninth or tenth grades."
The reality is that most of these kids have been acting up since they were in elementary and junior high, he said.
Walwyn's biggest inspiration for getting into the field was his mother Ermine Walwyn, who taught her children the importance of getting a good education.
She sent her five children through Seventh Day Adventist School on St. Thomas, but also set an example by working hard to obtain her bachelor's degree at the University of the Virgin Islands.
Walwyn said this always stood out for him.
After graduating from Seventh Day Adventist School, Walwyn, now 43, studied at the University of Alabama where he majored in criminal justice. He said he took an extra year to study sociology and psychology.
In between his undergraduate work and moving on to graduate school, Walwyn was offered the job at Human Services, where he has worked for the past two decades.
The department was looking for social workers specializing in juvenile delinquency, abuse and neglect on St. Thomas, which played into his field of study, Walywn said.
"At the time, I didn't know what I was getting myself into," he added. "But now, I can't imagine myself doing anything else."
Walwyn helps with counseling and rehabilitation. The job includes going to court with youth after an arrest or brush with the law, doing background and curfew checks, and monitoring them while they're on probation to make sure they are going to school and following the rules.
He also makes recommendations on placing juveniles in the Youth Rehabilitation Center on St. Croix and traveling with them to make sure they get settled in and receive the attention they need.
A social worker can have up to 25 youth under his supervision at once, Walwyn said, adding that the best way to balance the load is to take advantage of other programs within the community.
Walwyn also works part time with the Family Youth in Crisis Intervention Program through the Family Resource Center.
While the work load can get pretty hectic, Walwyn said he does what he can to stay centered during his downtime. Along with being a Little League board member and the vice president on the board for Explorers Baseball, he also works with the Amazing Youths Drum Corp board.
Walwyn said traveling through his volunteer work gives him a fresh perspective when dealing with his clients at work.
"I think for me, what I hope that my clients would one day say is that they were able to turn their life around because of something I may have said or some little thing I did," he said.
While Walwyn continues to work on his master's degree in counseling, his focus is also on his two sons and on working with school oriented groups in the community.
"A lot of people give us lip service in the Virgin Islands, but we don't see any action behind that," he said. "My hope is that, with just a little bit more time, we could get every person looking out for or adopting one child. I think if that happens, that we will really be doing well."