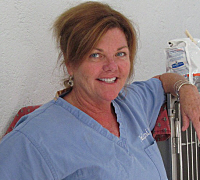 Only about five months on the job at Canines, Cats and Critters, veterinarian Julie Outland is settling in to life on St. John and her new position.
"I feel that people here really appreciate what I do – more than in the states," she said.
Outland has been busy since arriving in September. She found a house to rent but it's now been sold, so she's looking for another one.
And as if that wasn't challenging enough in St. John's tight rental house market, the veterinary practice just moved from Palm Plaza to a much larger location on Centerline Road in Susannaberg – thus removing the Cruz Bay from its former name, Cruz Bay Canines, Cats and Critters.
Outland is a native of Knoxville, Tenn., but she grew up in Kentucky, and has always had an affinity for animals. She nurtured her pets, and when they died, they always got proper burials.
She said she still likes animals just as much as she always did, even after years of working as a veterinarian.
"Animals are so unconditional. They're always happy to see you."
In addition to seeing the practice's regular patients at Canines, Cats and Critters, Outland also does spaying and neutering for the Animal Care Center of St. John, where the number of cats to be spayed or neutered depends on how many were trapped.
Last week she had five. The week before that, it was eight.
Outland said she honed her spaying and neutering skills while working in the Knoxville area, where she drove a van around the countryside to provide low-cost services to people who otherwise wouldn't have this important procedure done for their pets.
Now 52, Outland began veterinary school at 31 in Knoxville at Auburn University. It's her second career. Her first was in city government doing secretarial and data processing work.
Her father, a dentist, offered her his practice, but she was more interested in animals than working with humans.
A divorce helped Outland decide to pull up stakes and relocate. She'd been to St. John five years ago and had heard of Canines, Cats and Critters, but the name slipped her mind when she decided to move.
She found the veterinary practice through a Google search and learned that owner Laura Palminteri needed help.
Outland said she had to choose between Canines, Cats and Critters and another job offer in Atlanta with a pharmaceutical company. She decided opportunities like the one on St. John didn't happen that often so she took the job in the Virgin Islands.
She sold off nearly all her belongings, bringing just enough to make her feel "grounded." She said, "It's amazing what you can live without."
Outland did bring her art supplies and said she expects to get back into painting as soon as she moves to a new place.
Since her arrival, she's had to study to take the national boards again. It's been time consuming, but that chore is behind her.
There have been some adjustments, she said. For example, she's learned that during the busy winter tourism season, the grocery stores sometimes run out of things on her shopping list.
"And it's a full day to go to St. Thomas and get things done."
Outland enjoys St. John's slower pace and making new friends. For now, she's content to sit on her porch and watch cruise ships sail by.
"I'm a homebody," she said.