Acting Police Commissioner Henry White got an earful from St. John residents Tuesday at a "Meet and Greet" held at the Battery. At issue for residents was the level of violence and general unsavory environment on Veste Gade in Cruz Bay, as well as the noise problem in Coral Bay.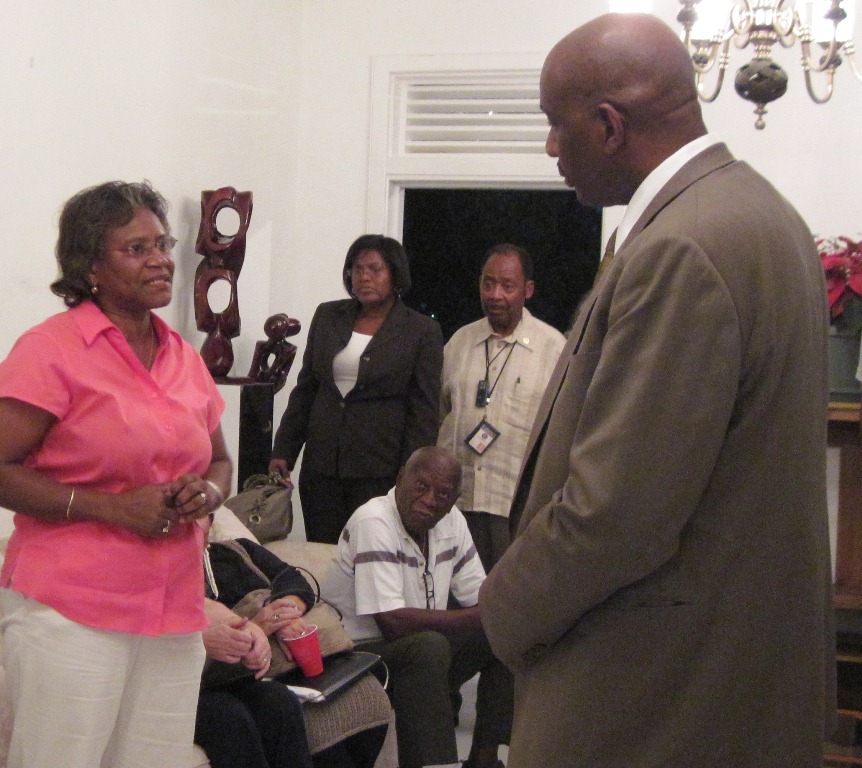 Acting Health Commissioner Dr. Mercedes Dullum was also on hand, but no one publicly aired any complaints about the Health Department.
Veste Gade is the one-block-long street that runs from alongside the post office to First Bank. It's one street up from the Cruz Bay waterfront.
Several people who own businesses or live on the street, as well as in other areas of Cruz Bay, complained loudly about how unsafe the street has become.
"I'm afraid. It's out of control in downtown Cruz Bay," Laurie Van Kuren said.
Two businesses moved out of the building in the center of the block owned by Fran Attard. She said it was getting progressively harder to do business, a problem Castaways Tavern owner Dan Boudreau also discussed.
They both spoke about stabbings and beatings witnessed by tourists, who are now being told not to walk down that street. Additionally, they said that drugs are being sold openly. Theodora Moorehead, who owns Mooie's bar and lives in Cruz Bay, said it was "six or seven" people causing the problem.
Van Kuren and Moorehead both told White the police department needs to implement foot patrols.
"If I was a police officer, I would make them uncomfortable," Moorehead said.
White said it would take a team effort to clean up the area, but Moorehead wasn't buying that. She said the situation was at a boiling point.
"It's getting to the point where people are willing to take it into their own hands," she said.
The situation is Coral Bay isn't as violent, but the sound of gun shots is becoming as common as the loud music from bars, boom boxes, and cruising cars, which has pushed residents to their limits.
Coral Bay resident Kenneth Marsh lives close to Cases by the Sea and Island Blues bars. He said the loud music goes on till 5:30 a.m.
"And when I call the police, it takes them an hour and a half to get there," he said.
He also complained about motorcyclists who rev their engines by his house.
Cab driver Kenneth Louis complained about the 10 or 15 homeless people who populate Cruz Bay Park. It's the first thing visitors see when they get off the ferry, and Louis said it looks bad. White referred that matter to the Administrator's Office.
Although Dullum did not receive any complaints to respond to, she said in an interview with the Source that the nurses were back on the job at the Health Department's Morris deCastro Clinic. They had stayed home sick for several months because they had a conflict with the Morris deCastro administrator. After he was transferred, they returned to work.
"I haven't heard any further complaints," she said.
Sharon Coldren, president of the Coral Bay Community Council, handed out magnetic emergency phone number cards that provide a place to write down a homeowner's neighborhood and directions to their home to assist police. The cards instruct callers to phone 911 from landlines or 340-776-9110 from cell phones. They should say "I am calling from St. John," and then state the problem. She said they're available at the Community Council office in Coral Bay, at Connections East, and at Keep Me Posted.
St. John emergency calls go to the dispatcher on St. Thomas, or occasionally, St. Croix, so it's necessary to provide precise information.