Students in Anton Doos's culinary art class at the Career and Technical Education Center got an eye-opening visit Monday from someone who stands where they are hoping to be someday – a famous chef near the top of the food chain.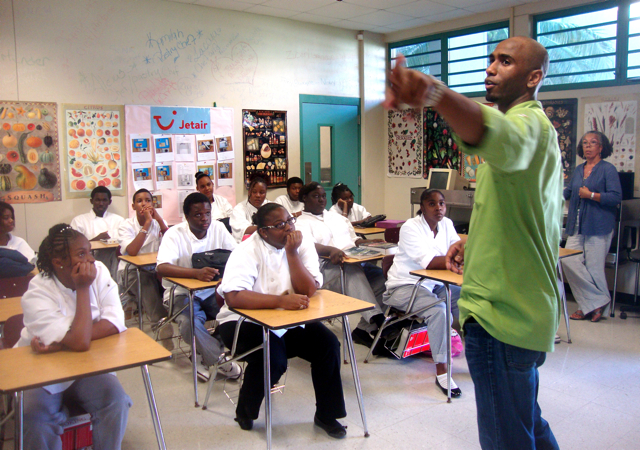 St. Croix native Orlando Santos, now executive pastry chef at the exclusive Dusquenes Club in Pittsburgh, returned to CTEC on the St. Croix Educational Complex for the first time since he graduated in 1998.
Santos told the students about his culinary career that has taken him around the world and landed him on reality television; he made it clear that he didn't make it where he is now because of his personality or looks. He made it through hard work.
Santos returned to St. Croix, arriving Sunday, at the behest of Frandelle Gerard, executive director of Crucian Heritage and Nature Tourism. He will be the featured chef at Friday's "Crucian Fusion" fundraiser, and is also preparing a $1,000 a plate dinner to raise money for the organization.
His first step on home soil was a return to the classroom where he'd received his first formal education in the art and business of cooking, and to pass along to today's students some of the lessons that got him where he is today.
After graduating from CTEC, he attended Johnson & Wales University studying to become a pastry chef. People are impressed by the fancy techniques and effects that chefs can produce, but it's the basic skills, he said, the nuts and bolts, the knife work, that make the difference.
"If you can't cut, if you can't sauté, if you can't measure, if you can't follow directions, you have no place in my kitchen," Santos said.
He still has his original knife from Johnson & Wales with the marks on the blade from the different cuts. In his stocks and sauces class they had to do at least half an hour of knife cuts every night
From there he went to Belgium, where he worked long hours for little pay learning his craft. Then he returned to the states, working in a variety of positions, and working himself up the food chain.
Later, when Santos worked for executive pastry chef Chris Northmoor, he said he had to prove himself, and prove that he had the skills to be Northmoor's assistant. To learn everything he had to know he worked his regular eight-hour shift from 6:30 a.m. to 2:30 p.m. then clocked out and kept working until 10 at night, for two and a half years learning the skills necessary to grow in his career.
It was not a case of "giving" the chef free work, Santos said. He was investing that time in himself.
"You have to put in the time for yourself," he said.
In a top-level workplace there are expectations about behavior, Santos said. In his kitchen he can tell when the people who work for him are being productive because the kitchen is quiet. If there's a lot of noise, he knows he needs to step in.
"You're wasting time and you're wasting money, and you're wasting my time, and I hate wasting my time," he said.
By the same token, the class of culinary students was kept on their guard. As Santos was answering one boy's question he suddenly stopped, turned to another and admonished him for hiding behind a book, saying it was "the rudest thing you can do when someone is talking to you."
Santos explained to the students he's considered very easygoing, but he's also very forthright and speaks his mind.
Another important tip Santos passed on to the students is to write everything down, and keep it. He said he still has notebooks that go back all the way to his first college classes, which he still refers to from time to time. He continues that practice today, only now, he writes it on his iPad or smart phone and keeps databases of recipes.
"Keep notes on everything, even failures," he said.
As Santos's former teacher Anton Doos said, "There's an old Chinese saying – The palest ink is stronger than the best memory."
Santos was featured this fall on the reality TV show, "Top Chef: Just Desserts," where he finished fourth. He is on the island this week for the Crucian Fusion fundraiser for CHANT, which will be held Friday evening at Fort Frederik in Frederiksted.
Tickets are available for the fundraiser by contacting the CHANT office in the courtyard behind Polly's on the Pier in Frederiksted. Further information can be obtained by calling CHANT at 340-719-5455.