At Dockside Bookshop we are constantly striving to meet our customer's needs. Take a look around the store and you'll notice that we rearranged a few sections to add the Teacher's Corner. This new section features many educational items like charts, maps, games, CDs and DVDs to help our students learn, grow and develop.
Dockside Bookshop – Your Caribbean Bookstore
Our new hours are Monday – Friday, 8am to 6pm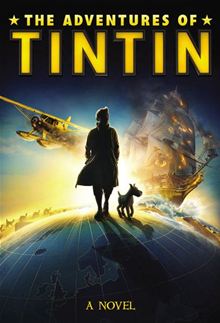 "The Adventures of Tintin: A Novel"
Don't miss this expanded novelization of the action-packed film! Tintin stumbles across a model ship at the Old Street Market. Only it isn't any model ship–it holds a piece of the puzzle to finding the resting place of Red Rackham's treasure! But Tintin isn't the only ones after the notorious pirate's booty. With dangerous treasure seekers at their heels, Tintin and his dog, Snowy, are on a high-stakes thrill ride, that takes them from land to sea, from open air to the ocean floor!
"Inheritance (Inheritance Cycle #4)"
The young Dragon Rider Eragon must finally confront the evil king Galbatorix to free Alagaesia from his rule once and for all.
Nobody likes The Complaints–they're the cops who investigate other cops. It's a department known within the force as "The Dark Side," and it's where Malcolm Fox works. Rankin proves again why he is one of the world's most beloved and bestselling crime writers, mixing unstoppable pacing with the deeper question of who decides right from wrong.
A passionate new Pride and Prejudice variation explores the unthinkable — Elizabeth accepts the proposal of a childhood friend before she meets Darcy again. When their paths cross, the devastated Mr. Darcy must decide how far he'll go to win the woman he loves. How can a man who prides himself on his honor ask the woman he loves to do something scandalous? And how can Elizabeth accept a loveless marriage when Mr. Darcy holds the key to her heart? As they confront family opposition and the ill-will of scandal-mongers, will Elizabeth prove to be Mr. Darcy's undoing?
Annie Leibowitz and Doris Kearns Goodwin
Pilgrimage took Annie Leibowitz to places that she could explore with no agenda. She wasn't on assignment. She chose the subjects simply because they meant something to her. The first place was Emily Dickinson's house in Amherst, Massachusetts, which Leibowitz visited with a small digital camera. A few months later, she went with her three young children to Niagara Falls. "That's when I started making lists," she says. She added the houses of Virginia Woolf and Charles Darwin in the English countryside and Sigmund Freud's final home, in London, but most of the places on the lists were American. The work became more ambitious as Leibowitz discovered that she wanted to photograph objects as well as rooms and landscapes. She began to use more sophisticated cameras and a tripod and to travel with an assistant, but the project remained personal.
5th WITNESS–$7.99