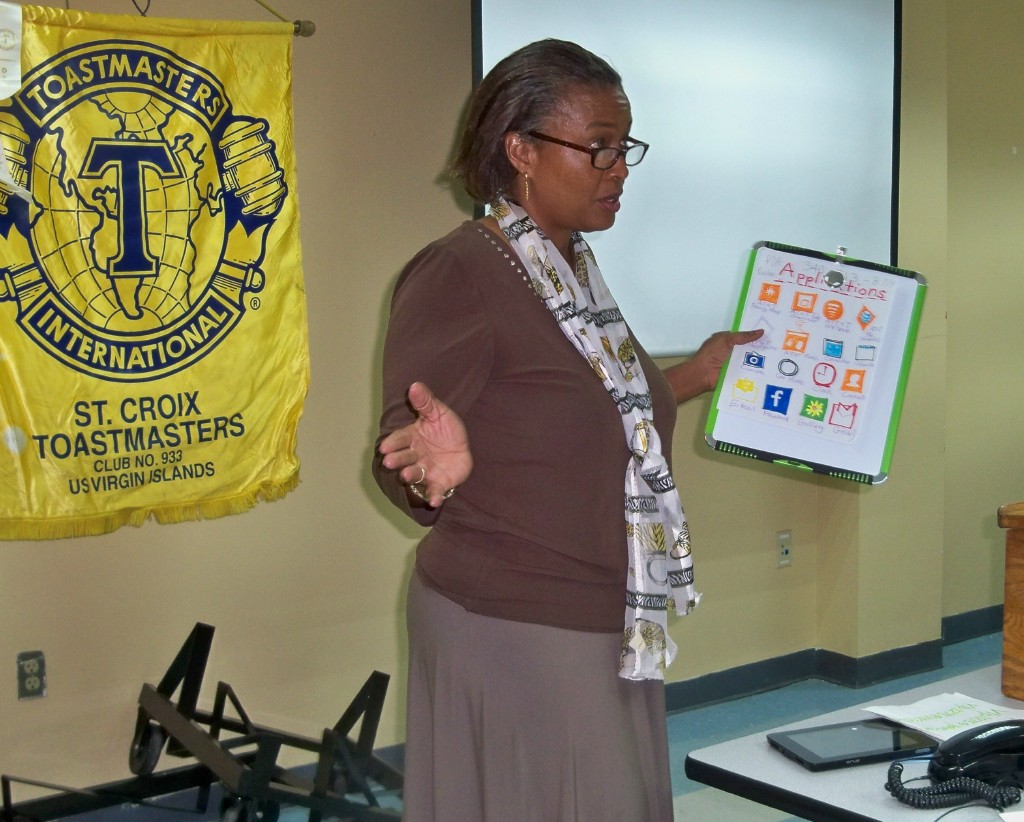 A group of St. Croix residents gather biweekly at Toastmasters' meetings to conquer their biggest fear: public speaking.
"Surveys and studies have shown that some people would rather die than give a speech," said Sandra Bastian-Carty, vice president of public relations for the St. Croix Toastmasters Club 933.
In national surveys, the fear of public speaking is among Americans' top fears. Public speaking surpasses the fear of illness, fear of flying, fear of terrorism, and even the fear of death itself. According to "Time Magazine," comedian Jerry Seinfeld has joked about those surveys saying that the average person would rather be in the casket at a funeral than giving the eulogy.
At a recent meeting of Toastmasters held in the education room at Gov. Juan F. Luis Hospital, a dozen members of the club and guests listened to and evaluated members, who had volunteered at the last meeting to present a speech.
The setting was casual, and all of the people attending appeared to be cool, calm and collected.
The speakers use a Toastmasters International Competent Communication manual, designed for different ranks of speakers, as a guide for topics and types of speeches.
After a member has given 10 speeches, they become Competent Communicators (CC); and with each completion of specific projects, members advance in ranks up to an Advanced Communicator Gold (ACG) then onto finally becoming a Distinguished Toastmaster (DT).
Table Topics, impromptu speeches generally on current events, are the first item on the agenda.
In Table Topics, members learn to listen and to think fast on their feet, said Bastian-Carty, a member for 18 years. Three people were chosen and sequestered in the hall leaving them clueless as to the Table Topic, with no time for preparation. All of the speeches are timed with this one being three minutes.
Bastian-Carty, Advanced Communicator Bronze (ACB), asked the speakers if they thought Dr. Conrad Murray, on trial for the involuntary manslaughter of Michael Jackson, was guilty. Eliza Joshua, secretary of the club, who loves Jackson and was up on the case, said she thought he was guilty but it was up to the jury.
Next on the agenda was ACB John Farrell, who had to pretend he was having a conversation with a person he just met. Farrell, a 15-year member, said he used to have a problem with stuttering, and his boss suggested he join Toastmasters. He carried on a flowing conversation with ease with Dr. Dante Galiber.
Dr. Galiber, CC, had the task of speaking for 10 minutes about humorous family episodes that occurred while he was growing up.
He started with humor, saying he certainly wasn't like comedian Eddie Murphy in leather pants. He gave humorous incidences about scaring his brother, on toilet flushing, as well as his love of driving fast, and his dad being furious.
Verdel Petersen, CC, gave an informative 10-minute speech, with props, on the 10 most popular ways to communicate, from smartphones to mailing a letter.
Speakers are voted on, evaluated and given small trophies they reuse and recycle at the next meeting. The members are fined for using fillers such as "ah" and "um." One member suggested a fine for someone using a double negative.
"I joined because I wanted to learn to communicate well," Joshua said. "Taking part as a member is an incentive to do better, and it helps me to think fast on my feet."
Ralph C. Smedley founded Toastmasters in 1924 to train young men in public speaking and presiding over meetings. The word "toastmaster" referred to a person who proposed the toasts and introduced the speakers at a banquet. The club on St. Croix has been in existence for 28 years.
If your knees knock, hands tremble and voice quivers before publicly speaking, or you just want to be a better communicator in public, contact Bastian-Carty at 646-709-3503 to find out how to hone your skills. Or email her at bastiancarty@yahoo.com.
"We are a very friendly group," said Devorath Elcock, president. "And there is nothing to be afraid of."
The Toastmasters meet at JFL the first and third Monday of the month beginning promptly at 6:30 p.m. and ending at 8 p.m. The initiation fee for new members is $30, and membership is $88 a year.