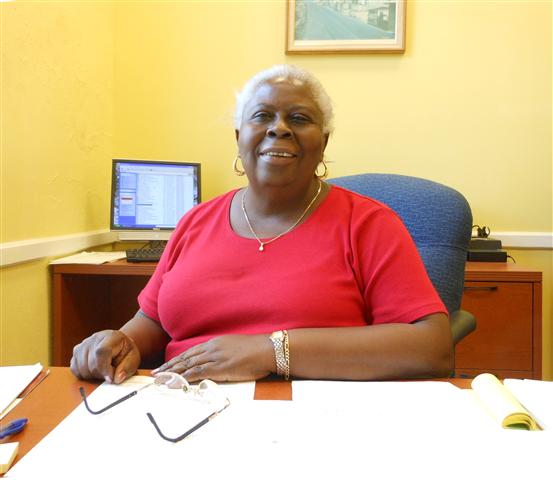 With brilliant sunlight pouring in from the two skylights, the Methodist Training & Outreach Center, which provides mainstream services to the homeless, recently celebrated the completion of a home for itself.
While the renovation for the main part of the structure was completed a year ago, Sept.15 marked the official opening of the center's kitchen and staff rooms, painted in a cheery shade of yellow. The warm, bright color reflects the center's feeling of camaraderie as staff, board members and the construction crew responsible for the transformation all lined up for a feast.
Established in 2002 to connect the homeless population with available services and shelters, the agency is the central homeless outreach center for the territory.
Its new home is an example of the vision and energy that motivates its staff. Executive Director Louise O. Petersen remembers originally eyeing the current quarters and deciding to see what she could do to acquire it.
Petersen remembered, "When we were children that building was vibrant; we'd stop in there on the way to Sunday school to get our little cookies and candy. The building had lost all its glory."
That was almost 10 years ago. Today the glory is restored inside and out, which bears a handsome green facade, with white trim and green wooden shutters, reflecting its past.
The center was originally housed nearby, where it paid nearly $38,000 each year in rent. With the help of Lawrence Joshua of the Department of Planning and Natural Resources, the center was able to purchase the current location with a DPNR Community Development Block Grant.
In opening remarks at the September ceremony, board president Dwayne Benjamin said, "It's been a long road, not easy, but with local minds working together, we've gotten here."
The space is well-appointed. Benjamin points out a hallway pantry, which is stocked like a veritable grocery store.
"These goods are donated by local hotels and United Way," he says. "It's for our clients to help over the weekends when the Salvation Army doesn't serve a meal."
Petersen has boundless energy. She now divides her time between St. Thomas and Baltimore, Md., where she just opened a new MTOC office, which she says focuses more on housing in the youth foster care system.
Though operating in spiffy new quarters, the task at hand doesn't change. It's a bustling enterprise. Clients sit talking with caseworkers about specific needs, from housing and medical assistance (including HIV treatment) to referring them for services like birth certificates, picture IDs and food stamps. Petersen says they see about 2,500 clients a year.
The center maintains two residences in Estate Contant —one for women which houses eight, and one for men housing three—both of which are filled to capacity.
"It's so sad," says Petersen. "We don't have anywhere to house the mentally ill." The community needs a sufficient supply of affordable permanent housing to meet the needs of extremely low-income and chronically homeless people, she stresses, along with a discharge policy that would insure that institutions, like hospitals and jails, are not abandoning people to homelessness.
According to the agency's statistics, widespread homelessness didn't exist in the territory 30 years ago. Several factors have contributed to the growth—substance abuse, mental illness and tough economic times.
One of the primary tasks of the center is the homeless count, which it has conducted since 2005, under the auspices of the U.S. Department of Housing and Urban Development.
In May 2005 a Point-In-Time study (PITS) was conducted by the V.I. Alliance Against Homelessness Continuum of Care, coordinated by MTOC, an organization comprising several community-based agencies.
The center's Homeless Management Information System (HMIS) provides hardware and software to the CoC organizations, which have all been set up with a database, for entering real data, which is submitted to HUD annually.
Matthew Thomas, a UVI graduate, administers the information program. He supplied statistics for the 2011 count, as well as those for former years. The center is required by HUD to do a count every two years. The numbers are essential to the center and other agencies, to more accurately evaluate programs, identify gaps and allocate resources.
Thomas says, "The current count didn't capture everybody, but those who are available. Most of them fall into the category of chronic homelessness, which is somebody with three homeless episodes within one year."
Within that category, the largest group on all three islands is black males with substance abuse problems, followed by the mentally ill. The most recent count, completed in January 2011, shows a total of 378 homeless territory-wide, with 41 black males suffering from substance abuse, and 14 mentally ill on St. Thomas. The counts are lower on St. Croix and St. John, but the percentages remain the same.
The totals vary: 288 in 2005; 487 in 2007; and 395 in 2009.
The counting process is an exacting and demanding task. This is where the center's army of volunteers comes in. "We have a number of experienced volunteers – 20 to 30," Petersen says. "We just call them and they are always willing."
She says, "We go out into the country, into Savan, the outlying neighborhoods, the beaches. We always have a homeless person with us who shows us where to look—Smith Bay, Coki Point, wherever they are. We talk with them, offer them sandwiches and drinks and encourage them to come in during the week and see what services we can provide them. And many of them do that."
The center operates with a staff of seven—three case workers, an HMIS system administrator, a project manager, an administrative assistant and Petersen.
"I have great people working around me, almost all of them have been there for the duration," Petersen says.
The center can be reached at 714-7782 or online.