At Dockside Bookshop we are constantly striving to meet our customer's needs. Take a look around the store and you'll notice that we rearranged a few sections to add the Teacher's Corner. This new section features many educational items like charts, maps, games, CDs and DVDs to help our students learn, grow and develop.
Dockside Bookshop – Your Caribbean Bookstore
Our new hours are Monday – Friday, 8 a.m. to 6 p.m.
Saturday, 9 a.m. – 5 p.m.
Dockside Book List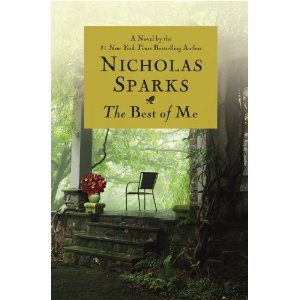 Fiction
"The Best of Me"
Nicholas Sparks
$16.00
In the spring of 1984, high school students Amanda Collier and Dawson Cole fell deeply, irrevocably in love. Though they were from opposite sides of the tracks, their love for one another seemed to defy the realities of life in the small town of Oriental, North Carolina. But as the summer of their senior year came to a close, unforeseen events would tear the young couple apart, setting them on radically divergent paths.
Now, twenty-five years later, Amanda and Dawson are summoned back to Oriental for the funeral of Tuck Hostetler, the mentor who once gave shelter to their high school romance. Neither has lived the life they imagined . . . and neither can forget the passionate first love that forever changed their lives. As Amanda and Dawson carry out the instructions Tuck left behind for them, they realize that everything they thought they knew — about Tuck, about themselves, and about the dreams they held dear — was not as it seemed. Forced to confront painful memories, the two former lovers will discover undeniable truths about the choices they have made.
"Started Early, Took My Dog"
Kate Atkinson
$14.99
"I always make a compilation tape for Jackson for each book. I find it's rather like a meditation, something I come back to on a regular basis when I'm writing because in some mysterious way it reminds me of the essence of each particular book. He and I like country music, but that's quite a broad church. Sometimes it's apparent to me why I've chosen certain tracks and at other times I'm not at all sure of the reason. There are a lot of songs about dead mothers and orphaned children for Case Histories and When Will There Be Good News, and more than a few about death and heaven in Started Early. (Jackson's taste is strictly on the melancholic side.) At the moment I'm writing a book that begins in 1910 and goes through the Second World War so just now I'm listening to music from the '20s and '30s, rather odd and not entirely to my taste. I'm looking forward to Glenn Miller and the Andrew Sisters–not Jackson's taste at all!" –Kate Atkinson
"Nemesis"
Philip Roth
$15.00
In a sweeping narrative, the author of the mega bestseller A Beautiful Mind takes us on a journey
Roth continues his string of small, anti–Horatio Alger novels (The Humbling; etc.) with this underwhelming account of Bucky Cantor, the young playground director of the Chancellor Avenue playground in 1944 Newark. When a polio outbreak ravages the kids at the playground, Bucky, a hero to the boys, becomes spooked and gives in to the wishes of his fiancée, who wants him to take a job at the Pocono summer camp where she works. But this being a Roth novel, Bucky can't hide from his fate. Fast-forward to 1971, when Arnie Mesnikoff, the subtle narrator and one of the boys from Chancellor, runs into Bucky, now a shambles, and hears the rest of his story of piercing if needless guilt, bad luck and poor decisions. Unfortunately, Bucky's too simple a character to drive the novel, and the traits that make him a good playground director–not very bright, quite polite, beloved, straight thinking–make him a lackluster protagonist. For Roth, it's surprisingly timid.
Nonfiction
"Poison King: The Life & Legend of Mithradates"
Adrienne Mayor
$18.99
The Poison King describes a life brimming with spectacle and excitement. Claiming Alexander the Great and Darius of Persia as ancestors, Mithradates inherited a wealthy Black Sea kingdom at age fourteen after his mother poisoned his father. He fled into exile and returned in triumph to become a ruler of superb intelligence and fierce ambition. Hailed as a savior by his followers and feared as a second Hannibal by his enemies, he envisioned a grand Eastern empire to rival Rome. After massacring eighty thousand Roman citizens in 88 BC, he seized Greece and modern-day Turkey. Fighting some of the most spectacular battles in ancient history, he dragged Rome into a long round of wars and threatened to invade Italy itself. His uncanny ability to elude capture and surge back after devastating losses unnerved the Romans, while his mastery of poisons allowed him to foil assassination attempts and eliminate rivals.
Childrens Fiction
"Heroes of Olympus Bk2: The Son of Neptune"
Rick Riordan
$12.00
From the Roman demigod camp to the prison of Death himself, The Son of Neptune reunites readers with old friends and introduces them to a whole new cast of characters. The Roman camp is a far cry from Camp Half-Blood, but it's every bit as fascinating to explore. Our heroes battle up and down the West Coast with impossibly few days before disaster is unleashed, fighting new foes and finding new friends along the way. Some of the mysteries from The Lost Hero are solved, while others loom even larger. Rick Riordan is a master at balancing just the right amount of seriousness and levity in every situation, and his three teen narrators point out the strangeness of the iterations of ancient myths in the modern world with spot-on accuracy. With page-turning adventure, witty dialogue, and fun, fascinating characters, this second installment of the Heroes of Olympus series is a must-read for any fan of myths and fables.
TOP SELLERS FICTION
LOST EMPIRE–$9.99
by Clive Cussler
PAINTED LADIES–$7.99
by Robert Parker
AMERICAN ASSASSIN–$9.99
by Vince Flynn
THE GIRL WHO PLAYED WITH FIRE–$7.99
by Steig Larsson