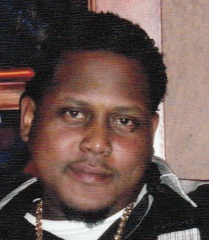 Shadrach S. Gould, also known as "Shark," of North Lauderdale, Florida, died on Sept. 15, at Gov. Juan F. Luis Hospital. He was 34 years old.
He is survived by his mother, Patricia Gould; father, Irwin Gould; grandparents: Eutrice Gould and Stanley Stafford; son, Brandon Isaiah Laughton Gould; son's mother, Shellie Laughton; second mother, Ilene Laughton; pastors: Daniel and Juliana Polidore and Young; sister, Ellicia Gould Douglas; nieces: Jayla Tiandra Gould-Gilmore, Kayleigh Gould and Tiana Fernandez; nephews: D' Shawn Gould, Jaden Artrell Wong-Won and Danion Jah'Vinci Douglas Jr., sister-in-law, Nena Gould; and brother-in-law, Danion Douglas Sr.
He is also survived by aunts: Ianthie Best Gould, Eugenia Ormby and Ann Asilia; special aunt, Donna Gould; uncles: Ian Gould, Jamil Asilia, John Stafford, Eno Stafford, Eli Stafford and Steve Maxwell; special friends: Andre Meledourne, Edd Stapleton, Patricia Browning and Brendacia Laban Riviera; cousins and other relatives: (special) Monique Gould, Crystal Marshall-Israel, Stacy Best-Gould-Samson, Joanne Samuel, Patrick Samuel and Steve Samuel; as well as numerous cousins, relatives and friends living in Trinidad and Canada too numerous to mention.
Burial will take place in Florida where he had lived for the past 17 years.