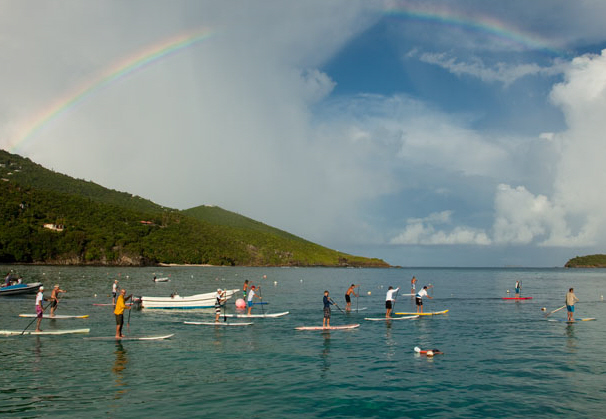 Carrie Freyn was ecstatic. On Saturday, her paddle boarders had raised $27,475 to fight ALS (Lou Gehrig's disease), a devastating illness for which there is no known cure.
It was the second such fundraiser Freyn has put together; last year's event also included kayakers paddling for a cure for ALS.
Freyn's sister, Sheila Watson, suffers from the disease. But Saturday, everything was blessed from the beginning, Freyn said.
"When we got to Hull, about six-thirty, there was the most gorgeous double rainbow. I'm still getting choked up just talking about it."
"About 40 paddle boarders started from Hull Bay with a little wind, going to Magens," she said, "with another 50 on the beach at Magens cheering every paddler on."
The paddlers returned to Hull Bay for the festivities – a barbeque, raffle, kids' games.
"It was beyond my wildest expectations," Freyn said. "We'd already raised some money, and Thursday night I thought we'd hit maybe $20,000, but $27,475 — wow."
Freyn said the donations kept pouring in. "It was a team contest. The team who raised the most won the paddle board we'd displayed at Fat Turtle for the last month."
Lisa Schmidt and Barbara Michaud won the prize, a new SUP $1,500 paddle board "They did great," Freyn said. "They raised more than $6,000 with online donations."
She said it was really a community effort. "We started planning in April. Colin Butler of Blue Water Safaris, and his mother, Doreen Butler, agreed to come on and help right away. Colin donated boards, and H.L.Frey of Walk on Water donated kayaks. Buzz Radio gave us $1,500 worth of air time and advertising."
She said, "From there the momentum really started. Coral World donated $1,500 in prize money. Debbie Dunham got Fat Turtle to buy the paddle board from a surf shop in Puerto Rico.
"Paddle boarding has taken off everywhere in the last year or so, but especially here in the islands," Freyn said, "with our perfect weather."
Amyotrophic lateral sclerosis (ALS) is a progressive neurodegenerative disease that attacks nerve cells and pathways in the brain and spinal cord. Patients in the later stages of the disease are totally paralyzed, yet in most cases, their minds remain sharp and alert — one prominent example is physicist and author Stephen Hawking.
It is estimated that as many as 30,000 Americans may currently be affected by ALS.
Freyn was introduced to ALS last year, when she learned her sister, who lives in Portland, Ore., was diagnosed with the disease.
"My husband, Harry, and I wanted to go to Portland to see her, but then we figured it would be better to put that airfare money toward fighting the disease."
So when Watson's stateside friends set up a team called Sweet on Sheila to participate in a walkathon to raise awareness and funds to support the ALS Foundation, Carrie decided to gather her V.I. friends for a kayak and paddle board event on Hull Bay.
"We did it in less than a month, and raised about $3,500 last year," Freyn said
It turns out that was merely a warm-up for this year.
And how about next year? "I have no choice," Freyn said. "It was so incredible. Everyone had a story to share, how their lives have been touched, just by being here."
Next weekend, Freyn said, she and Harry are flying to Portland to do the ALS Walks with her family. "We'll bring pictures and video from this weekend to show them," she said. "It's so amazing, the support here."