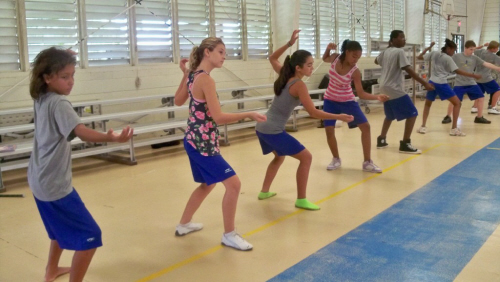 Foils, épées and shouts of "en garde" have come to Good Hope School in Frederiksted as seventh- and eighth-graders take up the ancient sport of fencing.
A fencing exhibition was held the first week of school, and interest in the sport was keen, said Patrick Ramsdell, the newly minted fencing coach.
Ramsdell, who also teaches social studies, got a two-week crash course in coaching fencing from Ivan Huapaya, an experienced instructor from South America.
On Friday, some 15 students were starting out by learning the stance adopted by fencers at the beginning of a match. They also did some footwork and lunging, all the while keeping their knees flexed.
The International Fencing Federation wanted to see that the U.S. Virgin Islands has a team to take part in the Olympics, and the V.I. Fencing Federation got into the act as well. The international federation equipped Good Hope with masks, gloves, foils, épées, sabers, fencing attire and scoring machines.
"The sport of fencing builds character, self-esteem and sportsmanship," VI Fencing Federation Vice President Mark Hansen said in a press release. "The Caribbean, in particular, is the home of some of the best fencers worldwide. Hopefully, the next champion will be from the V.I."
"We are very excited to have fencing as part of our sports program," said Raquel Cedano, principal of Good Hope School. "When the officers of the Virgin Islands Fencing Federation first contacted us about the possibility of a fencing program; we knew this was an opportunity that we just could not pass by."
Fencing has been one of the five sports (track & field, yachting, weightlifting, basketball, fencing and volleyball) that have been affiliated with the Virgin Islands Olympic Committee since its inception in 1966.