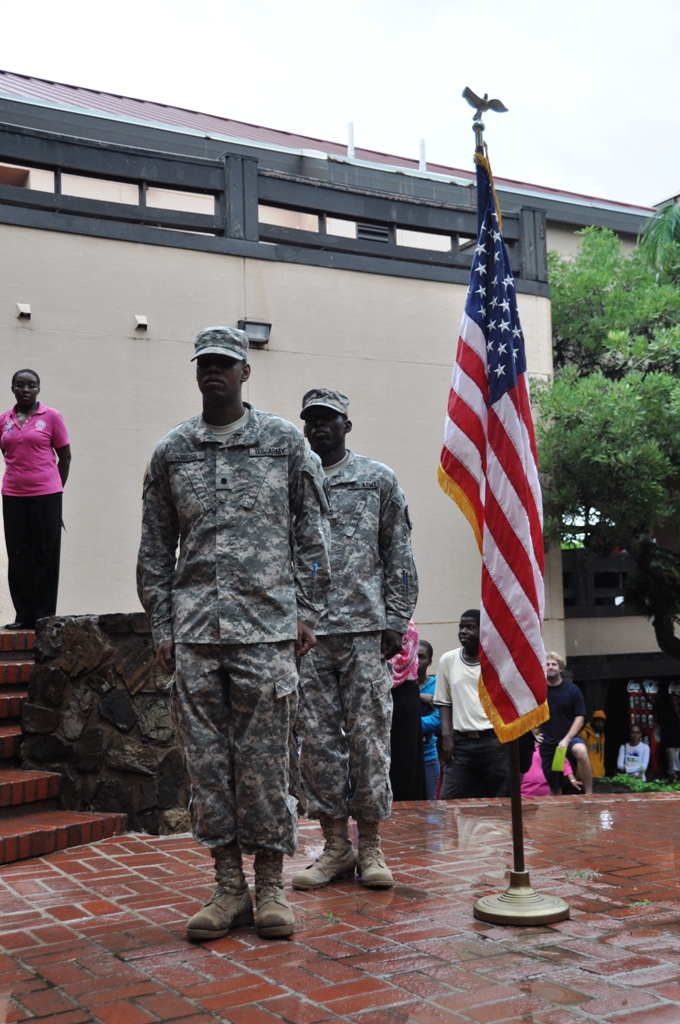 Let there be peace on earth. That was the message UVI staff wanted to convey at a small ceremony held Monday to commemorate the 10-year anniversary of the Sept. 11 terrorist attacks.
The 10-minute event began at 9:50 at the Albert A. Sheen Campus on St. Croix and ended shortly after the bell rang for 10 a.m. classes.
Despite moments of pounding rain, nearly three-dozen students, faculty members and staff lined the courtyard of the Melvin Evans Center to listen to Freshman Development Coordinator David Capriola speak about peace, remembrance and paying tribute to the lives lost on 9/11.
"Let us together offer our own commitment to peace this day," Capriola said. "It's important that we never forget to pay service and to remember that today is about peace—to have a good understanding of what peace is."
Miriam Osborne-Elliott, the campus administrator for student affairs, said that she wanted students to understand the historical aspects behind 9/11. She pointed out that many students were only children at the time of the attacks and that UVI felt the need as educators to emphasize what happened on that day and how America's lives were changed by heroic acts of others.
Cabriola asked the crowd to read the lyrics of "Let There Be Peace on Earth" twice, telling them to pay careful attention to the words, which he said, promote peace and give a hopeful message.
"We feel as an institution of education that it's important for students to understand history and the roles that we play in changing the future and their roles in changing it," Osborne-Elliott said.
Two cadets with the Reserve Officer Training Program presented the flag and "Taps" was played, followed by the playing of four bells to signify the four flights that crashed on 9/11.
As the rain continued to fall, the huddled crowd gathered under the covered areas of the courtyard and sang in unison "Let There Be Peace on Earth," followed by "God Bless America." Some people cried softly, others smiled, but everyone seemed to move together with the music, swaying their bodies from side to side while waving their small American flags.