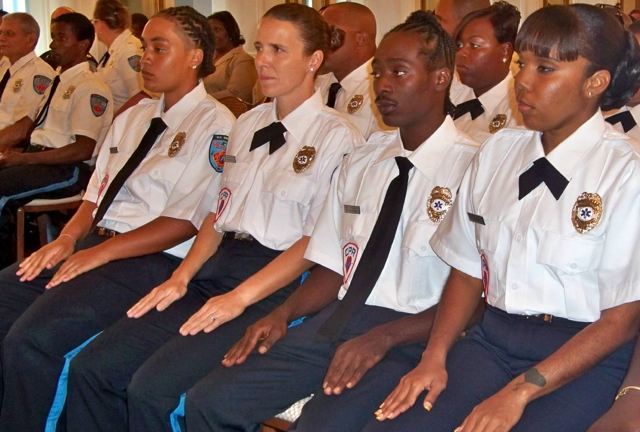 About 100 residents showed their support and respect for St. Croix Rescue by attending the graduation ceremony for the latest St. Croix Rescue Recruit Class Sunday at Government House.
Speaker after speaker told stories of rescues and anecdotes about how important the rescue squad is to St. Croix. They also commented on the recruits' volunteering and giving their precious time to serve the community.
Keynore Speaker Sen. Sammuel Sanes said many times the first few minutes in an emergency situation make the difference between life and death, and the new recruits now possess the knowledge to save lives as first responders.
St. Croix Rescue Chief Gregory Richards said the recruits got 340 hours of physical fitness training and technical training. He challenged the recruits to build on the concepts they have learned.
New recruit Miguel Ramos was recognized and inducted in the V.I. First Responders Hall of Fame for performing CPR a few weeks ago. Ramos said he was just doing his duty, serving the community. The recruits gave out awards and they received awards.
The recruits began classes in August and finished up with a campout in January.
The 20 new recruits are volunteers, as are all the members of the Rescue Squad, which was organized more than 20 years ago.
Rescue Squad officers and staff are on duty 24 hours a day, responding to 911 calls for fire, emergency medical response, and situations requiring specialized rescue on land or at sea.
The new graduates are Nicole Carr, Marina Casanelles, Renee Coates, Eric Crump, Diana Dias, Della Emanual, Ivan Espinosa, Timmeika Evans, Linda Innocent, Keyra Merchant, Taisha Marie Mintas, Luz, Miranda, Laura Nicholas, Julienne Nielsen, Miguel Ramos, Unita Randolph, William Rivero, Erin Santos, Reynold Sharplis, Nikita Ward.
"It was kind of difficult, but through hard work and perseverance we made it," recruit Reynold Sharplis said. "I feel proud as a recruit."
Class leader Diana Dias said they are all anxious and ready to go out and serve the community.