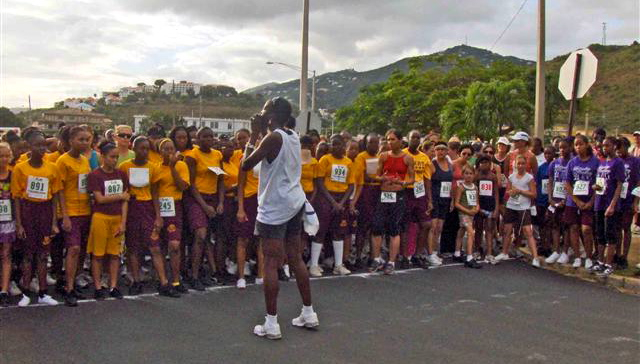 Ruth Ann David flew across the finish line Sunday with a record-breaking time of11 minutes, 32 seconds in the 29th annual Women's Jogger Jam Sunday.
The race itself also set a record, drawing its biggest field ever with 473 participants.
Nobody seemed astonished with David's performance. She has taken first place for the last three years, which is not to say she wasn't flushed and delighted. David could be seen from far off in the first lap of the two-mile course that takes participants around the Schneider Medical Center, charging down the road like a gazelle let loose.
"Oh, that's Ruthie. Look at her!" said Judge James Carroll, who was actually rooting for his wife Celia Carroll, not yet in sight.
In fact nobody else was in sight at the time. David, 37, broke her best time from last year by a minute and 12 seconds. Emily Menzen came in second for the second time, finishing 29 seconds behind Davis and beating her last year's finish by 55 seconds.
Something was in the air this year. The dynamic felt different, perhapsfeeding on its own energy as women gave high fives and hugs, celebrating each other and their monumental turnout.
Maybe everybody was feeling some of what David said kept her going Sunday.
"I hadn't really trained well, so I asked God to be my lungs and my heart."
The event raises money for the Family Resource Center, which maintains programs for crime victims and individuals involved in family violence or crisis. Along with whatever is raised through registration fees, the Fruit Bowl donates $5 for each person who crosses the finish line. The St. Thomas Association of Road Runners, which also supports the event, receives a portion of the funds.
"We have a unique agency,and this is a unique run," said Vivian St. Juste, FRC director. "This is our 30th year and it's the run's 29th. I'm so grateful the passion is still here. We're so proud of what we do, and the women who come back every year."
This year was no different in that regard; there were just more of them. In fact, a good handful of the veterans couldn't really nail down how many years they've participated. Several of them have had babies along the way who are now running alongside them.
Celia Carroll did show up, a little worse for wear but happy to be there.
"Jim and I ran a 12K yesterday from the court to Magens, so I'm a little sore. But I had to be here."
Carroll, who founded Mothers Against Guns, said that organization's run is coming up May 22.
Kathy Schlesinger has no idea how many years she's participated.
"I've run pregnant, with a stroller, I've probably only missed one or two."
"I don't count," said Cathy Perlich.
Debbie Davis, Penny Druce and Ellie Qualls all said they have "no idea." It's just something they do. Like breathing.
Margo Murray ventured, "22 maybe. I don't know. We could just count the T-shirts."
With a record 126 young women taking part, Ivanna Eudora Kean High School won first prize among 17 groups. Assembling in the Kmart parking lot before race time, organizer Sgt. Patrick Farrell of the JROTC said, "Well, we all tried harder."
It worked.
Addelita Cancryn Junior High, which usually makes a good showing under the direction of race director, the indefatigable Therese Hodge couldn't beat that number, but Hodge wasn't fazed. She never is, actually.
"They're my girls and I couldn't do this without them.
Hodge and Marty Goldberg, Fruit Bowl owner, were doing some celebrating themselves after the dust settled and the trophies were awarded, the T-shirts given out, the fruit, water and Popsicles distributed.
Hodge had said earlier this month that she hoped to beat 300, the usual turnout. Goldberg hadn't been so modest.
"I'm looking for 500," he'd said with a laugh.
Both were like teenagers in their excitement over the day's success. The race took in $4,355.
Goldberg, whose family almost always participates – his wife, Carole, came in second in 60-69 category this year – said, "I had to get out last year's T-shirts. We only had about 275."
Goldberg credits the run's success to Hodge.
"She takes control, she's the main organizer. She's why it is what it is today."
Race results:
Team Challenge: Ivanna Eudora Kean High School (126 participants)
Six and Under:
First – Haley Belcher (19:49)
Second – Alexandra Midler (19:55)
Third – Kate Stebbins (21.19)
Seven to 12 Years:
First – Allison Bartsch (17:51)
Second – Rhea Bryan (19:44)
Third – Christina Brett (21.21
13 to 18 Years:
First – Cassandra Bitterwolf (15:58)
Second – Cleola Falix (17:48)
Third- Shakima Thomas(18:01)
19 to 29 Years:
1. First – Emily Menzen (12:01)
Second – Ashley Benson (12:30)
Third – Lakesha Moore (13:34)
30 to 39 Years:
First – Kadsia Diericks (13:29)
Second – Simina Van Clief (15:00)
Third – Adrianna Baird (1546)
40 to 49 Years:
First – Simone Francis (15:28)
Second – Janelle Zachman (19:45)
Third – Monica Middler (19:75)
50 to 59 Years:
First – Gloria Salas-Lindquist (16:57)
Second- Candace Grant(18:52)
Third – Katrina Starnes (19:33)
60 to 69 Years:
First – Cassandra Mallory (18:25)
Second – Carole Goldberg (18:44)
Third – Sandra Kelly (34:57)
70+ Years:
First – Patty Varga (20:49)
Second – Marcy Offendahl (28:09)
Third – Judith Adler (29:28)