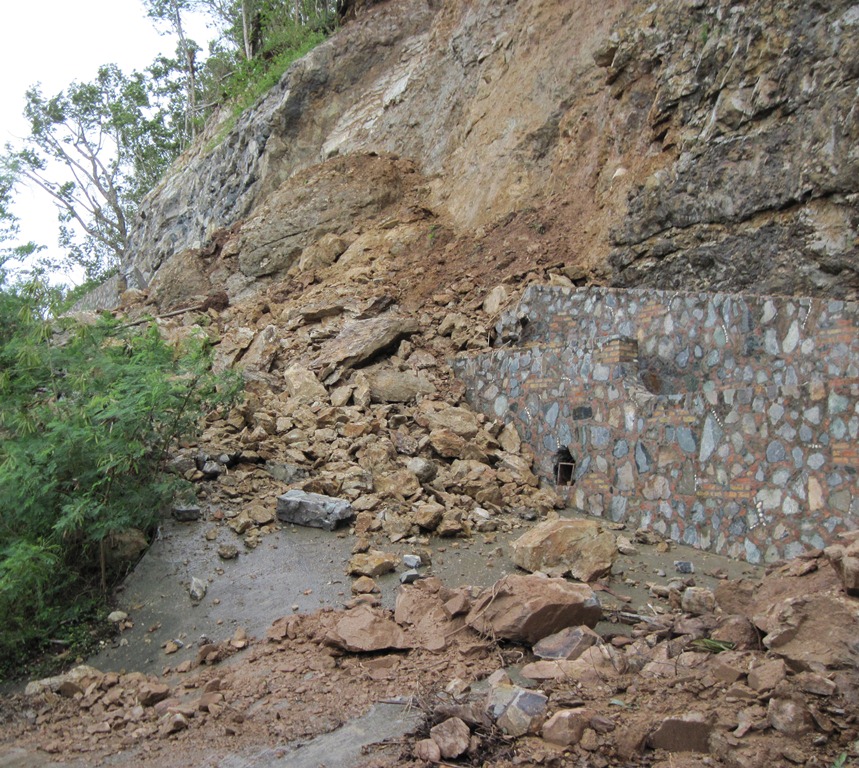 The sun peeked out for a couple of minutes Thursday morning, but otherwise it was more of the same: rain, rain and more rain to come. On the plus side, waterfalls are flowing where they're seldom seen, and the islands are looking very green.
On the minus side, the extraordinarily wet weather that began Tuesday is taking a toll on the territory as mud, rocks and trees slide downhill, and water floods many areas.
The threat of more continual rain and major flooding at five schools in the St. Thomas/St. John District as well as some flooding at St. Croix schools caused the local government to close public schools on Friday, the third day in a row. Head Start centers will also be closed.
Additionally, many government workers also have Friday off. A Government House press release indicated this decision was made due to road conditions. Only essential government workers must report to work at 8 a.m. Friday.
At the Education Department, principals, custodians and maintenance staff should report as scheduled. Additionally, all V.I. Port Authority employees should report to work when scheduled.
The threat of mudslides is a major concern.
"The earth is turning to liquid," Noel Smith, deputy director of operations for the V.I. Territorial Emergency Management Agency.
Mudslides are currently VITEMA's biggest worry, Smith said. He said that the hilly areas on the north sides of both St. Thomas and St. John are experiencing numerous mudslides. On St. Croix, the biggest issue has been flooding, but Smith said that when the rain intermittently stops, it gives the flooded areas a chance to clear up.
On St. John, a huge mudslide Wednesday on Centerline Road near Coral Bay has diverted water running downhill from Upper Carolina to the point where it now frequently flows through Pam Gaffin's house.
"I have water hitting my bathroom door up to my knees," she said Thursday.
Additionally, Centerline Road at her house is undermined about two to three feet and to the point where she said it's unsafe for large trucks to pass.
When a utility pole went down around 2 a.m. Wednesday, it also took out Gaffin's electricity. It remains out, but St. John Administrator Leona Smith said that everyone else on St. John has power.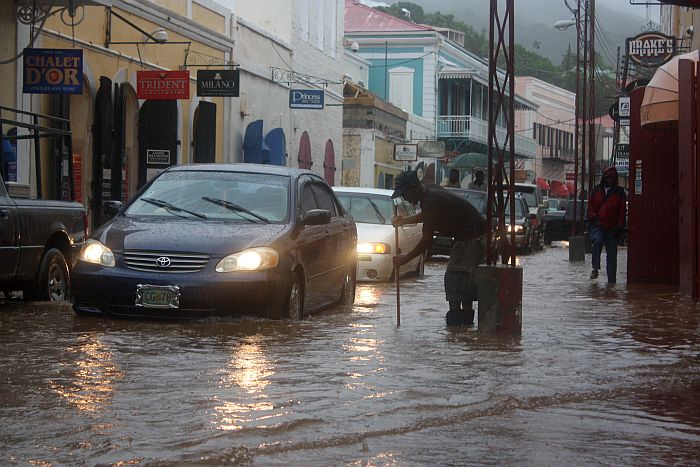 Numerous other locations across St. John have mudslide problems, Leona Smith said. Most of those, like in Fish Bay, are on secondary roads, but a few spots along the main roads have only one lane open. She said Route 107 at Sanders Gut in Coral Bay was a problem. The area where the bridge collapsed near the Westin Resort is now passable, but drivers should be cautious.
"A swale toward Josephine's has moved," Leona Smith said, referring to an area on Gerda Marsh Road near Coral Bay Garden Center.
At V.I. National Park, Superintendent Mark Hardgrove said that portions of the asphalt on the newly paved North Shore Road are "unraveling" from the rain. The road to the ranger's residence at Trunk Bay is completely washed out, a section of the road at Maho Bay Beach is undercut, five park houses are flooded, and the paint on the Cruz Bay Visitors Center is bubbling.
On St. Croix, flooding is an issue. John Burkhardt said at 2:45 p.m. it was raining "really hard."
"And the roads are flooded everywhere," he said, ticking off a few problematic places that included the road by Salt River Marina and Cane Bay.
St. Thomas resident Lucinda O'Connell said she was disappointed to see that the newly paved Turpentine Run road from Tutu to Nadir is already filled with potholes.
And while a part of Crystal Gade in downtown Charlotte Amalie had a few inches of water Thursday morning, by mid-afternoon it was quite deep.
"It's like you're driving through Venice," she said, speaking about the canal-laced city that is sinking.
Reports indicated that motorists traveling down Mafolie Hill took their time, forming long lines of traffic as they moved alongside a steady stream of muddy water filled with chunks of rocks that hit the bottom of many low lying cars.
Traveling downtown was equally as tedious, as some of the roads, Main Street in particular, were completely submerged, with water seeping through the doors of shops that were parallel to the pavement. Merchants with stores on higher ground were able to watch from their doorways without getting wet, and were seen taking pictures of vehicles as they tried to maneuver through the mess.
While power is on throughout St. Thomas and St. John, V.I. Water and Power Authority spokesman Cassandra Dunn said that crews are still working all over St. Croix. Sections of the island's East End, Estate St. John, Grove Place, Castle Coakley, Castle Burke, Enfield Green, William's Delight, Whim, the northwest side of the island, La Grand Princess, and Salt River have outages, Dunn said.
She urged St. Croix residents with outages to phone the call center at 713-9272. It reopens at 7:15 a.m. Friday.
No one at American Airlines returned a call requesting information on flights to and from the territory.
At the National Weather Service in San Juan, meteorologist Luis Rosa said thunderstorms and rain from Tropical Storm Otto will be less frequent on Friday, but the weather will still be bad as Otto continues its slow passage to the northeast. The center now sits 280 miles northeast of Grand Turk Island.
"Hang on to your umbrella for one more day," he said.
He expects late Thursday afternoon's downpours to continue through the night and into early Friday morning. Winds will decrease slightly to about 15 to 25 mph, Rosa said. On Thursday, St. Thomas had a wind gust of 38 mph, wind hit 30 mph on St. Croix, and on St. John the top wind speed was 39 mph.
At 4 p.m. Thursday, St. Thomas broke the record for rainfall on this date. It was set in 1984 when .95 inches of rain fell. Between midnight and 4 p.m. Thursday 2.31 inches of rain fell.
Between midnight and 4 p.m., St. Croix had 1.15 inches of rain. On St. John, it totaled .9 inches for the same period.
The three-day total for St. Thomas stands at 10.5 inches for St. Thomas, 6.51 inches for St. Croix and 6.8 inches for St. John.
Saturday and Sunday should be drier with some blue skies, but Rosa warned that another tropical wave now 600 miles east of Barbados will bring more rain and thunderstorms to the area on Monday.
"But not like the past three days," Rosa said.
Noel Smith urged residents to sign up for VITEMA's VIAlert warning system that sends out notices when hazardous conditions threaten. Visit www.vitema.gov to sign up.
Activities are being postponed. The Ivanna Eudora Kean High School Guidance Counseling Department has postponed the Bush Tea Breakfast-College Tour Meeting scheduled for Friday until 8:30 a.m. Oct. 15 in the school's library. For more information contact the Guidance and Counseling Department at 775-6380.
Gaffin gave high marks for responsiveness to crews from Public Works Department, the Police Department, the V.I. Water and Power Authority, and the 911 operator who answered her call for help at around 2 a.m. Wednesday.
"Everybody in Coral Bay ought to be baking them cakes," she said, referring to the fact that the main roads are passable and Coral Bay got power back Wednesday afternoon after two poles had to be replaced.