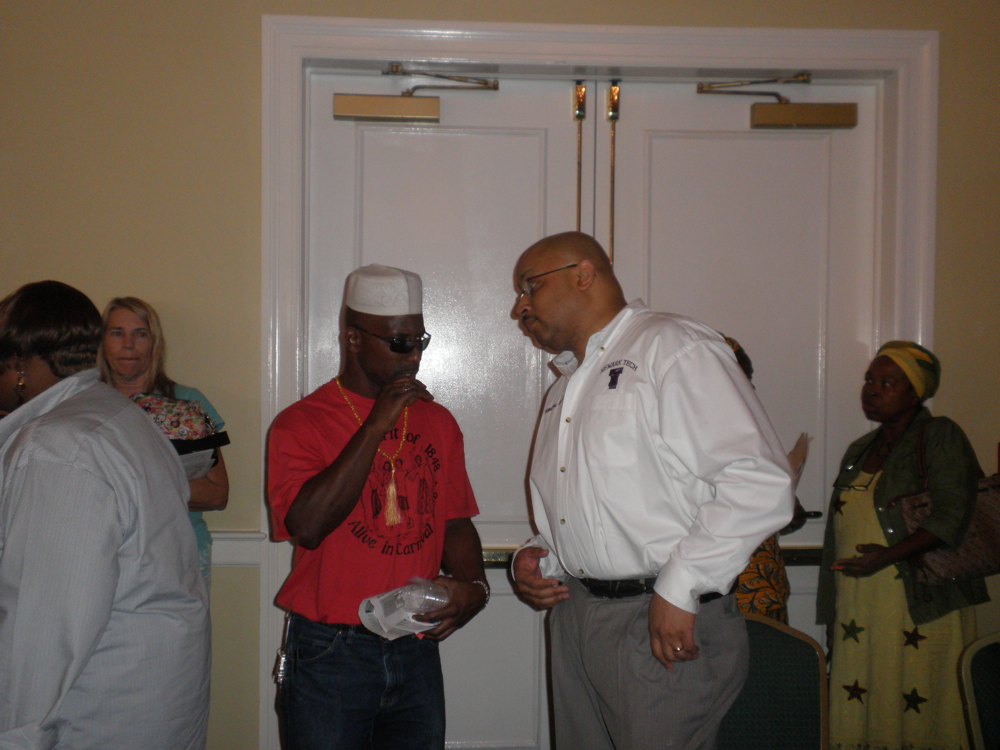 2009 State Teacher of the Year Edney Freeman was not short on praise as he introduced the speaker for the second half of Thursday's Department of Education professional development conference at the Wyndham Sugar Bay.
"Our students have the ailment, and this gentleman has the medicine," said Freeman. "Pay attention. His message is relevant."
His enthusiasm paled in comparison, though, as Principal Baruti Kafele took the stage. "I'm on fire," shouted Kafele. "I'm on fire about what I do with young people, and I hope you're on fire about what you do with young people."
Kafele, whose African first name means "teacher," is currently the principal of Newark Tech High School in Newark, N.J.—an inner-city school that has been recognized by U.S. News and World Report for the past two years as one of the nation's best high schools.
He began his seminar, entitled "Motivating, Educating and Empowering Black Males," by giving the enrapt audience of 800 teachers and educators the story of his first year at Newark Tech, a school that was then scoring 3-percent efficiency in math.
From day one, Kafele said he vowed to raise that score to 70 percent by year's end.
"The climate and culture," said Kafele, "have to be conducive for them to excel." Consequently, the first thing he did was paint the entire school white and decorate the halls with motivational quotes and objectives.
"Students are successful when their leaders and teachers believe they are successful," said Kafele.
According to Kafele, he then set out to transform the way students thought—both academically and attitudinally—by beginning each morning with announcements containing powerful messages to set the tone of the day. By year's end, the school's math scores had climbed to 73 percent.
During Thursday's seminar, Kafele implored educators to ask themselves why they became educators. The Newark principal said had three reasons – wanting to teach young people their story, wanting to teach them something about economic development in their community, and wanting to teach them about manhood by modeling for them what a real man is. Twenty-two years later, Kafele said, his purpose is still the same.
With the crowd hanging on his every word as he paced back and forth, Kafele outlined in detail the keys to his success with the young black males at his inner-city school. According to Kafele, he's even got gangbangers on the honor roll.
He decried the practice of blaming society and television for the plight of young black males and urged educators to read, read, read.
As he flashed book titles and authors' names up on the screen, he asked the audience to raise their hands if they had read these books. Very few hands went up in the air. Most were busy, though, jotting down the names of the recommended books.
"Educators of African-American males," said Kafele, "must expose themselves to literature that addresses the learning, cultural and social-emotional needs of African-American learners."
Kafele's keys to meeting the classroom needs of black male students are simple. For starters, Kafele said, teachers need to know exactly who their pupil is. "Familiarize yourself with his neighborhood, his challenges, his goals and aspirations, needs and interests, parents, history and culture. It's difficult to teach what you don't know but equally hard to teach who you don't know," Kafele said.
Stressing the need to teach black males about their history, Kafele said young men will be interested in learning those things they can see themselves in. They need to relate to what's being taught. Kafele said he wasn't inspired as a young man until he read "The Autobiography of Malcolm X," by Alex Haley. Transformed by the book, Kafele says he immediately became straight-A student.
Also key to educators' success with black males, according to Kafele, is the educators' seeing themselves as the number one determinant of the student's success or failure. Success will be determined, Kafele said, by the passion and sense of purpose educators bring to their teaching. Also key is setting incremental and long-range goals for the student, having high expectations and standards, acting in a professional manner in their capacity as role models, and conducting daily self-assessments.
Raymond Smith, music educator at Joseph Sibilly School, said, "This has been very inspiring for me. I am into personal development and am learning as much as I can about myself so that I can help them learn who they are."
Kafele has developed a "Young Men's Empowerment" program in his school, where he brings in men from the community to share with the students what it means to be a man. He also does one-on-one mentoring, holds male retreats and father-son groups, and has the students meet with black businessmen and political leaders.
Kafele closed his powerful seminar with just as much energy as he began, saying, "We all need each other. If these young men are going to be successful and maximize their potential, we have to demand that they believe in their ability to achieve excellence and motivation. If you treat this not as just a job but as a mission, then I guarantee you that the young people will soar, will strive and will achieve excellence."
The room was filled with thunderous applause as all 800 attendees gave Kafele the standing ovation he had inspired.