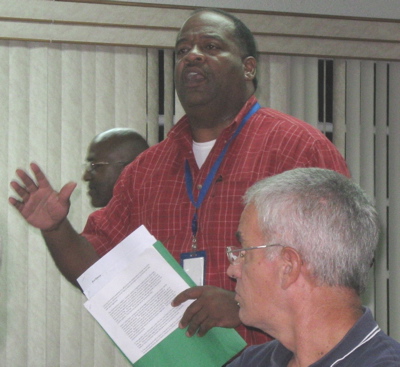 Residents want a voice in the planning process, several people said Thursday at a meeting called by the Planning and Natural Resources Department to discuss recommendations for changes to the territory's zoning code.
The recommendations were made by consultants Stuart Meck of the Edward J. Bloustein School of Planning and Public Policy at Rutgers University in New Jersey and Marya Morris of Duncan Associates in Chicago.
About 15 people attended the meeting held at the Legislature Building on St. John.
The consultants recommended that the territory develop a planning board. Several residents agreed.
"It appears that something like this is essential in giving the community a voice in the how development goes. Residents are at their wits end," Clarence Payne said.
Pam Gaffin complained that group dwelling permits were given to what amounted to hotels to be built in residential areas. She said the existing code does not set limits on the number of bedrooms allowed, and that she knew of one case where a house in an area zoned R-1, residential, low density, was advertised as large enough to hold 300 people for a wedding.
At issue for Gaffin and several other people at the meeting was the provision in the existing code that allows mezzanines. She said this allows the architect to design a building that is higher than it would be based on the number of stories allowed.
"And what about basements," Lorelei Monsanto asked, referring to a scenario that allows the architect to add space and height without adding another story.
While most of the speakers at the meeting said they agreed with the consultants' recommendations, Sharon Coldren took issue with one provision that challenged the territory's law that forces public access to beaches that front on private property.
After Meck said it was unconstitutional, Coldren said she would personally fund a lawsuit to challenge any changes to the territory's beach access law.
"I'd like to see that part of your report retracted," she said.
Sen. Craig Barshinger, who attended the meeting, said the open shoreline law, passed in 1960, was fundamental to maintain the territory's way of life.
Several residents complained that residents couldn't find out when permits were signed.
"We have a problem that seems to continuously happen. Permits are signed and it's impossible to find out before the 30-day appeal date passes," Coldren said.
Thursday's meeting was the second in a series that began Wednesday on St. Thomas. The meetings will conclude Friday on St. Croix with the meeting scheduled for 4 to 6 p.m. at the V.I. Port Authority conference room.
Those interested can read the entire consultants' report online at http://planning.dpnr.gov.vi/documents/Final%20Report%20on%20Assessment%20of%20VI%20Zoning%20&%20Subdivision%20Code.pdf.