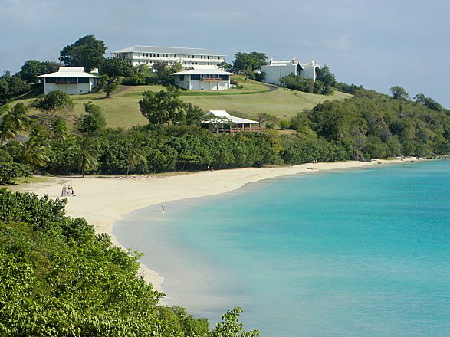 John Brewers Bay, known to locals as just Brewers, is a broad, powder-sand beach somewhat protected from a distance by a stretch of airport runway that juts a half-mile out to sea. It's generally quiet on weekdays but is a very popular barbecue and party spot on weekends and holidays.
A host of mature trees set a distance back from the water will provide ample shade for those who wilt in the sun. Exposure south and west means lovely sunsets, and also an excellent view offshore of a few uninhabited keys and small islands. As one of only a few St. Thomas beaches free from development, Brewers remains a pristine spot where you can build sandcastles and float in the water to your heart's content – and if you look in the right direction and squint your eyes just right (meaning: block out the runway) you can imagine what the island might have looked like 100 years ago.
Adventure Factor: Medium to high.
Shade Factor: High.
Ocean patrol: Brewers is generally quite tranquil and the water is often clear. You'll find the snorkeling is mostly about sea grass and sand, but the bay has the reputation of being one of the best places on St. Thomas to encounter sea turtles.
Food and Drink!: Take your pick of two St. Thomas "food vans" parked along the road from late morning into early evening. You'll find standard beach fare like burgers and hotdogs, water and beer and such, but also a variety of local food and drinks.
Peace Factor: High during the week, can be low on weekends.
Sports: Only what you bring.
Family Factor: High.
Extras: You can watch airplanes land and take off from a safe distance -an activity which, well, some people like. On the beach you're also surrounded by the beautifully landscaped grounds of the University of the Virgin Islands. But the real kicker is the great hike that can be had if you hang a right once you get to the beach. This walk will take you along the shoreline toward Black Point on land owned by the University. When you reach the place where sand gives way to a jumble of rocks and the point really starts to point, there is an unmarked trail on your right that will take you up and over a hill. Once on the other side you can see the gorgeous virgin coast of Perseverance and Runnel Bays rolling away to the west. A hearty few will skip the trail and head left along the rocks out to the point where a large natural cave has been formed. But be warned, these latter options on the hike are very difficult. While most will find the walk along the shore quite pleasant – so long as you don't mind wet feet – the trail is narrow, very steep, not well maintained and rife with thorny vegetation. And getting to the point requires a scramble along large rocks and boulders with the surging seas to one side and no trail at all. Wear shoes that you don't mind getting wet because they will. 1.5 to 2 miles round trip.
Getting There: Located along Route 30 over the hill past the main entrance to the University of the Virgin Islands, Brewers is accessible by car, taxi and public bus. The dollar-ride usually will make its last stop at the UVI Sports Complex, but if you let the driver know you're going to the beach, he or she will usually drop you there – otherwise, it's a little more than a quarter-mile walk up and over a mildly imposing hill.