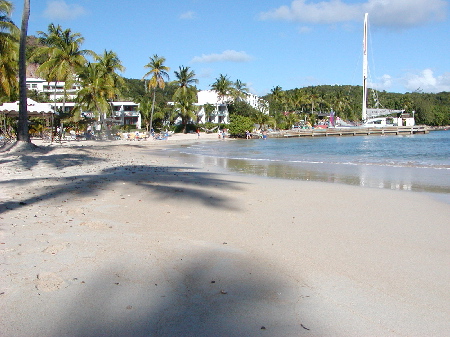 Bolongo Bay is a glorious little cove where you'll have your pick of beach activities and easily keep the little ones entertained all day long. A cute, retro-looking hotel runs along the left side of the beach, but ample landscaping minimizes the visual intrusion. Plus, the hotel has the swim-up bar, and puts out tons of chaise lounges and thatched-roof umbrellas, so who's to complain?
The ocean is mild much of the time and, except during special island events – which the hotel frequently hosts, much to its credit among locals – there's never too much of a crowd. Beyond all of this, there's just something about Bolongo that feels quintessentially laid-back Caribbean. It's the shape of the bay and the view out to sea where sail boats pass in the distance; a gentle buzz of leisure-only activity at all hours; a classic beach bar with wooden planks and Jimmy Buffet on loop. A little slice of paradise.
Adventure Factor: Medium to High.
Shade Factor: High.
Ocean patrol: Whether you're looking for an ocean-going adrenaline rush or a restful spot to spend an afternoon perfecting your sandcastling skills – and virtually anything in between – Bolongo is the right choice. The snorkeling is so-so, but you're almost certain to see lots of fish, and it's a good place for beginners to splash around.
Food and Drink!: Two restaurants to choose from for lunch and dinner, plus a swim-up pool bar – how fun is that?!
Peace Factor: Medium.
Sports: A beach hut rents: wave runners, windsurfers, Hobie Cats, sunfish, kayaks, aqua-bikes and snorkel gear. A parasailing outfit operates from Bolongo, and one of the island's most popular day-sail excursions departs from the bay. And if that's not enough, there is also a full-service dive shop on the property.
Family Factor: Extra-high.
Extras: What more could you want? Well, there are also tennis courts that you can ask the hotel to use, and a volleyball net that's perpetually set up and waiting for a game to begin.
Getting There: Located along Frenchman's Bay Road, Route 30, midway between town and Red Hook, Bolongo is easily accessed by car, taxi or public bus. The dollar ride doesn't go anywhere near it.