As of a 5 p.m. update from the National Hurricane Center (NHC) on Friday, Tropical Storm Philippe is forecast to pass north of the U.S. Virgin Islands and Puerto Rico later this weekend or early next week. The system is currently east of the U.S. Virgin Islands, packing winds of approximately 50 mph and moving to the west-southwest at about five mph.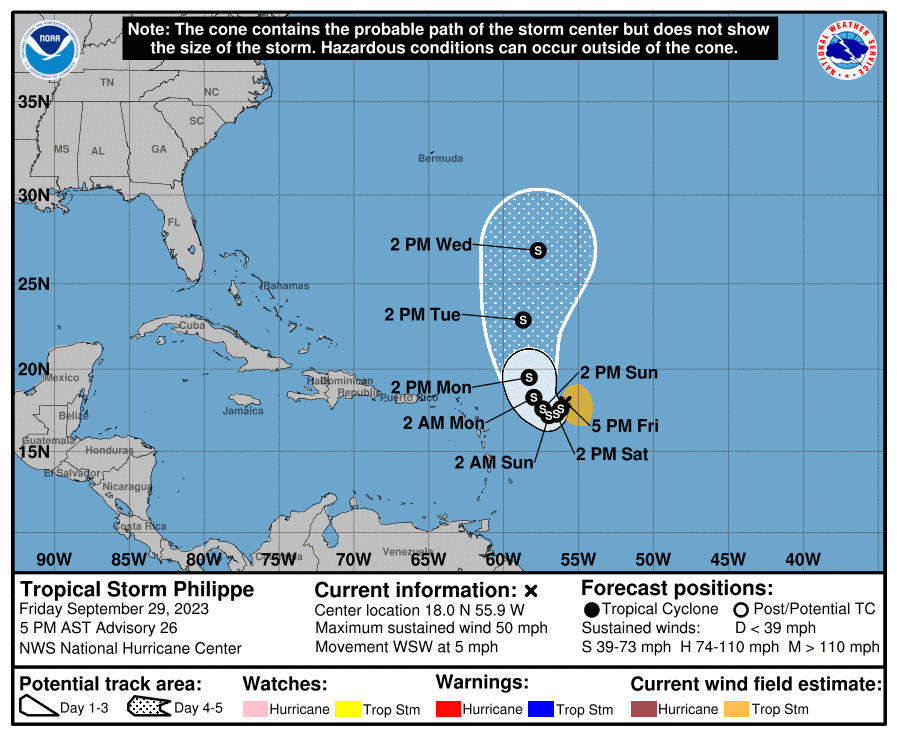 The track of Philippe has shifted several times throughout the week, and the NHC has explained that it has been challenging to determine the movement and intensity of the storm. Residents and visitors to the USVI and Puerto Rico are therefore urged to remain vigilant.
Difficulty with the forecast is due in part to another disturbance, "Tropical Storm Rina," which is located east of Philippe in the Atlantic. Rina is currently expected to remain away from the Caribbean region. Given the proximity of the two tropical storms to each other, the cyclones could potentially interact. However, it is still too soon to tell whether this might happen.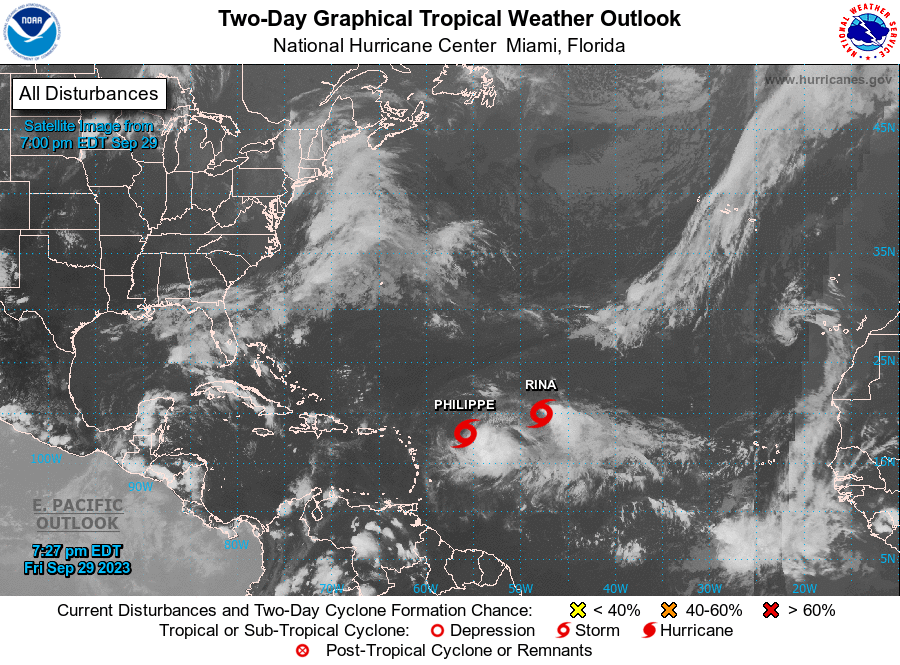 "Based on the most recent forecast track, Tropical Storm Philippe should remain well east of the local islands as it weakens during the next few days," according to a notice from the National Weather Service (NWS) in San Juan, Puerto Rico, on Friday.
"Based on the latest trajectory, tropical storm-force winds are not expected over Puerto Rico or the U.S. Virgin Islands. The main threat is still an increasing risk of flooding rains," the NWS update continues. Heavy rainfall is possible because the overall weather pattern is influenced by the tropical storms to the east of the region.
There is still uncertainty about this cyclone's precise track and strength, and residents and visitors in the USVI and Puerto Rico are advised to continue monitoring weather alerts. Regardless of how close the system comes to the islands, certain impacts may occur, including rain, gusty winds, rough seas and a high risk of rip currents.
Information regarding severe weather, including emergency alerts, can be found on the Virgin Islands Territorial Emergency Management Agency website and the National Weather Service website. Updates will also be published to the Source Weather Page as they become available.