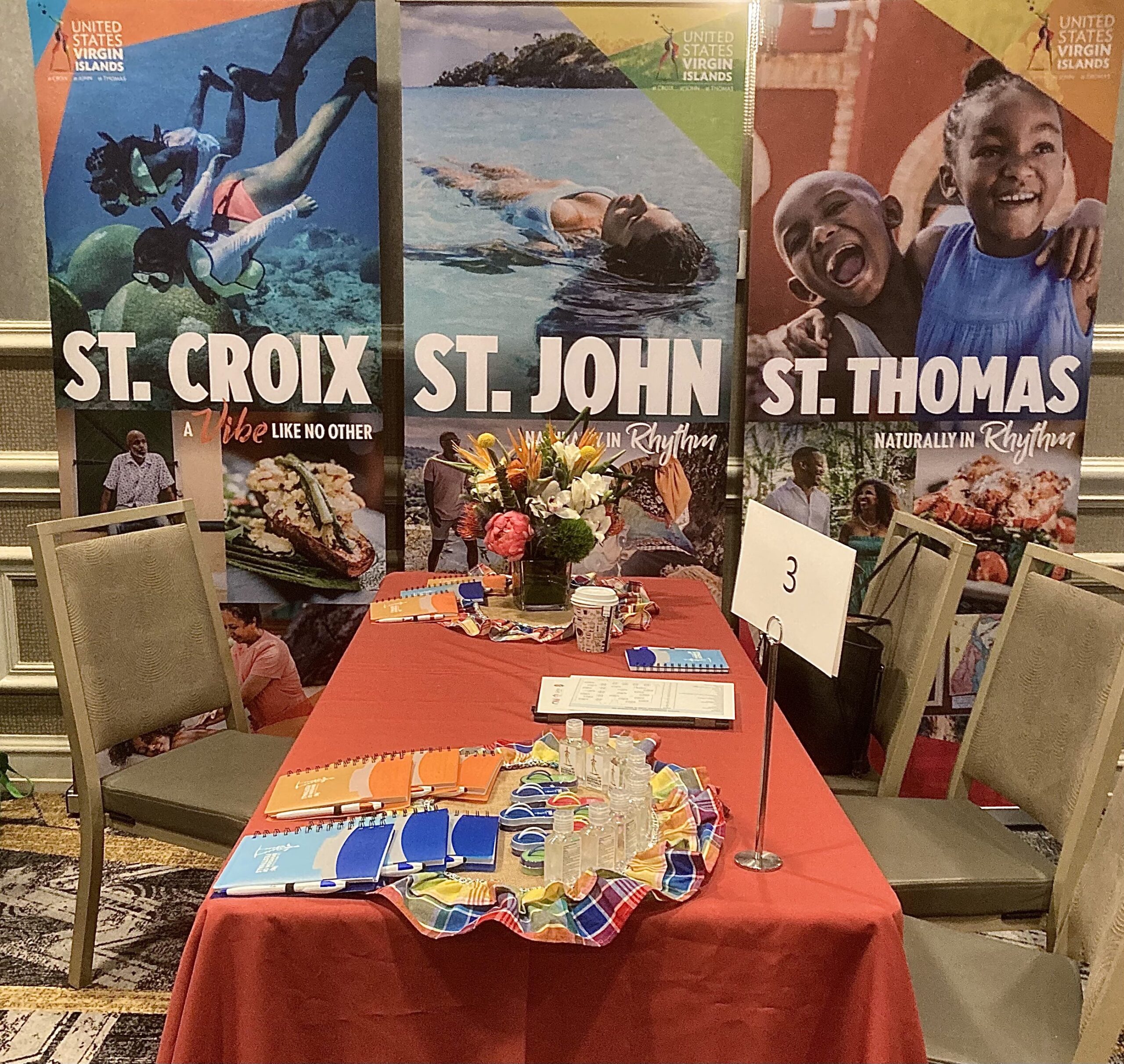 Delegations from the U.S. Virgin Islands and British Virgin Islands joined other top-level Caribbean tourism officials in New York this week to court influencers, tout accomplishments, and learn from each other. Being open to feedback from visitors and industry insiders was key, Tourism Commissioner Joseph Boschulte said Thursday morning.
It was the first State of the Industry Conference for the USVI since rejoining the Caribbean Tourism Organization after seven years away. And it was much more than promoting our slice of paradise.
"It is a good opportunity for us to gauge and gather information about what's happening in the region," Boschulte said in a midtown Manhattan hotel lobby.
He was there to learn from big islands like Jamaica and Trinidad, as well as see what's working in smaller, boutique destinations like Saba and Bonaire.
"That gives an opportunity for me, in my role, to speak about what we're doing in the territory. But it also gives me an opportunity to listen and in some cases learn about some best practices that are working in the tourism space," Boschulte said.
There are commonalities among friendly tourism competitors in the Caribbean: "Airlift is really important, human resource capacity is really important, sustainability issues are very important."
While posting robust tourism figures after COVID restrictions were lifted, there are also key elements to improve on, he said.
"The first step is, you got to be open to listening. We are very open to listening to things that can be improved on. We don't take it personally. Part of improving the product is to listen, especially to our visitors, our customers," Boschulte said.
The first item on his list: litter.
"We have to continue to be diligent to ensure our islands stay clean. Very important."
The second point of emphasis: avoiding complacency.
"We have to continue to remember that we are in a very competitive landscape," he said. Taking the steady flow of tourists for granted was dangerous.
"We have to be very careful about that," he said. "As quickly as you are at the top of the mountain, you could fall. And sometimes everybody's at the bottom and sometimes it's just you because of what's going on."
As much as it's Tourism's job to promote the USVI product externally to airlines, cruise lines, and travel agents, it's also important to send the right reminders internally. Government House, the Department of Public Works, the Virgin Islands Police Department, and other agencies all need to remember they are a key part of the tourism product, he said.
Part of that messaging is making clear that if Tourism isn't doing the right thing, "Please tell us. And then let's try to figure out how we do it, and then not just at the time in that conversation, but we measure it," Boschulte said.
The same goes for people selling trips to the Virgin Islands. Boschulte is encouraging travel agents and other tour sellers to come visit USVI hotels themselves.
"It's important for them to say, 'Well, you know, I actually just went to that property in the last 60 days and these are the accommodations and these are the attractions,'" he said.
Lastly, the USVI needs to lean into excellent customer service.
Second-best or a distant third will not suffice in the age of Twitter when any perceived flaw can be instantly blasted out globally, Boschulte said.
"There's always a need to continue to remind people in the travel business and people outside that customer service cannot be secondary. We're in the service business. I mean, right now we're in the Mecca, New York City, and you can tell quickly properties that have very high standards for customer service and properties that don't. You can tell the same thing in a restaurant that has high standards for customer service and those that don't. Same thing when you jump in an Uber car: You can tell somebody that's really good and somebody that's just doing it, 'Because I need to make money.' And it's the same on the island."
Officials from the British Virgin Islands were at the event for similar promotions and education.
Clive McCoy and Delma Maduro of the Tourism Board and Film Commission had plenty to brag about, including the new American Airlines direct flight from Miami, two new hotels in Jost Van Dyke, the reopening of Saba Rock and partial reopening of The Bitter End in Virgin Gorda's North Sound, reconstruction of Marina Cay, Peter Island, and other tourism mainstays underway, and the return of the yachting community post-COVID.
"We're beginning to see the boaters coming back," Maduro said.
One of the British territory's biggest problems has been visitor access, McCoy said. The New American flight will help, as will a new Tradewinds Aviation flight from San Juan, Puerto Rico directly to Virgin Gorda starting in November.
McCoy also teased a new Netflix production that recently wrapped shooting in the BVI but said he was contractually prohibited to say more than that.
"I'm not able to say at this time, but you should be looking out for a major project that was filmed in the BVI," McCoy said.