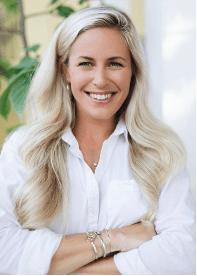 Attorney Charlotte S. Sheldon was named partner, joining Managing Partner Scot F. McChain, Esq. at the helm of McChain Hamm & Associates, a full-service Virgin Islands law firm in the heart of historic Christiansted, specializing in personal and business law, litigation, and governmental relations.
Sheldon, an accomplished attorney, has been leading the firm's real estate practice since March 2020; she successfully assumed management of the probate department and further expanded her expertise to include transactional and business law. Her passion for the law has garnered recognition as a rising legal professional, and her promotion to partner demonstrates the firm's commitment to recognizing talent within its ranks.
In addition to her legal practice, she actively contributes to the legal community, holding a position on the Board of Governors of the VI Bar Association and serving on the Young Lawyers Division and Probate committees. Her involvement in these esteemed organizations reflects her dedication to the profession and staying abreast of emerging trends and best practices in the legal field. Charlotte has also channeled her profound appreciation and love for St. Croix to co-found Isla Vita, a luxury concierge and vacation property management company that aims to connect travelers with unparalleled experiences and St. Croix's alluring charm.
Sheldon's journey to her current position has been marked by notable achievements. A native of West Virginia, she earned a B.S. in Public Relations from West Virginia University, where she served as president of her sorority, Delta Gamma. She then pursued her legal education at Savannah Law School, graduating cum laude in 2017. While at Savannah Law School, she distinguished herself as the managing editor of the Savannah Law Review and a member of the Georgia Association of Women Lawyers, among other notable affiliations; see full biography.
During her tenure at the firm, Sheldon has exhibited great dedication and skill, and her expertise spans multiple practice areas, from real estate to probate and business and transactional law. Through diligent efforts, she and the firm have cultivated good relationships with some of the best real estate brokerages on St. Croix, creating a direct channel for potential clients. The team at MHA handles residential and commercial purchase transactions, disputes within owner associations, and actions pertaining to quiet title and partition.
As the head of the firm's probate department, she ensures the proper distribution of family assets and helps to provide clients with closure after loved ones have passed through a deep understanding of the emotional and legal complexities involved. Sheldon's expertise also extends to business and transactional law, from client representation to skillful contract negotiation and drafting, ensuring that clients receive the highest level of legal support.
"It's been an honor to play an integral role in growing the firm, and I look forward to continuing the rewarding work we do for our clients," said Sheldon.
As partner, Sheldon and the firm will continue to offer clients inspired legal solutions. Licensed to practice law in Tennessee, the U.S. Virgin Islands, and the District Court of the U.S. Virgin Islands, she extends her services to prospective and existing clients, residents, and visitors. Her warm welcome and dedication ensure that clients receive exceptional service, and with her guidance and multifaceted skills, clients can rest assured knowing their best interests are diligently protected.
"I am extremely pleased to have Ms. Charlotte Sheldon working alongside me as our firm continues to expand, and I'm very thankful to her for her great contribution to the success of the firm," said managing partner McChain.
The McChain Hamm & Associates team congratulates Sheldon on her well-deserved promotion to partner and applauds her unwavering passion for the law. Her outstanding achievements and exemplary work ethic continue to shape the firm's commitment to providing exceptional legal services to our valued clients. With a team of highly skilled legal professionals and a client-centric approach, McChain Hamm & Associates is committed to delivering excellent results and successful outcomes across diverse practice areas.