After getting a closer look at their projected spending for Fiscal Year 2024, members of the Board of Elections approved a tentative budget of $427,860. Action by the board took place Tuesday at a special session.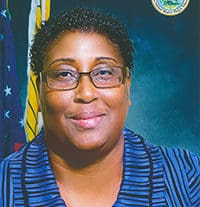 Review of the board's budget was supposed to take place at its regularly scheduled meeting on March 27. Instead, board chairwoman Alecia Wells agreed to table the talks, giving members more time to look at the numbers.
Ten of the fourteen members of the territorial board joined a hybrid meeting by way of live stream and by way of teleconference, for those attending in person on St. Thomas and St. Croix. By the time the vote to approve took place, two members had left the meeting.
The eight members still present voted in favor of slight increments in select categories.
The figure approved at the end of Tuesday's meeting was about $70,000 more than the amount originally presented by the Election System staff. Board members and former Elections board chairman Raymond Williams made a motion to increase spending for travel, professional services, and training.
Members also took time to look at projected spending for supplies, communication materials and services, repair and maintenance, capital outlays, fringe benefits, insurance and security.
It is customary for the Elections Board and the Election System to appear at the same time before the Senate Finance Committee as the panel conducts its annual review of the governor's spending plan. Budget hearings usually begin in June after Government House submits its budget for the next fiscal year to the Senate Post Auditor for a pre-hearing analysis.
Elections Supervisor Caroline Fawkes told board members she expects an August hearing date. Fawkes also told elections board members the budget figures they reach on Tuesday could change by the time the hearing date approaches.