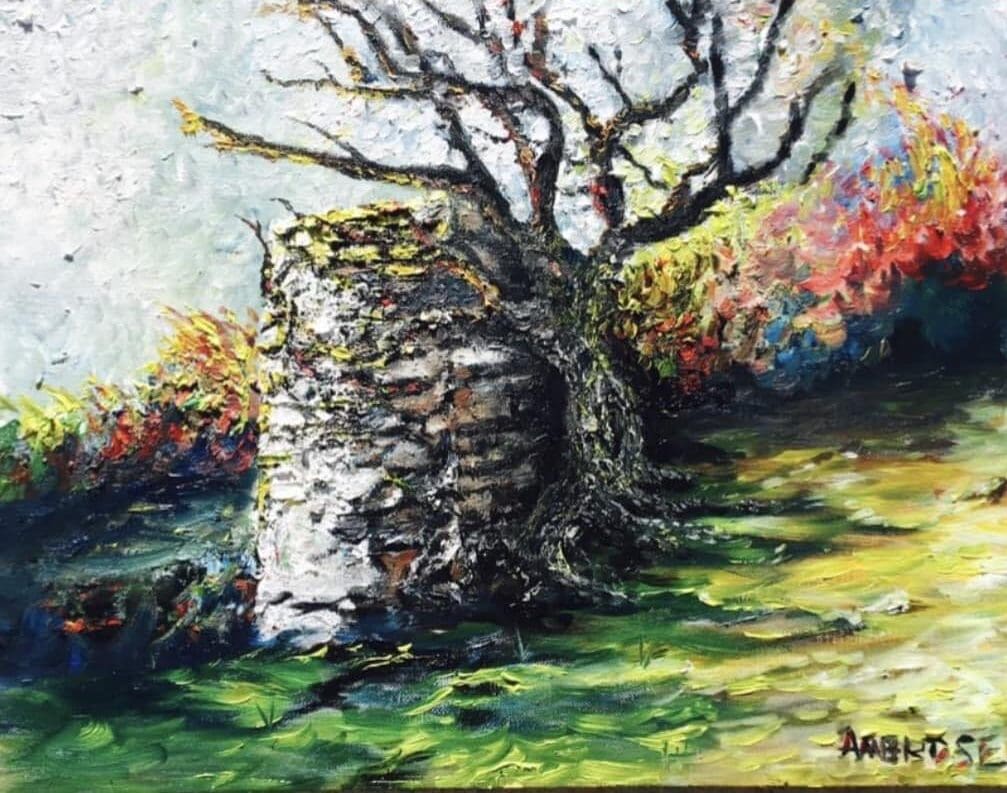 Charmaine Wilkerson, New York Times bestselling author of "Black Cake," will headline the V.I. Literary Festival and Book Fair, taking place as a hybrid event April 13 to 16 on St. Croix with the theme, "Carrying: Recognition and Repair."
This is the ninth iteration of the festival, hosted in collaboration with The Caribbean Writer at the College of Liberal Arts and Social Sciences of the University of the Virgin Islands, organizers announced in a press release outlining highlights of the upcoming event.
Wilkerson's novel, a compelling story of children trying to understand the mother they have lost, was listed on former President Barack Obama's favorite reads for 2022. Before the novel was even published, the TV rights were purchased by Oprah Winfrey's production company, Harpo Films, as the result of a bidding war. She will speak on Friday, April 14, from 9 to 10 a.m.
Also in the lineup are works by Kei Miller, author of "August Town," a novel that pulses on the dynamics of history and community; Alecia McKenzie, author of "A Million Aunties," recognizing that in the Caribbean, aunties are so much more than family; Elizabeth Nunez, author of "Now Lila Knows," a gripping story that explores our obligation to act when confronted with the unfair treatment of fellow human beings; and Lewis Gordon, a philosopher and author of "Fear of Black Consciousness," a book released in 2022 that "refines our conceptual understanding of how race consciousness is made and lived, and shows how reflection and survival are intertwined."
The U.S. Virgin Islands' own award-winning professor and author Tiphanie Yanique will conduct a workshop entitled, "Using Virgin Islands History to Write Fiction." There will be workshops on writing the plot, building character, weaving setting, writing about political controversy, writing poetry, writing for children and publishing.
From 4:30 to 9 p.m., the now world-famous Book Bacchanal Reception at the Caribbean Museum Center for the Arts will be spearheaded once again by Dr. Janis Valmond. New and established writers are required to sign up to present at this annual event at the website, www.usvilitfest.com. Free books will be given away.
In the Children's Corner, nationally acclaimed children's book author and publisher Denene Milner will return to the Virgin Islands alongside new local children's book authors Tohira Durand and Michael Fleming, who will present in the virtual space on Thursday as well as the live space under the Children's Museum of St. Croix's tent on Saturday.
Other local and regional authors include Tami Navarro and Iona Henry, Jeanette Millin-Young and others who will discuss their books at this annual event.
The 2023 V.I. Lit Fest poster features artwork by Virgin Islands artist Alexis Camarena. Once again, the festival is chaired by Alscess Lewis-Brown, editor of The Caribbean Writer, which is sharing the theme of "Carrying: Recognition and Repair" for Volume 37, currently being prepped for publication.
The 2023 festival will pay tribute to three unsung Virgin Islands authors: Dr. Valerie Combie, author, professor, The Caribbean Writer board member and first V.I. Lit Fest chair, who is retiring this year from the University of the Virgin Islands; Dr. Vincent Cooper, author, TCW board member and sponsor, and recently retired UVI professor; and Joan Medlicott, of Jewish ancestry, born and raised on St. Thomas, a former V.I. government employee, and an award-winning author of more than 20 novels in the Ladies of Covington series and other stand-alone novels. She is best known locally for her first books: "Belonging" and "Virgin Islands Tales of Ghosts, Hauntings, and Jumbees" set in St. Thomas. Medlicott lives in the U.S. and is not able to recognize or acknowledge this tribute to her body of work, but her son Damon Rumsch and his wife, Paula, will acknowledge on her behalf by reading an excerpt from one of her many novels online on Sunday, April 16 in the Writer's Roogoodoo.
Pre-Lit Fest activities, which begin on Thursday, April 13, include the virtual space for students and interested community members that opens at 8:45 a.m. with a poem by Dr. Richard Schrader. In this space, organizers are proud to feature the annual author interview panel co-moderated by their youngest member, 13-year-old Bilal McFarlane, and Dr. Yvette McMahon-Arnold. Along with award-winning nationally published children's book author, Breanna McDaniel, local children's authors who will be interviewed are Tohira Durand and Michael Flemming. Dr. Carlyle Corbin will also be in conversation about his book that anthologizes the speeches of Gov. Alexander Farrelly.
Once again, a centerpiece of the online rendezvous with the territory's schools will include scholarly overviews on current and out-of-print Virgin Islands books published within the last 100 years. This is a nod to current Virgin Islands community conversations about teaching and learning. High school teachers leading this conversation are Liz Llanos of St. Croix Central High, along with Regina Keels and Cynthia Santos of St. Croix Educational Complex. Excerpts from the following books will be analyzed and discussed: "The Autobiography of Ralph M. Piawonsky" and "Major Speeches of Governor Alexander Farrelly" by Corbin, who will also participate in the conversation.
Dr. Velma Pollard, author, professor and regional scholar will lead a workshop entitled: "Teaching Caribbean/Virgin Islands Literature in Virgin Islands Classrooms." This is aimed at teachers and parents across the territory.
Journalist Melvin Claxton, Daily News Pulitzer Prize winner, will also present (online) the Itty Bitty Book App on April 16 from 11:30 a.m. to 12:50 p.m., which will allow students from elementary to high school to write, illustrate, and publish audio and e-books from their phone and tablet in minutes. Children will also have a hands-on opportunity to interact with this app on Saturday under the tent on the Albert Sheen Campus at UVI. Free access to this app will be available to up to 50 children. Children are encouraged to bring their devices to create and share their best story. However, those who want to color and write on paper with markers and crayons will be able to that at the tables set up by the Children's Museum of St. Croix.
On Saturday morning, the Bush Tea Morning Social event will be held in the UVI Great Hall starting at 7:30 a.m. with a Caribbean breakfast and live entertainment to include local poets. Beginning at 9 a.m., author Elizabeth Nunez will lead off the morning in conversation with Shawna Richards.
Our Roots Writing Circle at Cane Roots Art Gallery in Christiansted will feature the Ekphrastic poetry presentations and prize announcements on Saturday afternoon from 4 to 6 p.m. Participants may submit poetry inspired by the festival poster art, entitled "Burning Tree," from the private collection of Attorney Flavia Logie, to usvilitfest@gmail.com.
Seats are limited and patrons are advised to sign up early at Eventbrite.com.
On April 16 from 2 to 6 p.m., the festival will host via Zoom the new Writers Roogoodoo, a take on the Book Bacchanal. Not only will there be readings from The Caribbean Writer, but authors from around the world, the region and locally will briefly introduce a work and read excerpts to the online audience. Sign up at Eventbrite.com.
To register and for more information, visit www.usvilitfest.com and their Facebook page.