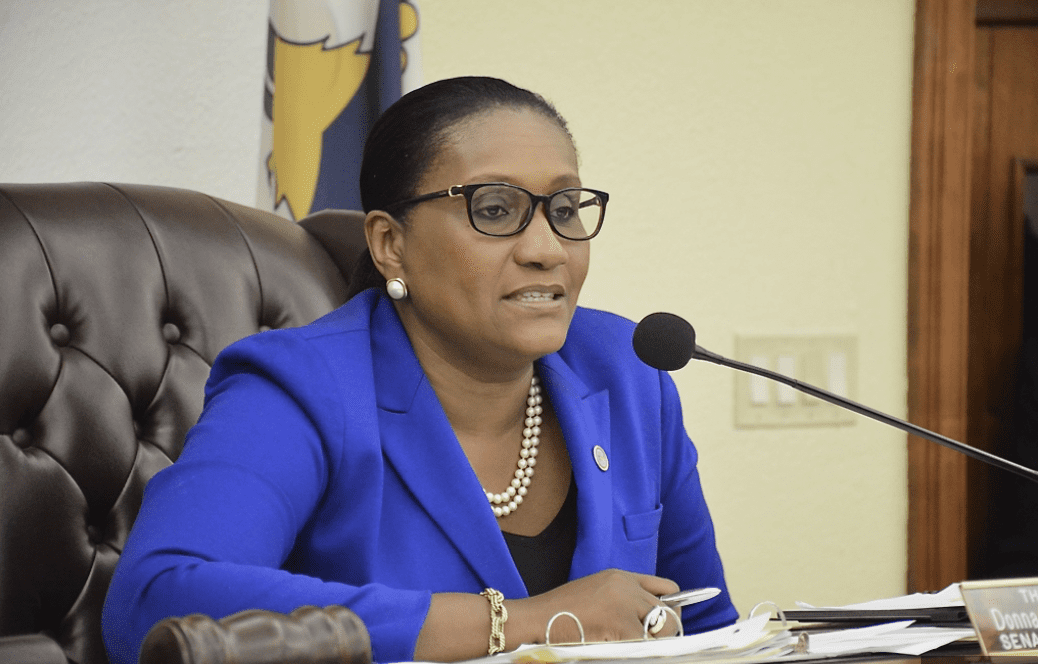 Local business operators and their representatives appeared before lawmakers Monday, seeking renewals of lease agreements for government properties where they base their operations. Lease applications approved by the 35th Legislature Committee on Budget, Appropriations and Finance at the hearing now move on toward final approval.
Businesses making applications on Monday included A-9 Trucking, Viya, St. Thomas Gas, and Ace Trucking. Four separate measures received consideration from committee members meeting on St. Thomas and St. Croix. Property and Procurement Deputy Commissioner Vincent Richards appeared before committee Chairwoman Donna Frett-Gregory to present the applications and to answer questions.
A-9, along with their partners, Sarnelli Bros., sought renewal of a lease at the Bovoni Landfill to continue their scrap metal recovery operation under the business name V.I. Recycling. Bill No. 35-00018 would, if approved, grant the use of 5.67 acres at the landfill for the company to collect and sell scrap metal.
V.I. Recycling is a partner in the government's abandoned car removal program, taking derelict vehicles from public roadsides to the Bovoni Landfill, Richards said. "For the Virgin Islands, the first part of that removal takes place on this island," the deputy commissioner said.
Sen. Samuel Carriόn asked attorney Jennifer Jones, representing the recyclers, if the company had plans to expand the types of materials it handles. In her reply, Jones focused on the processing and removal of metals that cannot be stored at the landfill. "That really is the bulk of their business," she said.
Viya's application seeks to establish a wireless communications link by leasing a portion of a government-owned communications tower at Parcel 6, Recovery Hill, St. Croix. Bill No. 35-0019 provided details included in the pending lease agreement.
Suntech Group, Inc., doing business as St. Thomas Gas, is asking the Legislature for a 10-year lease agreement with two five-year renewal options. If approved, the company will continue to bottle propane gas, sell its product, and truck deliveries to customers from a 0.637-acre parcel in Sub Base, St. Thomas.
Senate President Novelle Francis sponsored Bill No. 35-0017 on behalf of Suntech, as well as Bill No. 35-0018 for V.I. Recycling and Bill No. 35-0019 for Viya. Francis, along with Senator-At-Large Angel Bolques Jr., sponsored the final lease renewal application on behalf of Ace Trucking and Trash under Bill No. 35-0025. The company is requesting a lease approval for 0.758 acres of improved property in Sub Base, St. Thomas, to operate a waste hauling business.
All measures moved through the Budget Committee with favorable votes. Frett-Gregory said the bills would move on to the Senate Rules Committee for further consideration.
Senators attending Monday's hearing included Donna Frett-Gregory, Novelle Francis, Samuel Carriόn, Dwayne DeGraff, Ray Fonseca, Javan James, Franklin Johnson, and Carla Joseph.