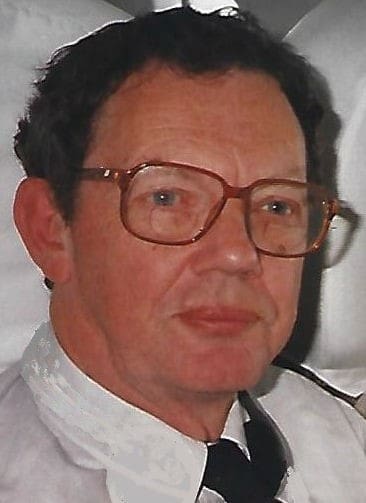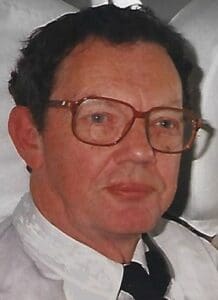 William Clinton Sterling Jr. (Bill) of Somers, N.Y., and St. Croix, USVI, passed away on Feb. 1, 2023, at the age of 88.
Born April 10, 1934, in New London, N.H., his father, Bill Sr., was a teacher, and consequently, the small family moved frequently. Bill liked to rattle off the different towns in Vermont where he spent his early grade school years.  He also liked to tell how, while in first grade after Pearl Harbor, he was asked by his teacher to point it out on the map. He was very proud that he was able to do so. The teacher, of course, was his father.
Bill married his high school sweetheart, Mary-Jane Barnard, on June 1, 1958, and together they raised four children: William Clinton III, Bruce Barnard and Douglas Dow and daughter Abigail-Mary Ellen Whitney, first in Brooklyn, N.Y., and later in Baldwin, L.I.
Bill was a graduate of Hopkinton High School in Contoocook, N.H., Tufts University and New York University School of Law.  Always a high achiever, he was valedictorian at all three. A truly impressive trifecta. While at Tufts, he was manager of the debating society.  At NYU Law School he served as an editor of the law review and was proud to be a Root-Tilden Scholar, which helped fund his law school attendance.
Following NYU Law School, he became an associate at the New York firm of Dewey Ballantine, where he worked for 10 years before moving to Wachtell, Lipton, Rosen and Katz in 1968.  Within a year and a half, he became a partner in the firm, specializing in corporate litigation, with an emphasis on corporate takeover work. While with the firm he worked on several high-profile cases involving corporations such as AT&T and United Technologies.
He was licensed to practice in several federal courts, including the U.S. Supreme Court. Imbued with boundless good humor, he was well respected and relied upon by his colleagues for his unique ability to boil an argument down to its essence. On his first case with his new firm, he traveled to California for trial when his daughter Abbie was born.  A proud father, he handed out cigars to the jury.  As the story goes, opposing council objected, citing jury tampering. The objection was denied.
Though devoting most of his time to his career and his firm, he didn't fail to indulge his passions: camping, extensive world travel (to seven continents with Mary and often the children), reading, enjoying classical music, nights at the symphony and Broadway plays, cribbage games with the children, dinners with friends and solving crimes with the likes of Perry Mason, Rumpole of the Bailey, Ellery Queen, Columbo and Jessica Fletcher.  His early support of Adlai Stevenson for president led to a lifelong interest in politics and support for the Democratic Party.
In 1981, Bill and Mary purchased a home and waterfront property on St. Croix, long a dream of theirs.  After the destruction by Hurricane Hugo in 1989, it was extensively rebuilt with extra bedrooms and pool. Bill loved visiting the house as often as he could, and upon retirement in 1993, he and Mary spent most of the year there with their beloved dogs. He considered it home.
Bill loved to laugh and kept his ability to see the humor in life until the end. His grandchildren grew up with phrases such as "solely for medicinal purposes" and "everything's got to be somewhere," and rousing renditions of the Hopkinton High and Tufts fight songs.
Bill was predeceased by his parents: William Clinton and Doris (Watson) Sterling; brother, Carleton; sister-in-law, Judy (Olson); and daughter-in-law, Stacey (Gordon).
He is survived by his loving wife of 64 years, Mary-Jane Barnard; their children and spouses: Elise (Manning), Wendy (Strohm) and Harold Olsen; and grandchildren: Douglas, Dylan, Cody, Troy, Nellie, John Douglas, William and Thomas; and he recently welcomed great-granddaughter, Hazel, passing on the tradition of "Ride a Horse to Boston" to the next generation.
Donations in his memory can be made to the St. Croix Foundation (www.stxfoundation.org) or the BrightFocus Foundation (www.brightfocus.org).