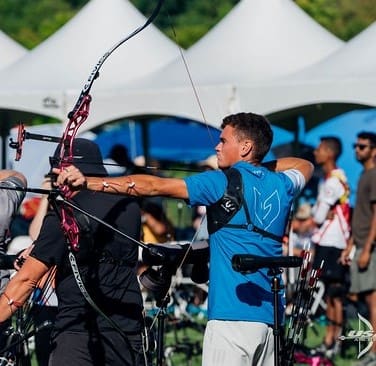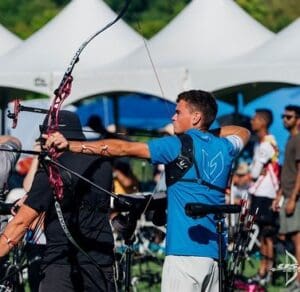 After winning the Hershey Winter Series held in Annville, Penn., on Jan. 8, Nicholas D'Amour won the USA Archery Indoor Nationals at the Lancaster, Penn. site on Jan.12-15.  This multi-site world ranking event is being contested throughout the United States. Over a two-day period, D'Amour had scores of 586 and 585 for a total score of 1171.  This was a world-ranking STAR FITA (Fédération Internationale de Tir à l'Arc) event, eligible for points in the Open Ranking of the Indoor World Series.
Nicholas was not only the winner of his division (senior recurve), but with a score of 1171, he was the overall winner of all divisions, including those shooting recurve, compound and barebow at the Lancaster site.
The USA Archery Indoor Nationals was also being contested at Chula Vista, Calif., at the USA Archery Olympic Training Center.  At that location, Jack Williams, a member of the United States Olympic Team, shot a total score of 1177.  This places D'Amour number two overall in the United States, only 6 points behind Williams.
The Open Ranking of the Indoor World Series scores an archer's top three finishes.  With only three scoring indoor tournaments remaining, Nicholas will make a substantial move up the World rankings. The next Open Ranking Event is the Lancaster Classic on Jan. 26-29.
The next world ranking tournament is the Sud de France Archery Tournament in Nimes, France, Jan. 20-22.  This is the second major Indoor International Tournament to count for Elite Ranking Points.  Scoring in Nimes and Las Vegas will provide points for the Elite Ranking division of the Indoor World Series.  Nimes and Las Vegas are the largest indoor tournaments in the world.
Nimes will have in excess of 1,000 participants and Vegas will have more than 3,000 archers.  The top 16 at the end of the series will compete in the Indoor World Series Final. The top two indoor scores count toward an archer's overall world ranking. D'Amour is presently ranked number 7 in the world.