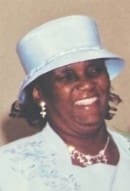 Fonselia Jeffers died on Wednesday, Jan. 11.
She was preceded in death by her spouse, Arnold E. Jeffers; and her daughter, Emelda.
She is survived by her children: Eason, Diane and Arnold; grandchildren: Cristen, Nysa, Maddison, Easanae and Arnold; brother, Mervin; sisters: Leonie, Patricia and Hillarine; and nieces: Marcia, Jahmeanna, Jasmine, Terrace, Natasha, Jaqueline, Ann, Verna, Diane, Vera, Jane, Kara, Kimberly, Marcella, Peggy, Stacy and Sharon.
She is also survived by nephews: Howard, Fitroy, Tyrone, Mahinda, James, Harold, Johnny, Aldrin, Shervin, Troy, Jevon, Steve and Lawson; as well as other family and friends too numerous to mention.
The viewing will take place at 10 a.m. followed by a funeral service at 11 a.m., Friday, Jan. 27, at Ebenezer Methodist Church, 195 Estate Richmond, Christiansted, V.I. Interment will be at Kingshill Cemetery.