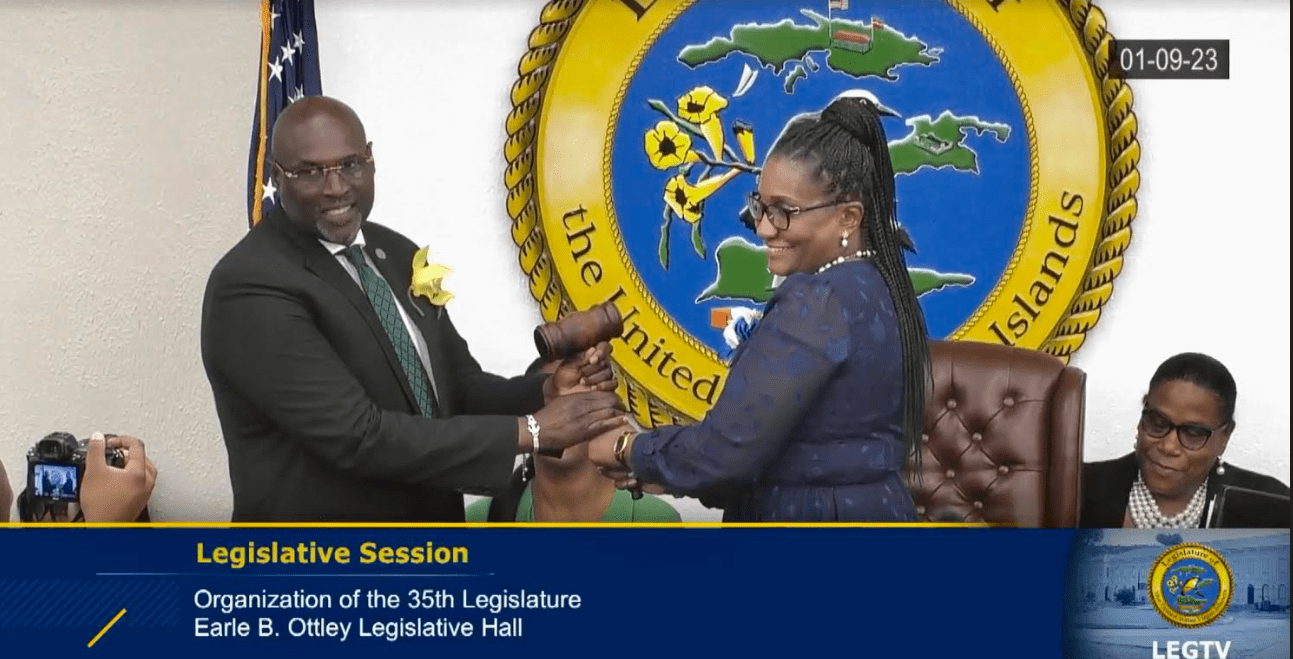 A new Legislative session began Monday after lawmakers who won seats in the November General Election took their oaths of office at a public ceremony. The brief but businesslike event in Emancipation Garden on St. Thomas was the prelude to the establishment of the 35th Legislature.
Chief V.I. Supreme Court Justice Rhys Hodge directed freshmen and incumbents to raise their hand and solemnly swear to protect and defend the Virgin Islands and its laws, and to serve with fidelity.
Acting Gov. Tregenza Roach arrived at the David Monsanto Bandstand in the place of Gov. Albert Bryan Jr. Government House issued a statement later in the day, saying Bryan had contracted COVID-19, which made it unwise to attend Monday's swearing in. He is said to be experiencing only mild symptoms.
One week ago, on a Monday morning, Bryan and Roach performed the same duty in the same bandstand, starting a second four-year term as governor and lieutenant governor.
As he congratulated Monday's honorees, the governor invited them to join in his administration's efforts to better serve the people of the Virgin Islands.
"As this Legislature and the Bryan-Roach Administration begin our work, we have an opportunity, as we serve two co-equal branches of our government, to work together in building stronger families, more robust infrastructure, and a stronger U.S. Virgin Islands," Bryan said.
The newly sworn-in body met afterward in the Earl B. Ottley Legislative Chambers for their first session, and enacted a bill appointing the Majority Caucus and officers, along with outlining the membership of standing committees.
The majority caucus members include Senators Novelle Francis Jr., Marvin Blyden, Carla Joseph, Angel Bolques Jr., Diane Capehart, Ray Fonseca, Donna Frett-Gregory, Kenneth Gittens, Javan James Sr., Marise James, and Milton Potter.
Francis will kick off a new term as Senate president, alongside Sen. Marvin Blyden as vice president, Sen. Carla Joseph as secretary and Sen. Kenneth Gittens as Majority Leader.
A statement issued by the Legislature outlined the committee assignments:
Rules and Judiciary — Diane Capehart and Milton Potter
Budget, Appropriations and Finance — Donna Frett-Gregory and Novelle E. Francis Jr.
Health, Hospitals and Human Services — Ray Fonseca and Kenneth Gittens
Education and Workforce Development — Marise James and Donna Frett-Gregory
Disaster Recovery and Infrastructure — Milton Potter and Diane Capehart
Economic Development and Agriculture — Javan James and Angel Bolques Jr.
Homeland Security, Justice, and Public Safety — Kenneth Gittens and Ray Fonseca
Government Operations, Veterans Affairs and Consumer Protection — Carla Joseph and Javan James
Housing, Transportation and Telecommunications —  Marvin Blyden and Marise James
Culture, Sports, Parks and Youth — Angel Bolques and Marvin Blyden
Committee of the Whole — Novelle E. Francis Jr. and Marvin Blyden
In his congratulatory statement, Bryan told lawmakers there will be challenges to progress. As he addressed the gathering in the Senate chambers, Francis seemed to agree. But Francis specifically spoke about the challenges of getting through the legislative process.
"There'll be good days, there'll be bad days; there'll be not-so-good days. But at the end of the day I will remain focused, because I'm focusing on the big picture," he said.
At the end of the first session, the body adopted a measure proposed by Gittens, to adjourn until Bryan visits the chambers to deliver the annual State of the Territory Address on Monday, Jan. 23.
A post-swearing-in ecumenical service will be held at 10 a.m. Wednesday at the City of Refuge Worship Center on St. Croix, followed by a meet and greet at noon on the Anne E. Abramson Pier in Frederiksted.
A similar event was held Sunday on St. John.