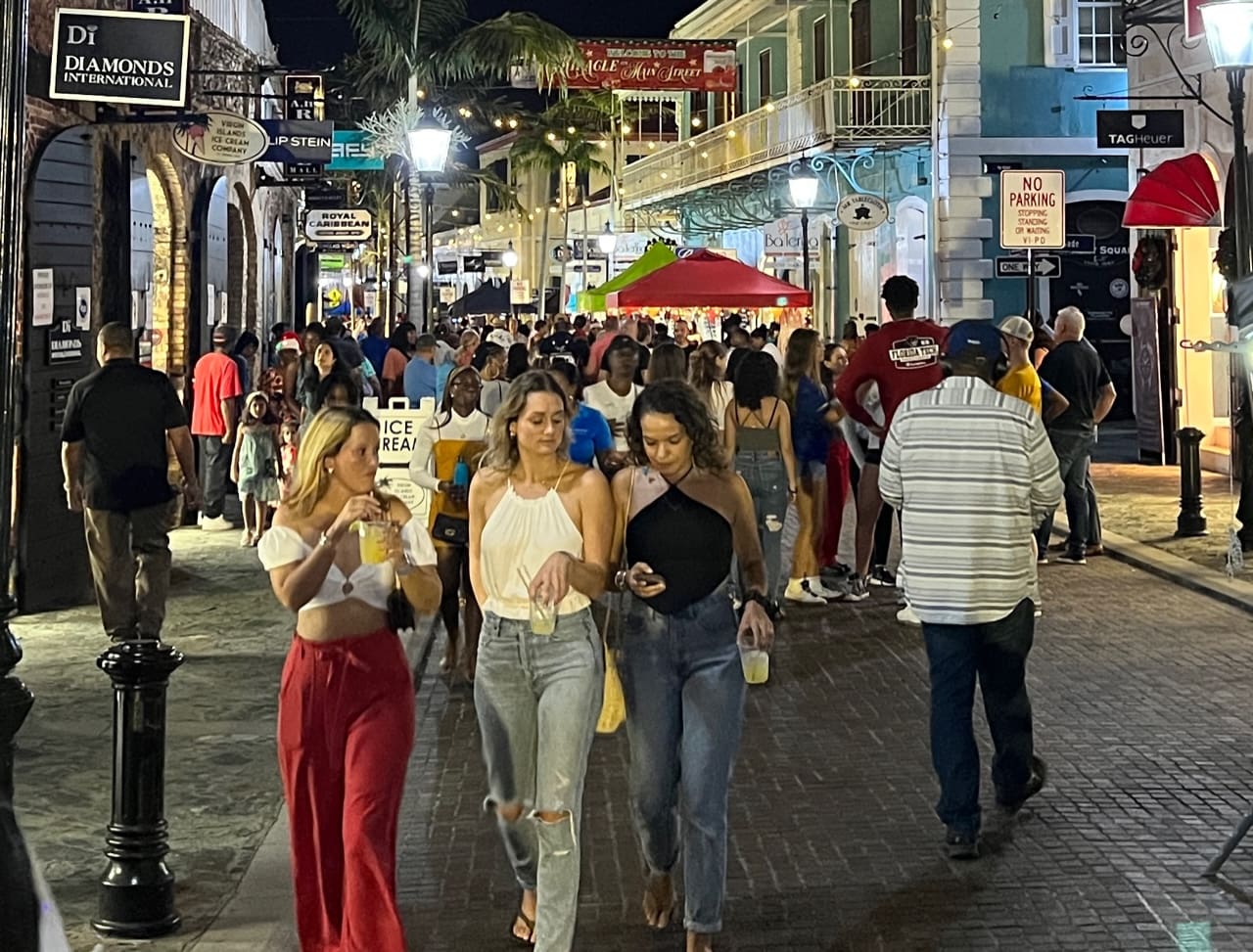 Seven Jarvis, 12, recently moved to St. Croix, but was excited Friday night to be back on St. Thomas for Miracle on Main Street. Wandering around for a bit, Jarvis was finally drawn to one of the block's many music stations, where he stood, watching intently, as pianist Lennon Richman played a string of holiday favorites.
"I've always wanted to learn the keyboard," Jarvis said. "I've just been drawn to it and every time I hear someone else play, it sounds so nice."
Richman said as a kid, he was similarly inspired and took up the instrument at about 10 years old. His father, Steve, was also playing guitar Friday at a bandstand further down the street, giving Richman the chance to go solo.
"I grew up watching my dad play at events like this, and it means so much that the organizers also reached out to me this year to take part," Richman said. "For our community, Miracle on Main Street is such an important piece of the holiday season, and I'm honored to be able to show my support in whatever way I can."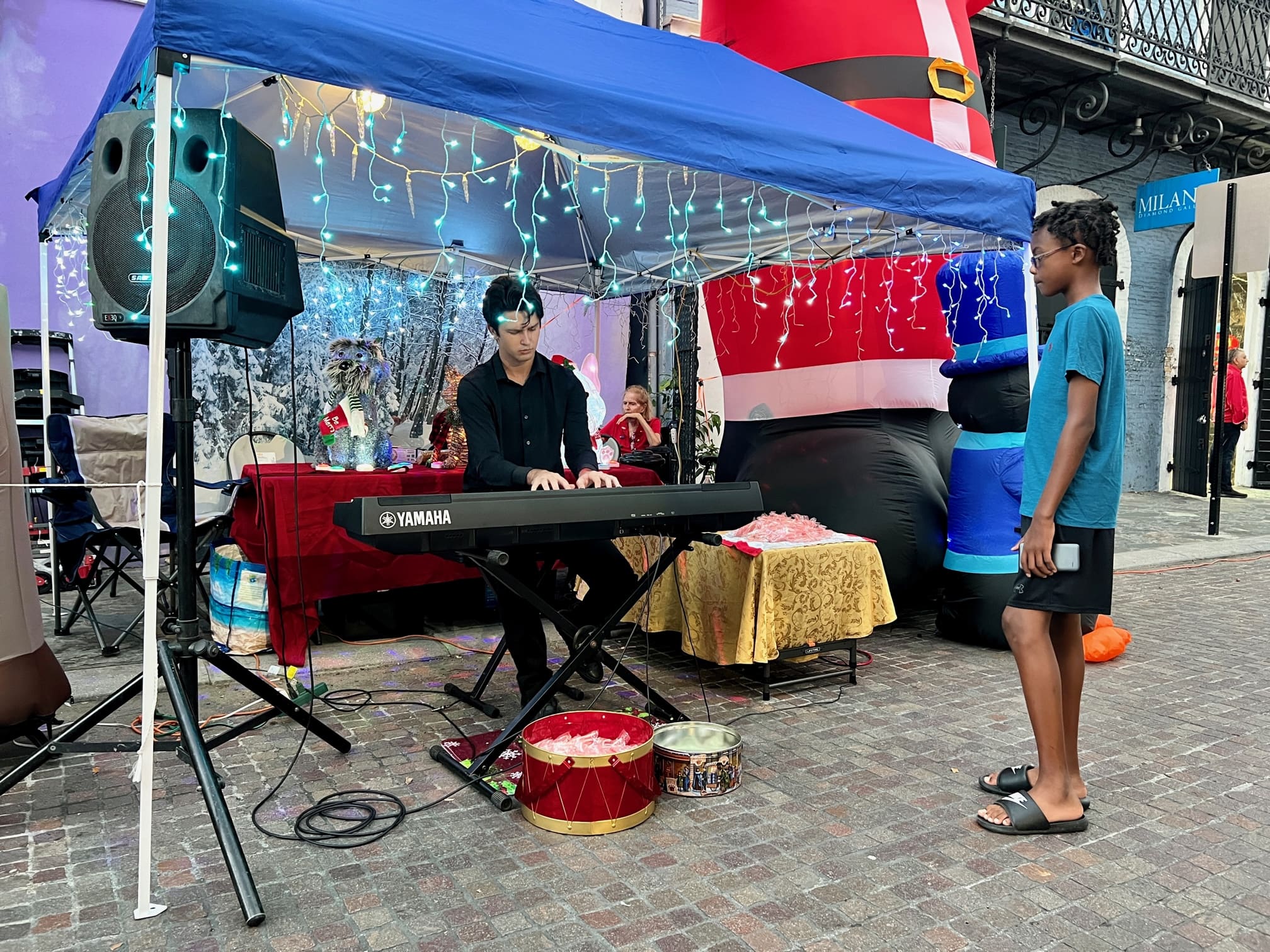 Stories like Jarvis' — and Richman's — permeated through the downtown, giving even more life to an event that had become, over the past three years, a casualty of the pandemic and, in its wake, a rebounding economy. Its return came with a vengeance Friday, lighting Charlotte Amalie up with activity, replete with caroling, street corner Santas, crafts and kids' bouncy houses, steel pan battles and lighted storefronts that beckoned shoppers with holiday deals. From Market Square to Emancipation Garden, almost every inch of pavement and sidewalk was occupied.
"We asked for a spot right at the top," Capt. Wanda Rivera, the Salvation Army's V.I. Regional Coordinator, said as she and her husband Capt. Raul Rivera set up a red kettle near the bustling intersection by Post Office Square. This year, the organization has been trying to meet a fundraising goal of $46,000 and, within about a month, has been able to amass all but $6,456. What made a difference were funds raised earlier this month during a matching campaign that brought in nearly $10,000, she said.
A little further down, the Charming Twirlers Majorettes joined the throngs of food vendors set up in the Garden, their stall bursting with homemade cakes and cookies. Founded more than three decades ago, the group has nearly 60 members and is getting ready, for the third year, to travel to a twirling competition in February, where they will represent the territory.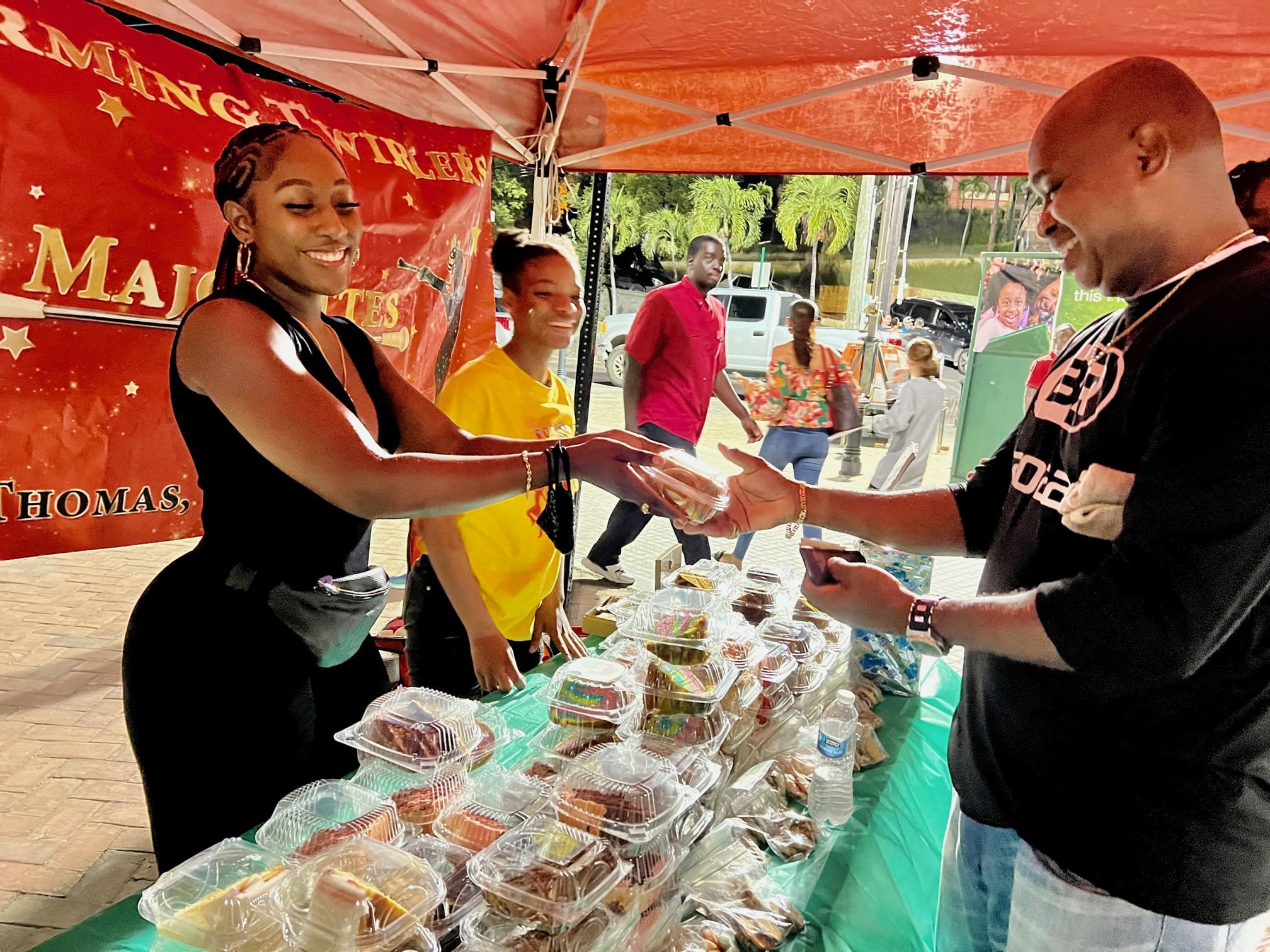 "Last year, we went to Twirl Mania in Florida, and we did fantastic," Twirlers director Migdalia Feliciano said. "We placed first in the senior twirlers competition and in the half-time show competition, and we're looking forward to continuing." The cost per twirler to travel is a little over $1,000, but Feliciano said opportunities like Miracle on Main Street give the group a chance to raise more awareness within the community for the cause.
"And that's exactly why we do it. The social part of it — that's what really makes the event special," Lucky Jewelers owner and Chamber of Commerce member Pash Daswani said after hearing some of the vendors' stories. "For us, it's not an event for making money — it's about coming together, celebrating the season, and just giving the community a place to be."
Now in its 28th year, Miracle is sponsored by the St. Thomas-St. John Chamber of Commerce and V.I. Department of Tourism.