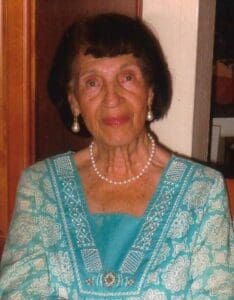 Mavis Phaire Lang, age 95, died on Dec. 6.
She was preceded in death by her, husband, Andrew L. Lang Jr.; son, Charles Andrew Lang; daughter, Sandra Dee Lang; and sisters: Beulah Lang and Hyacinth Fabio.
She is survived by her daughters: Francine E. Lang, Arlene L. Lang and Dr. Margaret M. Lang-Williams; grandsons: Anthony Kirk Williams II, Dr. Austin K. Williams, Dr. Alexander K. Lang and Adam K. Williams; sisters: Winona Phaire and Beatrice Cintron; and sisters-in-law: Joan Pedersen, Eloise Burr, Eva Morales, Lucy Morales (Antonio), Lucy Morales (Luis), Juanita Morales, Lucia Morales, Irene Altieri, Yvonne Lombardi, Gloria Escobar, Melba Lang, Alice Wise, Florine David and Merline Lang.
She is also survived by brothers-in-law: Vicente Morales and Albert Lang; nieces and nephews too numerous to mention; and extended family includes: the Phaire, Cartier, Petersen, Cochrane, Lang, Morales, Pedersen, Burr, Cintron, Encarnacion, Fabio, McIntosh, Winkfield, Schuster, Schjang, Farchette, Golden, Adams, Chilson, Wenger, Schooler, Quiñones, Osowski, Araman, Thomas, Martinez, Pineiro, Green, Camacho, Butcher, Bourelly, Coleman and Jones families.
The viewing will be held at 9 a.m. followed by a funeral service at 10 a.m., Thursday, Dec. 15, at Lord God of Saboath Evangelical Lutheran Church, No. 4 King Street, Christiansted, St. Croix, USVI. Interment will be at Christiansted Cemetery.