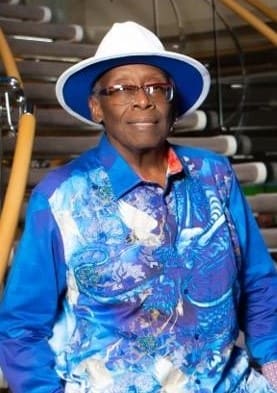 Delroy Williams died on Nov. 24.
The viewing will take place from 9-10 a.m. followed by a service at 10 a.m., Monday, Dec. 12, at Blyden Memorial Chapel. Interment will be at Western Cemetery No. 2.
He was preceded in death by: his mother, Elaine Charles-Rojas; father, Eric "The Ram" Williams; paternal grandparent, Clifford Williams; paternal grandparent, Hilda Williams; grandmother, Leah Meyers; paternal grandparent, Herman Meyers; step-grandfather; aunt, Doris Williams; aunt, Adina Charles; aunt, Delma Williams; aunt, Shirley Jones; aunt, Florence; uncle, Harold Charles; uncle Edmund Williams; uncle, Evan Williams; and brother, David Williams.
He is survived by:
Brothers: Darryl Williams, Dennis Williams and Desmond Williams
Sisters: Hilda Williams,Geryl Warner, Shanikqua Rashida Crosby and Ericka Williams
Aunts: Gladys Williams-Broome, Joyce Charles
Uncle, Herbert Hodge
Nieces and Nephews: May Matthew, Zahir, Zekiel, Zaccai Malcom, Dynajah and Dahlia Gordon, Shene', Shanele, Rickia, Henry, Qameriah and Genisha Potter, ​Devon, Brandon, Brian Williams, Royal Ciceron, Jahsheba, Jahmaha and Jahseelah Williams, ​Latasha, Shannise, Rachel and Myaelah Williams
His Many Supportive Cousins who include:
Bobby Charles, Earnest Charles, Marie E. Brown, Marie L. Charles, Dalton Carty, Eysana Jones, Corine Emmanuel, Denise Daniel-Simon, Carl "Casiem" Daniel, Clyde Daniel, Charlie Daniel, Sheanel Simon, Adien Greenidge, Ariana Midgely, Amir Gittens, Nikole Hodge, Briana Hodge, Giselle Aviles, Edwin Aviles Jr., Tiffany Zarpentine, Derian Carty-Maynes, Sandra Hollingsworth, Calvin Charles, Michele Charles Mitchell, Linda Griffin, Dayna Pascal, Ronald Griffin, Lorretta Jackson, Ronald Hodge, Resha Hodge Conroy, Runako Hodge and Rukisha Hodge,
Goddaughters: Tamoa Quinn and Shantia Mitchell
Godsons: Allen Hunter Jr. (AJ), Devon Mitchell, Shaun Mitchell, Brandon Mitchell and Kermit Mitchell Jr.
Funeral arrangements are by Turnbull's Funeral Home and Crematory Service