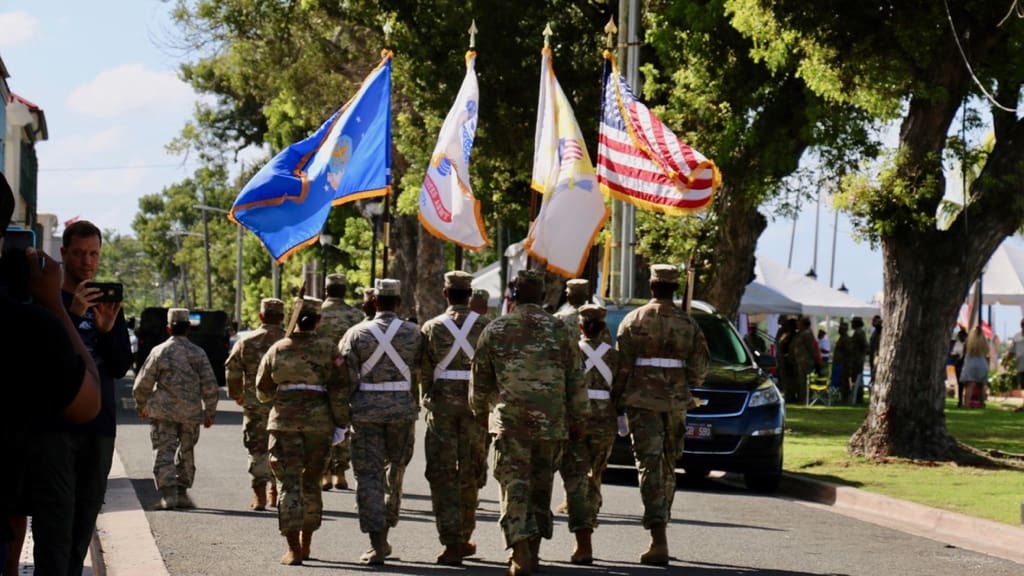 Parades and ceremonies will be held Friday, Veterans Day, on St. Thomas and St. Croix to pay tribute to the territory's veterans, including this year's special honorees.
Capt. Noel Boynes Sr. of St. John, Warren "Cap" Hendrickson of St. Thomas and Charles David of St. Croix are being recognized this year "for their selfless service to our veteran community," the V.I. Office of Veterans Affairs announced.
Additionally, the Virgin Islands National Guard 73rd Army Band will present a pre-Veterans Day "Happy Hour of Music" on Thursday from 5:30 to 6:30 p.m. at Emancipation Garden on St. Thomas.
Friday's events will get underway starting at 9 a.m. on Veterans Drive on St. Thomas, and at 3 p.m. in Frederiksted on St. Croix. The St. John ceremony, which had been planned for Nov. 6, was cancelled due to heavy rain. Boynes will instead be honored on St. Thomas.
On St. Thomas, beginning at 9 a.m., the parade will assemble and start at the Emile Griffith Park's parking lot, proceed east on Veterans Drive past the Legislature building, then past the reviewing stand, according to the Office of Veterans Affairs. The parade will make a left at the Alexander A. Farrelly Justice Complex and quickly make another left turn into the Fort Christian Parking lot for dismissal. The official ceremony will be held on the Veterans Drive Promenade immediately after.
On St. Croix, beginning at 3 p.m., the procession will start at the Frederiksted post office, make a right turn onto King Street, continue down the street to make a left turn in front of Buddhoe Park, and continue down Strand Street where the reviewing stand will be located on the right. All marching units will proceed past the stand, past the Verne I. Richards Veterans Memorial Park, and to the parking lot across the street from Frederiksted Health Care for dismissal. The official ceremony will be held on the platform at the memorial park on Strand Street immediately after.
The V.I. Police Department is advising St. Thomas motorists that Veterans Drive will be temporarily closed from Griffith Park to the Richard Callwood Command until the parade is finished. 
Also, Veterans Drive from the Richard Callwood Command to the Lucinda Millin Home intersection will be closed until the ceremony on the promenade is finished. During the ceremony, all traffic will be re-routed over De Beltjen Road to Norre Gade and back onto Veterans Drive by the former fire station, the VIPD said.
On St. Croix, motorists are advised that there will be no traffic on Strand Street between King Cross Street and Market Street going towards the Ann E. Abramson Pier dock entrance and clock the tower from noon to 6 p.m. Friday.
No traffic will be allowed through Strand Street from 1 p.m. There will be no parking on Strand Street between Hill Street and Market Street from midnight to 6 p.m. All vendors will be allowed access to set up and taxis will be able to pick up passengers, the VIPD said. Signs will be posted, and vehicles will be towed.
Veterans Day is a government holiday and all government offices, banks and post offices will be closed territory-wide.
Veterans can continue to get up-to-date information on the Office of Veterans Affairs website at www.veterans.vi.gov, by calling the office at 340-774-8387, or by texting the word VIVets (no spaces) to 888-652-8387.