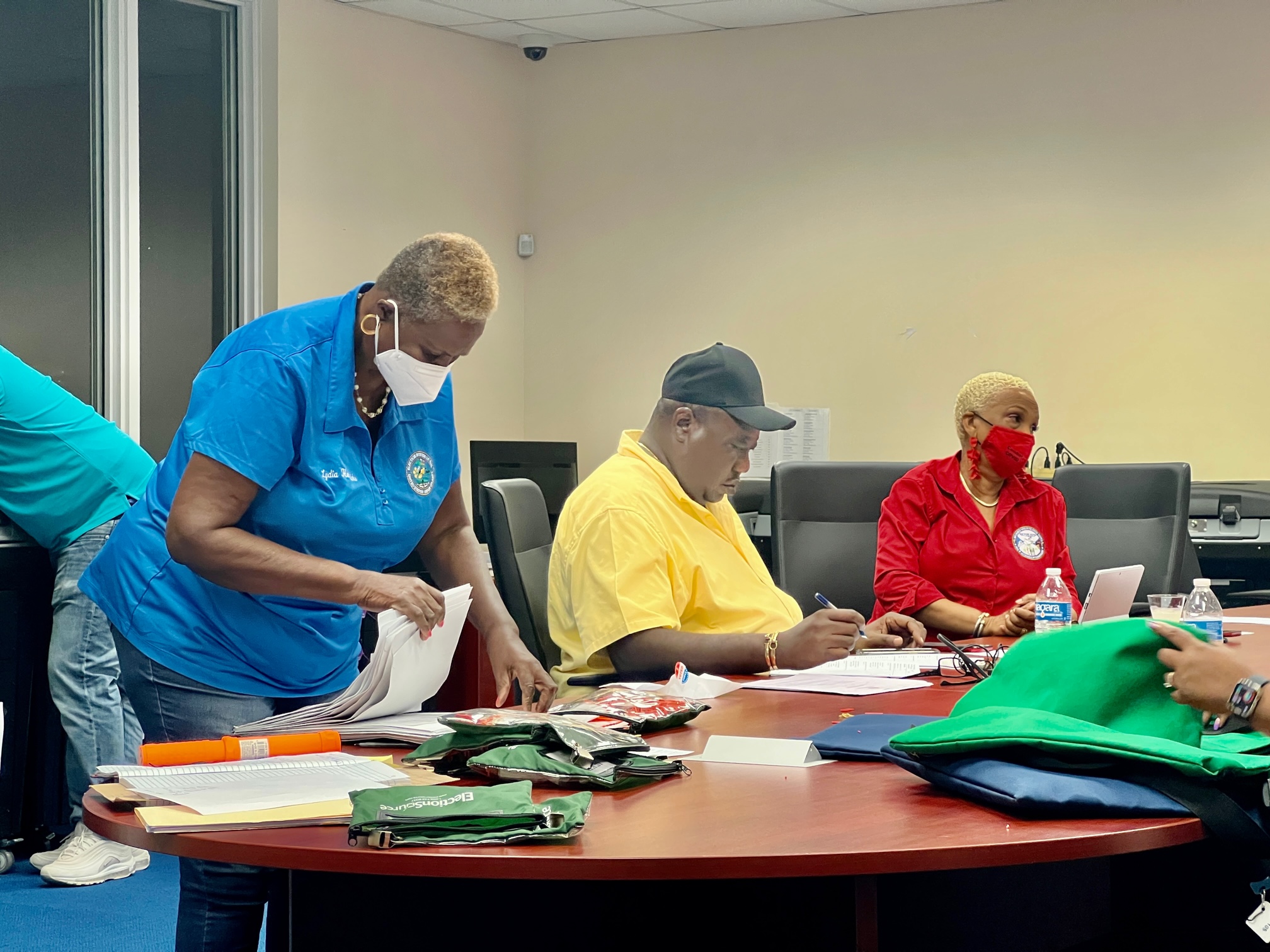 On St. Thomas, Sen. Donna Frett-Gregory topped out in first place with 5,912 votes, while Sen. Kenneth "Kenny" Gittens led on St. Croix with 5,311 votes, according to the unofficial General Election results. While most other incumbents retained their Senate seats, on St. John, Senator-at-Large Angel Bolques and opponent Sherry Ann-Francis ended Tuesday night with a 64-vote difference, which could go either way as absentee and provisional ballots are counted on Thursday.
Though there were a few challenges within the St. Thomas-St. John district — including a power outage and moisture issues at the University of the Virgin Islands polling site that had to be monitored but didn't appear to affect how ballots were fed into and read by the machines — all votes were in by 8:30 p.m. and counted by about 9:15 p.m., with a total of 21,522 votes cast territory-wide between early voting and Election Day activity.
"While we always hope the turnout will be higher, with the outstanding absentee ballots, we are in the neighborhood of about 500 on St. Thomas and almost 400 more on St. Croix, plus a number of provisional ballots, which will increase the percentage in terms of numbers," Territorial Elections Board Chair Raymond Williams said. Active voters between the districts total a little more than 39,000.
St. Thomas-St. John Senate Race
For another year, Frett-Gregory pulled in the most votes with 5,912, followed by Sen. Milton Potter and Sen. Marvin Blyden, who said Tuesday night that their top priorities coming into the 35th Legislature will include energy, education, healthcare and housing.
"Our team has worked hard over the past two years and was deliberate about focusing on the agenda of the people of the Virgin Islands," Frett-Gregory, who served as president of the 34th Legislature, said. "Today's results show that our voters were happy with our performance and the progress that we've made and we're grateful to have that support as we move forward in finding real solutions for the V.I. Water and Power Authority and healthcare, among other things. There is much more work to do, but I'm ready to dig in my heels and get started."
Potter, who came in a close second with 5,638 votes, said the focus during his second term is on education, primarily addressing issues of learning loss born out of the global pandemic.
"We have to be intentional in our efforts to bridge those gaps," he said in an interview with the Source. "I'm grateful to the voters for giving me and my team the chance to continue working on critical issues like this — it's one thing to be elected, but to be re-elected, it's really an affirmation of the work that we started."
Also speaking to the Source Tuesday, Blyden — whose 5,162 votes earned him the third spot — added that the territory is in a good position to leverage its federal recovery dollars to secure long-term housing solutions.
"We have a good chance right now to make a positive impact," he said. "I'm going to do everything possible to work with the administration and work with my colleagues to ensure there are solid programs and solutions in place so that anyone who wants to can have the opportunity to own a piece 'of the rock.'"
Rounding out the slate on St. Thomas-St. John were: Sen. Dwayne M. DeGraff with 5,066 votes; Sen. Carla Joseph with 4,854 votes; Sen. Alma Francis Heyliger with 4,629 votes; and newcomer Ray Fonseca with 3,853 votes.
St. Croix Senate Race
After topping out in the August primary, Gittens was the highest vote-getter on St. Croix Tuesday with 5,311 votes, followed by Sen. Novelle Francis Jr. with 5,079 votes.
"I appreciate the faith the voters have in me, returning me to serve another term. I also will continue to focus on the issues that matter most to the people of the Virgin Islands. We aren't where we need to be and the Legislature, in this case, is going to have to take a much harder line when it comes to hurricane recovery projects, WAPA and improving healthcare, and the education system particularly," Gittens said when contacted Tuesday night.
Francis said his priorities also include road improvement, lights, healthcare, quality of life, stabilizing the V.I. Water and Power Authority and improving education. He said he was satisfied with the overall results of the election, adding, "the people have spoken."
"I want to continue serving as a leader in the Legislature and mentor younger senators to move St. Croix forward not just with the Legislature but the executive branch and the Delegate to Congress," Francis said.
Incumbent Sen. Franklin D. Johnson took the district's third Senate spot with 4,599 votes, followed by Samuel "Sam" Carrion with 4,459 votes, and newcomer Marise C. James with 4,284 votes. Incumbent Sen. Javan James pulled in sixth with 4,175 votes, while hopefuls Diane T. Capehart and Nemmy Williams Jackson will continue to battle it out for the seventh spot, bringing in 3,532 and 3,392 votes, respectively.
Speaking Tuesday night, Capehart, who served in the 30th Legislature, said her first task after being sworn in would be to look at past legislation, with the purpose of amending and clarifying the bullying bill and others. She also wants to work on the Preferred Bidders Act to include more small businesses and improve behavioral health in the territory.
"The first thing that I plan to do when I get in is look at the past legislation and put amendments on some. With time you realize, they need clearer definition, even to the language of the legislation. I also want to work on creating new legislation as it pertains to behavioral health and improvements to the healthcare infrastructure. I'm excited. I'm looking forward to working with a team of individuals I can work with," Capehart said.
A total of 140 votes separate Capehart and Jackson, while 64 votes stand between Senator-at-Large candidates Bolques and Francis, who earned 8,270 and 8,206 votes, respectively.
Speaking with the Source late Tuesday, Supervisor of Elections Caroline Fawkes said the difference will either be made up or extended in the counting of absentee and provisional ballots, which the board will begin counting Thursday afternoon. A total of 628 absentee ballots were mailed out on St. Thomas-St. John, with 428 returned so far, while 390 of the 419 mailed out on St. Croix have been returned, she said. Until then, it's anyone's game in these two areas.
Absentee ballots can be mailed in up to 10 days after the election, which gives the board up through Nov. 18, with the final results expected to be certified shortly after.